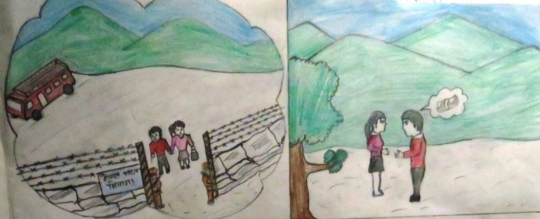 After the devastating earthquake in April 2015, Child Rescue Nepal conducted a thorough survey of child trafficking in the Makwanpur area. We are extremely grateful to an anonymous foundation who covered the costs of this extensive report. The survey came up with very worrying results which showed that trafficking has increased post earthquake amongst the very vulnerable communities. The survey suggested the following anti-trafficking measures: local radio awareness campaigns warning of the tricks traffickers play, village dramas to bring to life the reality of child trafficking and encourage debate and understanding among villagers, legal action against traffickers, poster campaigns, support for families of rescued children to prevent them and their siblings from being trafficked in the future, and rebuilding damaged schools to educate children and keep them safe.
With your generous support of this matched funding campaign we have been able to implement the majority of these anti trafficking measures. In order to show awareness of the trafficking problems, we commissioned 30 drama workshops, which were well attended by over 3,600 villagers. These workshops vividly portrayed the evilness of the traffickers and have made everyone more aware of the situation.
We have now had an evaluation done and it showed that our messages were really hitting home. People's attitudes to trafficking changed directly after participating in our workshops. But most importantly, when we went back six months later, people still remembered the messages.
For example before watching the anti-trafficking drama, 87.7% of people surveyed agreed with the statement that "Traffickers get hold of children by luring through dreams of urban areas, money and study opportunities." Six months after the survey, 97.3% agreed with the statement.

Also, before the drama, 78% of people agreed that "Familiar people or close relatives can be child traffickers" but six months after the drama, 97.7% people agreed with this statement.
Raised awareness of the tricks and tactics of traffickers is one of the most effective ways of keeping children safe.
We held an anti trafficking drawing competition,in which 38 community schools participated. Some of the pictures will be used in a poster campaign.
We are currently running continual radio adverts on child trafficking on Radio Makwanpur FM.
The trustees of Child Rescue Nepal would like to thank you for being so very generous in this campaign which has enabled us to successfully campaign to stamp out child trafficking in the Makwanpur area. We would also like to thank GlobalGiving for fully match funding our donations.
Without support from you, we could never have achieved what we have, so on behalf of the children of Nepal, a big thank you.