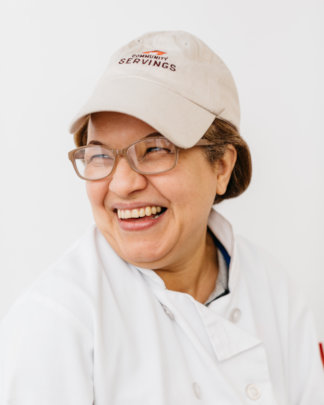 Dear Friend,
On behalf of Community Servings' clients, volunteers, and staff, thank you again for your generosity. Over the past year we have had great success in our effort to prevent hunger among low-income individuals and families affected by critical illness.
Over the past year, we have provided 598,711 medically tailored meals to over 2,021 individuals who were living with more than 25 different life-threatening illnesses such as cancer, renal disease, HIV/AIDS and multiple sclerosis. In addition, we experienced successful outcomes in our nutrition education, job-training, volunteer, local foods and food and health policy programs as detailed in the attached report.
Thank you again for your generous commitment to Community Servings and the clients we serve.
Sincerely,
David B. Waters CEO
MAJOR ACCOMPLISHMENTS
Nutrition Program
Through our Nutrition Program for Individuals and Families Affected by Critical and Chronic Illnesses we provided 598,711 meals to 2,021 men, women and children in our program who were affected by a critical illness in fiscal year 2017, representing 109% of our meal projections and a 20% increase since 2015.
More than 25,000 nutrition supplements and 750 Nausea Care Packs were provided to clients at the highest level of nutritional vulnerability.
Of those served, 92% were living in poverty and 50% were families. Eleven percent (11%) of our clients were 18 years old or younger. Seventy-four percent (74%) of those served were critically ill clients and 26% were dependents and caregivers. Sixty-four percent (64%) of our clients were from racial/ethnic minorities.
57% of clients who responded to our annual Client Survey, said that in the month before starting Community Servings' nutrition program they were concerned about having enough food to eat for themselves and their family. After starting our meals 72% said this was no longer a concern. Additional results showed 70% reporting that our meals were helping them achieve their weight goals, 63% of the respondents said that their energy levels have increased or stabilized since they began receiving our meals and 65% reported that the meals were excellent or good at meeting their cultural preferences.
We maintained more than 200 referral partnerships with area health and social service organizations to ensure we are reaching clients and families living at the highest levels of nutritional vulnerability.
Client Story
Ricardo is blind due to diabetes and also has kidney failure. When Ricardo and his wife lost their housing, they had to relocate to a motel with their five children because the homeless shelters were full. The motel had no kitchenette to prepare food so the family was unable to prepare meals for themselves.Enrolled in our nutrition program, Ricardo and his family now enjoy healthy, comforting lunches, dinners and snacks. Ricardo's meals are tailored to help him cope with his illnesses. His children, who range in age from 5 to 13, dig into "kid-friendly" foods like our baked chicken and rice. We also deliver breakfast so Ricardo's children do not go to school hungry.
Volunteer Program
Our kitchen is producing an average of 2,200 meals per day. This would not have been possible without the help of 5,300 volunteers who donated over 54,000 hours over the fiscal year, helping us prepare, package and deliver our meals.
Local Foods Program
Through our Local Foods program, we received 55,000 pounds of donated produce from eight local farms and sources.
Through a local foods grant, we have begun a new partnership with Red Tomato, a local food aggregator based in Plainville, MA that provides wholesale distribution from eight MA farms. Working with a local food aggregator will enable us to streamline purchasing of some products through one source and ensure our large produce orders can be filled.
Nutrition Education
Over the past year, we also exceeded our projections for nutrition education, delivering 6,000 hours of nutrition education to 2,400 individuals affected by critical or chronic illness. This includes our successful "Farm to Fork" program that offers free shares of local produce from farm partners coupled with on-site nutrition education in our Nutrition Classroom.
"Food Is Medicine" Food & Health Policy Initiative
Our "Food is Medicine for Diabetes" research project, funded by BNY Mellon, MGH and the Blue Cross Blue Shield Foundation of MA, continues to progress with study results expected this summer and published in a peer reviewed medical journal.
In December 2016, Community Servings was awarded a prestigious "Evidence for Action" grant from the Robert Wood Johnson Foundation to study the impact of our medically tailored meal model on health outcomes and healthcare costs. Community Servings is just one of 18 grantees nationwide.
We also presented our nutrition model at several national conferences and congressional briefings including: 2016 Medicaid Innovations Forum, 2016 House and Senate Congressional Briefings, 2016 Meals On Wheels of America conference and 2016 Root Cause Coalition conference.
Additional articles about Community Servings' innovative nutrition model were highlighted in Boston Magazine, Boston Business Journal, Boston Globe, Boston Herald, Metro West Daily News and WBZ/CBS.
In October 2016, we co-hosted our fourth "Food Is Medicine" Symposium with Harvard Law School's Center for Health with over 100 attendees and we are currently planning our fifth symposium for October 2017.
Teaching Kitchen Food-Service Job Training Program
Over the past year we received 150 applications for 40 trainee spots. We accepted 54 and of those 36 enrolled and 31 (86%) graduated. Twenty-three (23) trainees elected to take the MA ServSafe exam, 15 (65%) passed this exam.
In 2016 achieved the highest 30-day job retention outcome to-date, in the nine-year history of the Teaching Kitchen program with 96% of placed graduates retaining their job for 30 days.
Among our trainees 100% were unemployed/underemployed, 100% were low-income, 65% were from communities of color, 45% were ex-offenders, 30% were women and 60% were homeless.
This year we worked closely with 45 different referral partners who referred potential trainees to our program, including The Work Place, JobNet, and Career Link. Other referral partners include: Access to Recovery, Boston Juvenile Re-Entry Initiative at Roxbury Youthworks, Youth Build, Youth Options Unlimited (YOU), Suffolk County Department of Corrections.
We maintained relationships with 100 employment partners including hotels, hospitals, restaurants and smaller food-service facilities such as residential programs.
Challenges We are actively engaged in building investment in our capital expansion project to create a 31,000 square foot "Food Campus" that will enable us to triple our capacity. The urgency for this capital expansion cannot be understated. Today, we have a waiting list of 150 individuals who have been medically certified as needing our medically tailored nutrition program. Our kitchen is operating at maximum designed capacity and we simply do not have enough slots to start clients who are in need upon referral. Clients are prioritized based on a framework of illness severity and isolation and many are on our waitlist for three to six months before starting our meals. For these sick and nutritionally vulnerable clients and their families, this waiting period is extremely difficult and often detrimental to their ability to manage their illness.
Links: