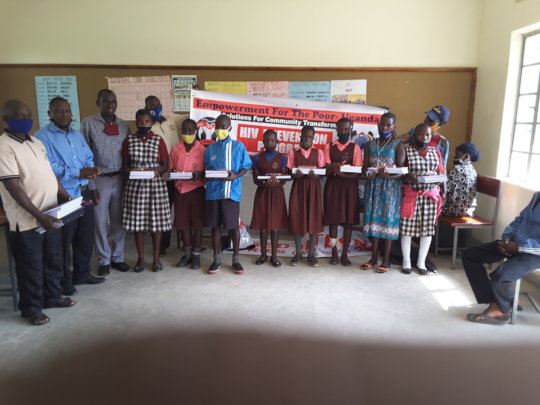 In order to meet the needs of girls to access, retain and complete both primary and secondary school, Empowerment for the Poor –Uganda has been sensitizing communities to take children back to school especially those in candidate classes-Primary seven (P.7), Senior four (S.4) and Senior six (S.6) following the ease of national lock down in October 2020.
It should be noted that the National COVID-19 pandemic lock-down in Uganda has greatly devastated families, however the families of orphans and vulnerable children are the most hit. These families have experienced economic meltdown that has completely drained their incomes making it hard to feed their children or taking them back to school with the current opening of candidate classes (P.7, S.4 and S.6). In such situations, any support to these families, makes a big difference.
During this period under review, we are happy to have supported 30 girls candidate classes (28 from P.7 and 2 from S.4) in Malangala Sub County, Mityana district to go back to school by supporting them with scholastic materials (books, pens, geometrical sets, pencils and partial school fees payment to enable them access, retain and complete their candidate classes. Children supported came from Kiwawu Modern Primary school, Kitete Umea Primary school, Kiwawu Church of Uganda Primary School, Magezi Primary School, Jeza Primary and Kiwawu Senior Secondary School and Bbala Church of Uganda Primary school. Distribution was presided over by the Chairman LCIII of Malangala Sub County and Chairman LC1 of Magonga
Likewise, we were able to sensitize parents to stop pushing their children into early marriages. Aware that the stay-at-home measures to prevent the spread of COVID-19 put many children especially girls under intense mental distress to the risk of contracting sexually transmitted infections, unwanted pregnancy or engaging in early marriages. The project has also empowered these girls resist exploitation and abuse couples with sensitization on menstrual hygiene management. We would not have been able to achieve what we have achieved without the generous support of our donors, we therefore thank you so much and request for your continued support to enable us empower and transform lives of more vulnerable girls. We say thank you and thank you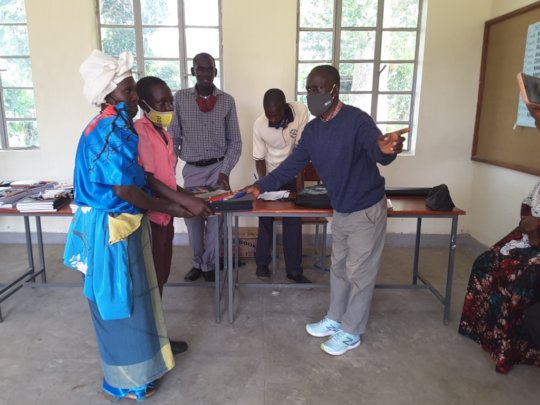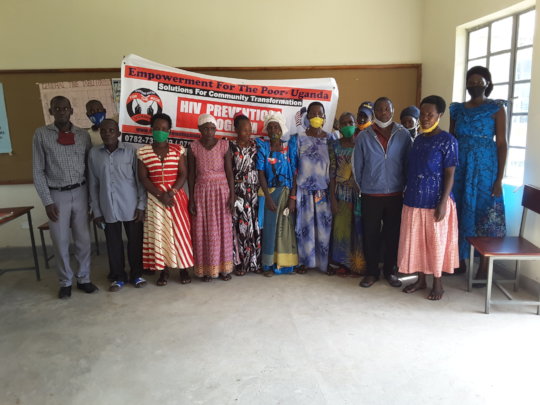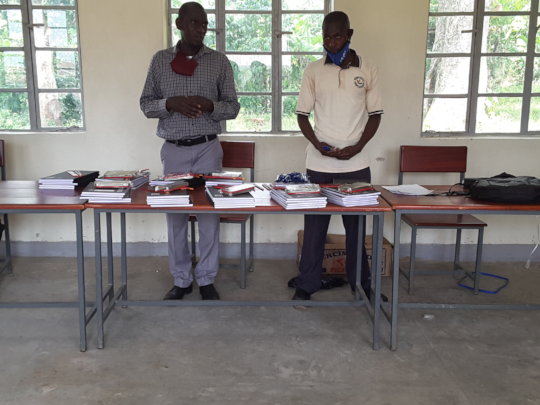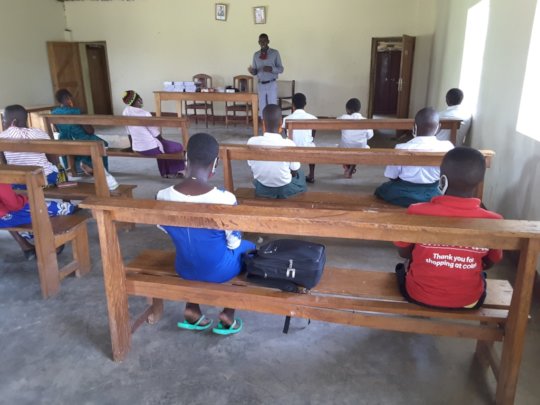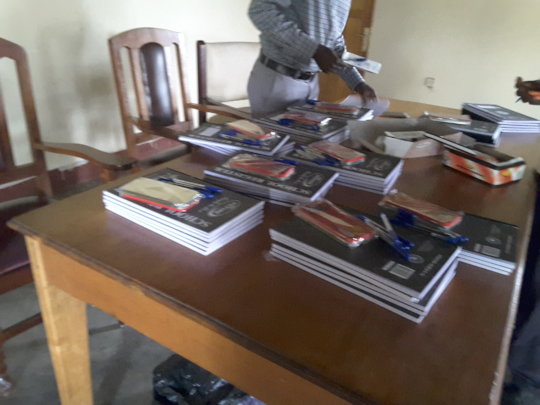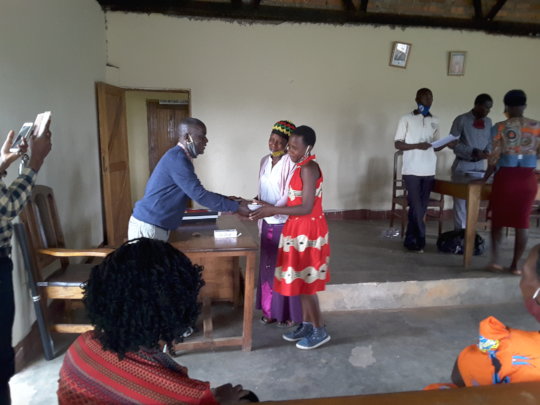 Links: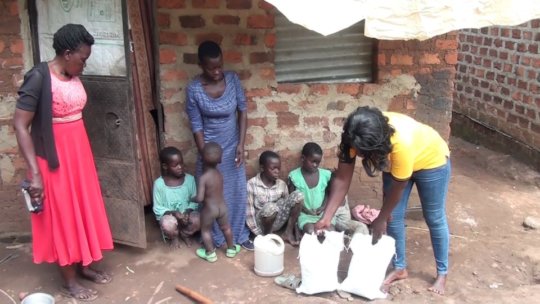 The national closure of children support structures like schools and places of worship which provide education and provide protection role to children has put children under intense psychological/ mental, financial and social distress which also has increased their risks to exploitation, unwanted pregnancy among the girl child and starvation. As a result of the COVID-19 lockdown, many households in Uganda have experienced economic meltdown that has devastated the incomes of families making it hard to feed families. Suffice to note, the small-scale trades of parents such as food vendors, hairdressers and welders among others have equally waned or closed. As a result, children and their households are increasingly forced into hazardous and exploitative work in order to support their families.
During this period under review, Empowerment for the Poor-Uganda has supported 79 families with food relief items targeting the families of Orphans and vulnerable children in respond to the current COVID 19 crisis. We have offered food supplies to critically vulnerable families where children are experiencing untold suffering by giving them food items like posho, cooking oil, beans, salt, sugar, soap, reusable sanitary towels to the girl child as well supporting children with agriculture and farming techniques to keep them busy. We are extremely indebted with the generous contribution of our supporters because without your support, we would not have impacted the lives of these children and putting smiles on their faces like we have done. The COVID-19 lock down situation is still a big challenge to many families of orphans and vulnerable children that without continued support, many children are going to be denied of their childhood. Thank you for your continued support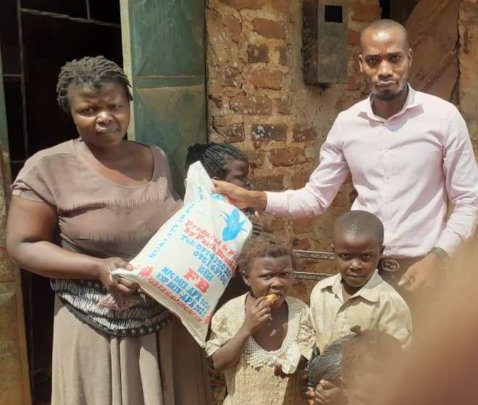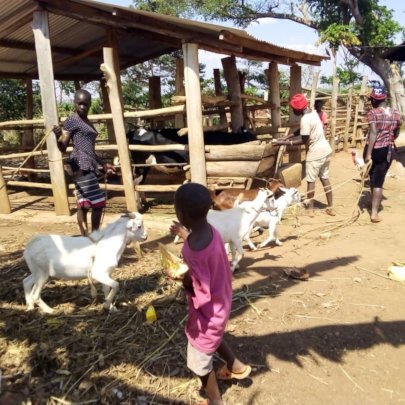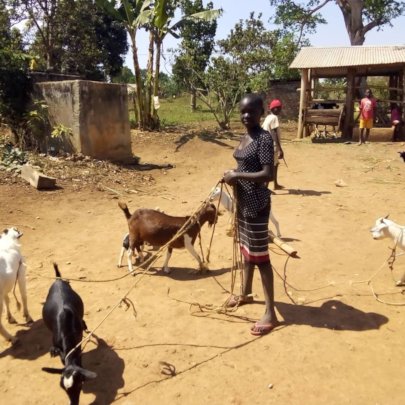 Links: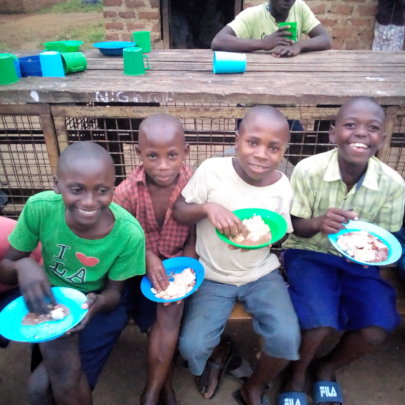 Empowerment for the Poor-Uganda is thankful to everyone that has continued to provide a helping hand towards the support to children even during this dangerous time of COVID-19 pandemic. We are greatly humbled by your commitment; dedication and passion that has enabled us to continue putting food at the table before children and ensuring that even their households have what to eat During this period under review, we were able to mobilize, sensitize and trained 98 farmers who are caretakers of orphans in climate resilient agriculture practices with the major aim of increasing agriculture productivity and booster children's nutrition. We distributed seed varieties which included, maize, beans, finger millet, kidney bean, potato and foxtail millet and other agricultural and tree biodiversity can contribute to improved nutrition, resilience, productivity and climate change adaptation. This has enhanced the resilience of farmers, in particular of communities and households most affected by climate change which were previously affected by drought, food insecurity and malnutrition. The project has also engaged in several climates change-oriented activities that enable farmer-researcher interaction which has successfully helped communities to use crop diversity to ensure their food security and that of their communities, to thrive in these challenging conditions and to make their farms resilient. The school gardens have also benefited from these endeavors. We are greatly thrilled by the unfalling and unwavering work of our Individual sponsors at GlobalGiving, who have generously continued to contribute wholeheartedly to our cause that reduce malnutrition to promote education of vulnerable children. Your financial support has done wonders because without your support we would not have moved the far we have reached. We are inspired by the successes and achievements we have registered during this period and we request for your continued support and wish to see many promising new sponsors to enable us support many children and families during and the aftermath of COVID-19 Lock done.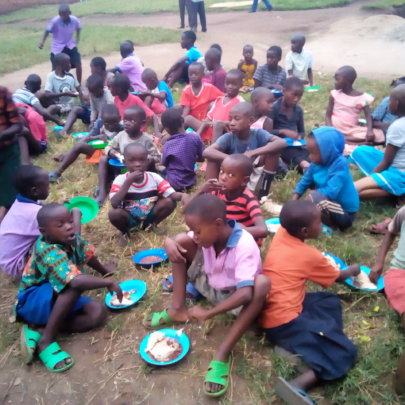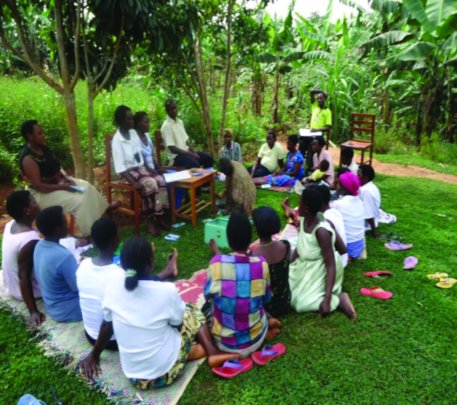 Links:
WARNING: Javascript is currently disabled or is not available in your browser. GlobalGiving makes extensive use of Javascript and will not function properly with Javascript disabled.
Please enable Javascript
and refresh this page.