The third quarter of the year corresponds to school holidays; the young people were able to fully benefit from them. The life of the AGAPE Center was marked by the stay of the students of Sciences Po Paris and the stay of Océane. During this period, the young people were invited to fast food Tchop et Yamo. We also received a large donation for the construction project. Marc, meanwhile, offered outings and meals to young people; while Osbert came to share his life experience with them. This period ends with the return of classes, marked by the resumption of music and French lessons.
After the visit of Mr. Nasser, head of Tchop et Yamo, the young people of the center were invited to discover fast food. Following the tour led by Mr. Darius, they were able to appreciate the meticulous work that is done at the chain, from the order to the customer service. The young people were delighted to find themselves in this beautiful setting, and especially to enjoy the flagship menu of Tchop et Yamo, donuts-boiled beans (BHB).
Océane came to spend two weeks of vacation in Cameroon, has contributed to the development of youth AGAPE Center. This through her attention and some exits. She also managed to set up a online fund raising for the first two stages of the construction project for the future AGAPE Center. But it has not grown much since opening. Here is the link: https://www.leetchi.com/c/agape-douala-construction-dun-centre-de-vie-pour-les-enfants-de-rues, through which you could donate, or guide friends and acquaintances who would like to do so, to support the project. We are counting on you. Océane also wishes to continue helping young people, the association and the AGAPE Center as much as possible.
The young ladies of Sciences Po Paris, namely Jeanne, Margaux, Laure and Nastia, also helped to liven up the center during their stay. The young people at the center had the pleasure of celebrating three anniversaries with them. Two the same day, that of Jeanne and Laure, two weeks later, Nastia's own. The young ladies listened to the young people, had fun with them, made themselves available and useful for everything. They also organize like previous groups of trainees, a small fund raising for youth support and the activities of the center. But most of all, they have created a link that we hope will lead to some form of collaboration between Tchop et Yamo and the AGAPE Center. Mr. Nasser, who is responsible for Tchop et Yamo, even mentioned the possibility of a holiday camp next summer for young people from the center who would be interested. They also wish to continue to show their support from a distance, for the advancement of this cause that we defend.
In addition, they revealed to us to have had a wonderful stay in Cameroon. It has been a very rewarding experience for them at all levels. They will keep very good memories. They left very happy, the evening of the victory of France at the football World Cup.
The AGAPE association and the SOLENCA association continue to work together with determination, for the realization of this construction project of the new AGAPE Center which, day after day, takes more shape. This is by mobilizing resource persons, by raising the awareness of local people and business men to support this initiative. A philanthropist who wishes to remain anonymous, showed her wonderful support for the project by offering the equivalent of the sum of 17 million FCFA. This is an important sum that will boost the project. But we always need your help and support, whatever the form, according to your possibilities (labor, supply of construction equipment: cement, sand and gravel trucks, iron bars, ducts, electric cables , supply and sewage pipes, equipment necessary for the installation).The building permit application will be deposited at the beginning of October. We are also working on the preparation of a cocktail, for the presentation of the project, to raise awareness and bring potential donors to participate in it. And according to our forecasts, if all goes well as we hope, we will be able to proceed to the laying ceremony of the foundation stone during the month of November.
Marc is a kind gentleman who for the first time visited the AGAPE Center, during the open day organized on February 17th. He appreciated the center and what is done there. It is he who motivated the choice of Océane to come to Cameroon, to have a good time with the young people of the AGAPE Center. Whenever he had a little time on his agenda during the holidays, he did not hesitate to propose outings to the young people, and to share with them sumptuous Cameroonian meals that he could taste.
In order to motivate young people and show them success stories, Mr. Osbert came to meet them on the eve of the new school year, to talk with them and share his life experience. This was done for over an hour, from his very first steps to school, to the present day, where he became a business leader and consultant in his field, communication and advertising. He took time to encouraged young people to work and always give the best of themselves, because even for him in his early childhood, it was not won. But he had always dreamed of being his own boss.
Sharing of school supplies to young people, who were very happy to receive them. This is an obvious sign of returning to school. The school resumed its rights for 9 months.
Young people who have enjoyed their holidays, have rested well and have been fully energized, are now ready for the new school year 2018 - 2019. The previous is behind them now. From now on, it is a question of reiterating, or even improving the work produced last year.
We say a BIG THANKS, because it is always thanks to you and to your multiple efforts, that they can return once again serenely to the school, and to envisage to build a better future.
The association Zik 4 All is dedicated to making music accessible to many people, vulnerable and in difficulty. Thus the leaders of this association and the AGAPE Center, have signed a partnership, so that one of their teacher comes to teach music to young people. They learn well and enjoy these classes. This is what is offered to them as extracurricular activity. Learning music as many activities, requires rigor, discipline and concentration. Mr. Thomas shares his passion for music with young people, and tries to bring them to translate into their studies, these same essential requirements for success.
For two years, lessons of french are provided once a week by Corinne. She came back from her holidays with a lot of energy so that she could help young people.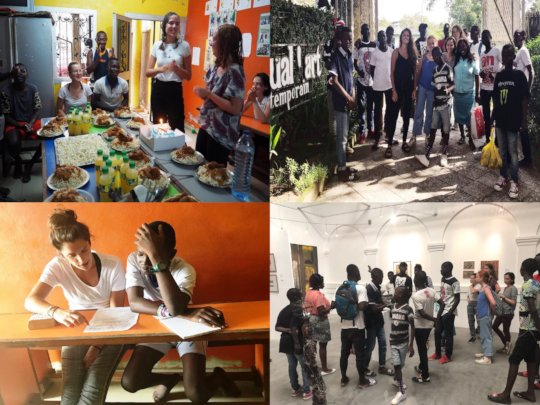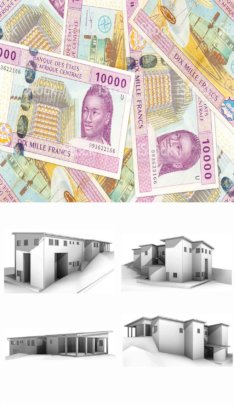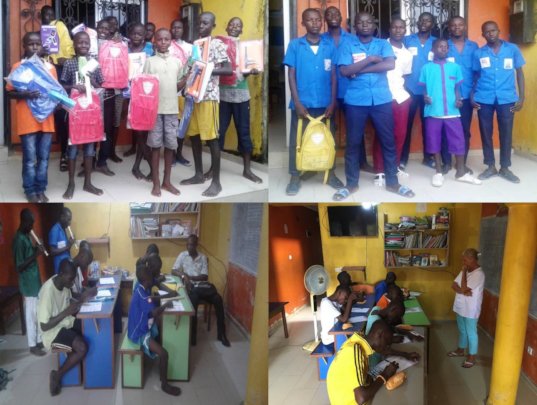 Links: