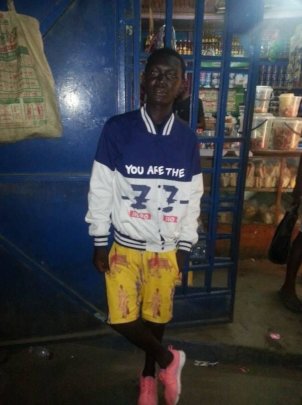 HELP ME, HELP US. MAY THE DEATH OF ALEXANDRE NOT BE IN VAIN !
No more children's lives lost in the streets. Rest in peace Alexander !
Since 2013 when AGAPE was created I have not written down my personal feelings. Today I am writing, for Alexandre. My heart is heavy, my soul is deeply saddened, I am sad and cannot be silent.
I want to talk to you about Alexandre. When I started AGAPE, he was one of the boys we met. I confess that I don't even remember where I saw him for the first time, but I remember he was thin, tall and slender for his age, I remember him with a green and orange T-shirt slightly ripped, red shorts. He often smiled and dragged his leg to walk due to a previous disability. I remember he couldn't read, he had to pick up the pieces of iron to sell them; but I remember he often had a big smile on his face. I liked this easy boy ...
Tata Ruth, the supervisor, cook of AGAPE reminded me a few months ago that I went with her to meet Alexandre's father who worked in the muddy port of Youpwé. He couldn't take care of Alexander properly. Her mother died a short time ago; so that the boy hung out in the streets very often and with distant relatives.
Apparently one day, the father had returned to the Central African Republic, leaving Alexandre in the streets of Douala. Alexandre was unable to stay at the AGAPE Center despite the efforts made; perhaps I should say, AGAPE did not know how to keep Alexandre. It doesn't matter… it doesn't matter.… The result is the same today for my greatest pain. Alexandre was fascinated by football as Emma, Ruth and I had observed him. He had a target in the viewfinder; go play soccer and become a footballer. Little by little, he stopped coming to the Center, we were absorbed in the functioning of the Center with the cases of all the other children and could not follow him.
I lost his tracks, from time to time he came back to my thoughts, but I forgot him, how we forget their looks and their lives to all these children we meet in the streets ...
A few months ago, Tata Ruth told us at the weekly AGAPE meeting that Alexandre had contacted her. She tried in vain to remind me who he was, but I couldn't see who she was talking about, it's like a veil was covering my face… I don't know why… He was in jail in New Bell for being involved with a group of young people who allegedly committed theft. He was sick, he was hungry. We discussed whether this was our mandate since Alexandre was no longer with us. At the end, we agreed to help him despite a tight budget, we gathered enough to buy him a minimum to be able to sleep, eat a little warm and a supply of gari, peanuts, antibiotic treatment and other drugs prescribed by the prison doctor. Tata Ruth gathered everything with Christian books without text for some because he still could not read. Alexandre was released from prison about two months ago. We promised to follow up with him. We never had the chance, overwhelmed by the kids at the Center, the fundraisers, the fundraising, the move; to name just a part.
We were unable to follow up with Alexandre. Alexandre left the world around August 7, 2021; stabbed, worse than an animal,... in the street for a phone he certainly didn't steal; because the victim of the stolen phone having testified only belatedly that Alexander was not the author of the theft. My heart is so heavy, it's like a big pebble of tears in my heart and I who hardly ever cry have tears in my eyes. Even writing to you I have tears in my eyes. How many Alexandr lost their lives outside ???? STOP !!!!! HELP ME !!!! HELP US !!! PLEASE DON'T FORGET THEM !!!!! NEVER ANY CHILD OR YOUNG OR YOUNG ADULT SHOULD LOSE THEIR LIFE ON THE STREET.
Christophe, one of the kids we didn't keep in the center largely because of his father's refusal, also died in a robbery a few years ago. My message ends with this cry that comes from deep within me for these children:
LET'S STOP BEING INDIFFERENT! GIVE THEM A ROOF, ATTENTION, WARMTH, TO EAT, HELP THEM TO BE EDUCATED, TO HAVE A FUTURE, TO HAVE A DESTINY. HELP !!!! HELP ME ! HELP US HELP THEM SO THAT DEATH OF ALEXANDRE NOT BE IN VAIN AND FORGOTTEN! May no child ever lose their life on the streets again!
REST IN PEACE ALEXANDER!