The preparation of Girls Leading Our World (GLOW) Leadership Academy 2016 continues actively. The staff team of the Academy, selected in November, underwent an intensive 3-day training that focused on group moderation, techniques for successful teamwork, working with children etc. The training was conducted by experienced Alumnae of the Academy. The new staff members will also take a number of online trainings and workshops over the next four months in order to improve their presentation skills and knowledge of the topics discussed during the Academy.
The staff members, girls 16 to 18 years old from 8 different towns and cities around Bulgaria, will be responsible for leading group activities for this year's campers as well supporting the overall organization of the Academy.
Viktoria Kostova, one of the staff members, shares on her motivation to become a voluntary trainer in GLOW Leadership Academy: "Now, after the GLOW Leadership Academy 2015, I feel like I have walked a long path to myself and I have grown. I have more discipline and independence and I am far more self-reliant. I improved my leadership skills and skill at team working and communicating, also my public speaking and the ability to properly and effectively manage my time in order to go through the obstacles with ease and to enlist my priorities simultaneously I was having so much fun. It is unbelievable how fulfilled I am feeling and how satisfied with all THIS I am. It is a miracle, you should trust me. I want to develop, to make a big change, to help and to give support.(…) My biggest passion is helping others grow and lifting them up. I strongly believe that if a person wants to achieve his/her aims in life, he should not only devote diligent efforts to his purpose, but in every caught opportunity his most important obligation is to try to support others and give them strength and hope. I want to share my experience with these young GLOW girls and to teach them about contemporary topics they are concerned with."
Dear GLOW Family,
It is that time of the year, when we all look back at the last twelve months and reflect on how much we appreciate all our GLOW supporters.
In 2015, you helped us change the lives of 80 Bulgarian girls through empowerment training. You helped us make their communities a better place by giving young leaders the knowledge and skills on how to provoke social change.
A participant in GLOW Leadership Academy 2015 shares her experience:
"For me GLOW was home. I felt safe and supported. I knew I could express myself, my values while not being judged. That is an amazing feeling. Everything that I learned was valuable. I met so many new and amazing friends and experienced tons of new and exciting things. It is surprising that all of this somehow fit into one week. One single week changed me and I am sure it changed a lot of other participates as well. If I use one word to describe GLOW, I would have said: "Priceless."
With such inspiring results of GLOW Leadership Academy 2015, we are now looking forward to 2016, when we will once again aim to change the lives of 80 young Bulgarian women.
Wishing you and your family a GLOWing and happy holidays!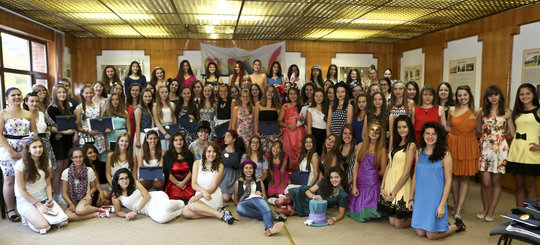 Dear Friend,
With the help of your generous donation, Girls Leading Our World (GLOW) Leadership Academy 2015 touched the lives of another 80 Bulgarian girls who come from 31 different communities in Bulgaria.
The Academy included diverse interactive sessions dedicated to leadership, teamwork, effective communication, decision making, public speaking and gender roles. A special guest of the training was Mrs Rumyana Kolarova, Secretary for Education, Science and Civil Society of the President of the Republic of Bulgaria, who shared valuable lessons for not only professional development, but personal as well.
Along with the educational sessions, there were daily sport and meditation sessions and creative workshops. All participants took part in an open lesson of self-defense that taught them on how to react in risk situation and basic moves to escape physical violence.
All girls received special recognition for their work at the Official Certificate Award Ceremony. The gala dinner was opened by the inspirational keynote speaker – MrsTammy Paltchikov, Acting Counselor for Public Affairs of the Embassy of the United States in Bulgaria.
Thank you for making GLOW 2015 possible - once again, we thank you for your generous support and contribution to the GLOW Leadership Academy!

Sincerely,
The team of volunteers at GLOW Bulgaria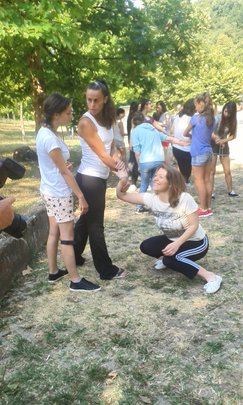 Links:
WARNING: Javascript is currently disabled or is not available in your browser. GlobalGiving makes extensive use of Javascript and will not function properly with Javascript disabled.
Please enable Javascript
and refresh this page.