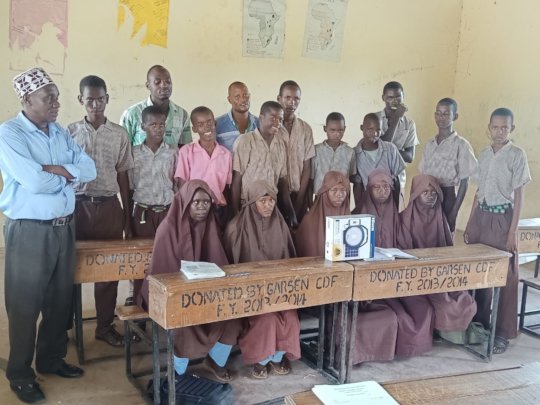 Dear Friends,
Warm greetings to all our donor friends and Gong Xi Fa Cai to our Chinese friends.
We started the year by interviewing a student, who was one of the first beneficiaries of this project, whom we are now sponsoring in Secondary School. We met 18 year old Buya again when he came to our office to apply for a bursary to start his secondary school education in January this year. Buya who hails from Vumbwe village of Tana Delta studied in Kulesa Primary. He joyfully expressed his gratitude for being assisted with the lantern when he was in class 7 way back in 2017. Academically by then he was scoring an average of 213 out of a maximum of 500 marks. After receiving the gift of the solar lantern and using it for approximately 2 years during night studies, he managed to score a much improved average of 281 marks out 500 marks in the national exams last year. As a result, he was legible to join secondary school to continue with his high school studies. He was quoted, "For me it was nearly impossible to attain 250 marks. After receiving the lanterns, I perceived a positive improvement and was motivated to work even harder."
This year our team also visited two new primary schools that we intend to assist with solar lanterns this term. We identified class 7 pupils of Bahati and Mnazini primary schools in Mnazini sub location of Ndera Location. The area is usually affected by floods during the long rains.
Bahati Primary School has a total of 20 students (5 girls and 15 boys) in Class 7. Fatuma a 14 year old girl from Bahati, overwhelmingly said that, "If I get a lantern, after helping my parents at home, I will use the lantern for my night prep studies following my timetable which I strictly adhere to."
We had to cross the river with canoes to get to Mnazini Primary School which has a total of 34 students in Class 7. Teachers at Mnazini primary school highly welcomed the project to assist their pupils to excel in their national exams. For instance, Class Teacher for Class 7, Mr Maro said the following: "According to our harsh environment, these students are not able to do much homework and studies at their homes during the night hours. Academic performance is planned for, it does not just happen. We have to plan for it and make early preparation. These solar lanterns will be of a very great assistance to our students."
We thank all our donors for making it possible for us to light up rural homesteads through these solar lanterns, and thus enlightening minds and thereby brightening lives of so many students in the Tana Delta of Kenya.
Prepared by Komora Benedicto and Oscar Raha
Idsowe, Tana Delta