Buyani Secondary School has been operating in temporary classrooms borrowed from a neighbouring primary school since the end of 2013. Their own building was destroyed by fire during the ethnic clashes of 2012/2013.
Tana River Life Foundation has been providing infrastructure and educational support to the school since it re-opened. The most urgent need has been to rebuild classrooms so that the school will have their permanent home.
The construction project to rebuild 2 classrooms for Form 1 and 2 students started in August 2015 and will be completed by the end of September 2015. In addition, the foundation will provide the following pieces of school furniture to be delivered in the beginning of October after the building has been completed :
Students are looking forward to their new classrooms.
Thanks to your contributions, the foundation has provided students with solar lamps to enable them to complete their homework in the evenings. Girls have trialed reusable sanitary napkins to enable them to attend school regularly and comfortably during their menstral periods. School fee support is also provided to students. The mobile library has been operating since 2014.
Here are some quotes from students and staff of the school :
Bahiyesa, Age 21, Form 4; Village: Shirikisho; Position: Student Representative
"We are grateful for the two classrooms. Coming from a community where illiteracy and poverty levels are high, having a school within our community with better facilities will play a very big role in personal development of the people around. The foundation has been paying our school fees. I am sure that if it weren't for them I wouldn't even be able to finish my O-Level which I expect to complete by next month. I will then start thinking about higher education."
Halako, Form 2, Age 17; Village: Anassa
"Am grateful for the foundation and other donors for what they are doing for us. We now have better classrooms to use starting this term. When I first came here, there wasn't enough chairs and desks for students, but thanks to the foundation now we have better chairs and soon we will be moving to a much better classroom".
Zubar, Form 2, Age 17; Village: Marafa
"I was the second student from the Cushitic community to join the school after the violence in 2012, I can say the building of the school is good for us as we are learning together from people of multi-ethnic groups. Learning together helps us as you are not likely to attack someone that you know and are friends with. Am grateful for the foundation for building the classrooms and starting a mobile library."
Galana, Form 4, Age: 23; Villlage: Chamwanamuma
"Thank you to all the donors for what you are doing. The construction of this school is playing a very big part in my personal life. I was a victim of the clashes in Tana Delta in 2012. I lost my dad and I am unsure if he is still alive. I struggled emotionally for a long time, but having the school here where we have people from different tribes has made me accept the people that I always thought were the enemies. Having more facilities will encourage more students to join the school. It will have a large impact as illiteracy plays a very big part in influencing youth to cause chaos. Learning together eradicates that perception."
Hamisi, Form: 2, Age 16; Village: Chamwanamuma
"Am grateful to the foundation for providing our school with new buildings and our paying school fees. In addition, they provided us a library with solar power where we can do our homework and have group discussions after dark. Some of our parents can't afford to pay for our textbooks, but now we can study with the books provided by the foundation. Soon we will be moving to a new classroom with good chairs and lockers. In terms of community development, the school is playing a big role for us girls. Girls usually marry at an early age but with the school nearby, we have something else to look forward to instead of just getting married."
Mr Hiribae, Chairman of the School
"As chairman of the school I am very grateful for what you donors have been doing for our school. We only had 2 classrooms, now you have helped us to build two more and we have a total of four. It is our request that you continue to support us with facilities so that we can provide better education to our children who are assets of our future in this area."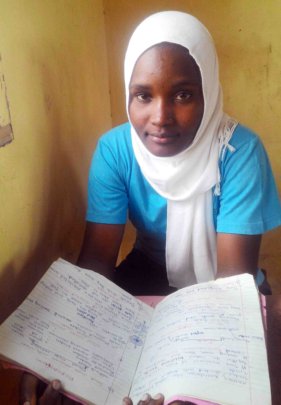 Links: