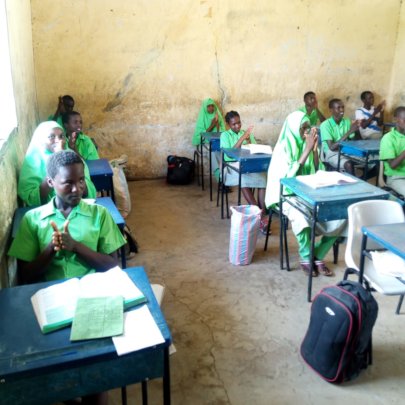 We had a field trip to Sera Primary School located at Tana Delta, in Tana River County of Kenya. The visit was solely to find out about the impacts of the solar lanterns to the 17 students set to sit for their national exams as from early November of 2019. The response was overwhelming and encouraging from their parents, teachers as well as the students themselves.
Right from the Head teacher, Mr Mranja, he highlighted to us that; "According to my views, this project is very useful because it has helped our students to have been continuously improving on their performance. For instance, having a glance on their marks from the time these lanterns had been issued to until now, there is some encouragement on their exam mean score of 242 marks from a mean score of 177 marks in first term. Moreover, in every exam they have been improving until attainment of the current score of 242 marks. Therefore, there is significant improvement with this Solar lanterns Project."
On results projection for the forthcoming national exams of his 17 students, the Head teacher was confident in assuring us of a positive outcome when the results are released. In his own words he did say that, "There will be an improvement on results since the current exam shows improvement, comparatively the Kenya Certificate of Primary Exam (KCPE)-national exam will also show an improvement and we anticipate to have a mean score of at least 250 marks and above."
Furthermore, we had an impressive feedback from some of the class 8 parents. For instance, Ms Nur mother to Ali said that, "From the time the solar lanterns have been issued to our students, particularly my son has been progressing well academically. There is an improvement of the exam results as compared to the previous term." Another parent, Mary by name from Sera village said that, "The lanterns have been very useful to our students, precisely my son during night prep studies since he is able to smoothly conduct his studies during the night. Also, the lanterns have been of vital help to us because most of the families don't have electricity neither solar panels that aids the students in studies during the night. I'm particularly very thankful for this project."
From the student's side we also heard encouraging feedback about the lanterns. For instance, Zainab whom she hails from Galma village asserted that, "the lanterns have helped me to improve on my academic performance. For Instance, I previously had a mean score of 193 marks, but after using the solar lanterns during my night studies, there was an improvement on my results to 202 marks during the following semester of 2019. As a result of my positive progress in my academic performance, I am aiming to score a mean of 250 marks and above in the national exams." On another student, Valentine from Sera village impressively said that, "the solar lanterns have helped me improve on my academic performance. Example, I have shown a significant improvement on my performance from a mean of 216 marks in my first term of 2019 to 267 marks in the next term. Further, I am aiming for 300 marks and above in the forthcoming national exam."
The results for the Kenya Certificate of Primary Education will be released by end if December ad we are looking forward to have more feedback from the other schools we donated the lanterns so that we can plan for 2020.