Starfish Partner- eMasoyi Community Development Foundation
In the village of Mphatseni, we have discovered a family of 12 children that have been abandoned by their parents. The children are cared for by their 69- year old grandmother
The 18-year old girl has since dropped out of school because she must look after her siblings whilst her grandmother goes to work as a domestic helper. She earns a small income and it is not enough to provide for the family. To complicate matters further the grandmother is a foreign national living in SA with no access to benefits such as social income grants. Some of the children are also without birth certificates, eMasoyi Foundation has reported this to Department of Social Development for assistance and is awaiting their response.
The Starfish Wellness Wagon team conducted a health assessment and note that the children were not fully immunized as per the required health schedule. We provided the children with vitamin A and deworming medication. Those who needed injectables immunization had to be transported to the local clinic. Community care workers conduct monthly monitoring visits to support the family.
The District Coordinator for Non-profit organizations from the Department of Health, Mr. Khalishwayo visited the family with the Starfish Wellness Wagon. The Wellness Wagon also delivered a food parcel and sanitary towels to the family.
The Starfish Wellness Wagon is having a great impact on our communities as it reaches many communities where it is difficult to access health care services.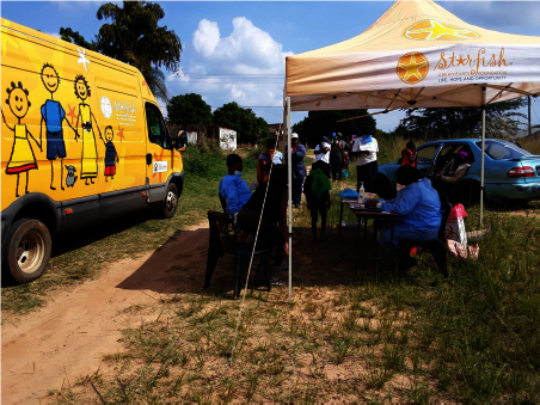 During the lock down, as many clients were restricted to go to the clinics, only a minimum number of patients were allowed to enter the clinics due to Covid-19 virus because they were preventing the spread.
The starfish wellness wagon managed to touch many lives of people around Masoyi community. There was a great challenge of screening the Covid-19 virus and need for medicines to those who were sick and even immunisation of children ever since crèches have closed.
NTERVENTION
• As the Starfish wellness wagon staff under Masoyi Home Based Care, we have screened Covid-19 virus.
• We were teaching them social distancing during our working sessions.
• We were using the loud hailer to call and tell them to wear their face mask and wash hands with water and soap and even when they reach us, we were sanitising them with hibitane in alcohol 70%, 1,5 meter social distancing.
• Parents also came with their children, bringing along Road to health card for administration of Vitamin A and worm stop pill for children.
• Children with septic ring worms, coughing, rash on skin and upper respiratory were also treated with medicine under supervision of their parents.
• HIV&AIDS was also tested, and awareness was also done about the wearing of condom during sexual intercourse and those who were already taking treatment were taught to take their medication properly as advised.
• The sick ones were also examined and assisted with treatment and health education.
• Follow up was done to those kids who were treated before
• Health education was also part and parcel of our daily activities, hand washing, wearing of musk and sanitizing hands.
• We are still working under Covid-19, no staff member is infected.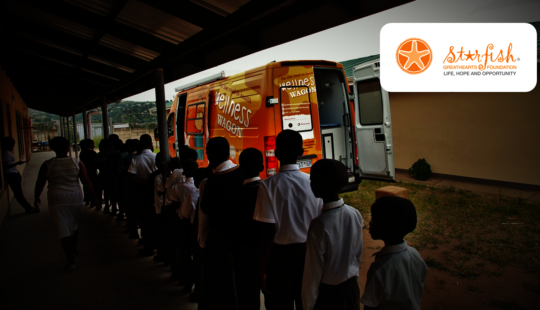 Wellness Wagon
The Wellness Wagon was conducting health services at Zakheleni Primary School and during the health services the wellness wagon team managed to examine a number of school children , during the service delivery at Zakheleni Primary ,a female teacher came to the team to report that there is a young girl aged 9 years in her class that is presenting with an offensive smell and she also had urine incontinence, the team discovered that the child is an orphan and she is staying with two of her uncles, and then the team agree to examined the child as per teacher request, they examined the child and discovered that on her private parts there was a sign of force penetration and symptoms of a STI.
INTERVENTION
The Wellness Wagon nurse wrote a detail referral letter to eMasoyi Community Development Social Worker about her findings after she examined the 9 years old child, the Social Worker from Khayalethu 2 centre manage to submit the letter to the Department of Social Services at Swalala Trust, and then the social workers from the Department of Social Services together with the Masoyi police managed to travel to Zakheleni Primary and speak with the class teacher about the plan to take the child for further counselling at the Masoyi Police station by a well skilled trauma counsellor from Greater Rape Intervention Programme (GRIP), and the counsellor is skilled on sexual abuse cases and her role is to deal with sexual assault cases, and after the counselling and all interventions they also confirmed that the child was raped and then she was referred Themba hospital for further assessment and treatment, upon her arrival at Themba Hospital she was admitted and put on treatment.
The case of rape is still under Police investigation, and the social workers has promised that the child will be taken from the family and the she will be placed at orphanage home after being discharged from the hospital, and according to our nurse the child will need psychological assessment from psychologist
WARNING: Javascript is currently disabled or is not available in your browser. GlobalGiving makes extensive use of Javascript and will not function properly with Javascript disabled.
Please enable Javascript
and refresh this page.