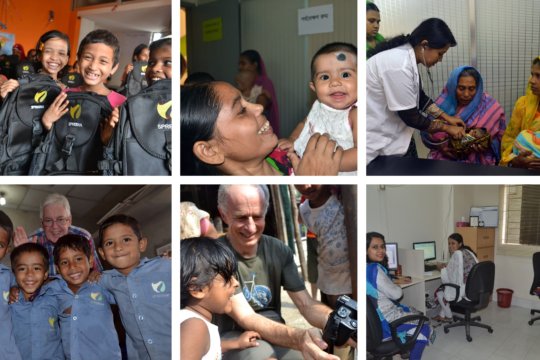 The year in a snapshot...

It has been a great year in Spreeha-land! Thanks to the support of our donors and friends globally, we were able to expand our programs to better serve our family of 20,000 beneficiaries in the slums of Rayerbazaar area in Dhaka, Bangladesh. The growth was driven primarily by the 63 member team of doctors, teachers and social workers on the ground.

In 2015, the in-clinic medical support increased by 21% to 8,547 beneficiaries and we were able to provide maternal (prenatal and ante-natal) care to 552 mothers, a 12% increase from 2014.
We also saw similar growth in Spreeha's education programs – with 16% more super awesome children attending our preschools, totaling to 371 this year. Our After-school program, that assist school going children after regular classes, grew by 24% and now accommodating 424 children.

We're very proud to say that Spreeha's biggest growth this year was in the Skills Training/Empowerment area - the Women Empowerment and Placement program doubled, increasing to 117 beneficiaries! The Young Women Leadership program grew by a whole quarter and the Computer Training program graduated 192 trainees this year, a 54% increase from 2014.
...enough with the numbers!

Spreeha clinic is now offering inpatient services. This means better care for patients in need of extended observation, convenience and comfort along with top notch care that they trust. Additionally, children received Vitamin A capsules at the Spreeha Healthcare Center and Spreeha Pre-schools as part of the National Vitamin A Plus Campaign.

In June, participants attended the second batch of Spreeha's skill training program. Chameli, an alumni of the program states - "through learning skills and receiving training from Spreeha I have gained value in the society and have already secured a job. I think this is the happiest moment of my life."

The brand new Spreeha school bags were distributed in fall along with other needed supplies in the school centers as part of the supplies and hygiene material distribution efforts.
Children create social awareness through comic strips
The 'Imagination is Power' project between Spreeha and GraphicPeople | SoftwarePeople continues to grow. In one quarter this year, Spreeha kids creatied comic strips to promote water conservation in their communities. Many thanks to our volunteers from GP | SP for teaching our children how to use art to solve social issues.
And here in Seattle...
Spreeha's summer fundraising dinner in June at the Bellevue Red Lion hotel was a huge success! On the heels of an inspiring presentation by our CEO, Tazin Shadid and an electric fundraising, the musical performance by the very melodic Anila Naz Chowdhury was the perfect way to end the beautiful evening. A few months later in October, Spreeha held its fall fundraiser in the Historic Flight Foundation, which was another big achievement. Led by philanthropist-father-daughter-dynamic-duo Andrew and Jo Lonseth, the event featured music by Colorworks and raised a significant amount to further help our cause.

A journey of a thousand miles must begin with a single step. We thank our dedicated volunteers who made the events possible, and mostly you, for believing in us and making life without poverty a reality, one step at a time.
.