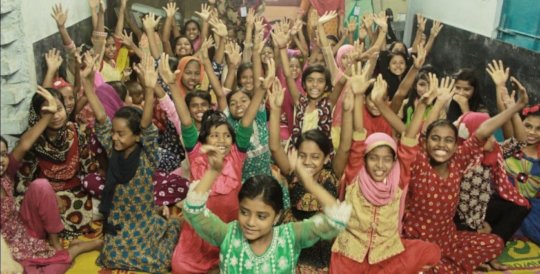 We are delighted to share that Spreeha has touched 100,000 lives. Spreeha has served more than hundred thousand people since 2013 through its healthcare, education and skills training in the Rayer Bazar slum area. An incredible achievement which would have been impossible without our supporters.
This is an enormous achievement for our initiators, donors, volunteers, doctors, educators, trainers, field workers and all those who are engaged with Spreeha. Outstanding accomplishment for our journey of hope one step at a time.
Sharing a summary of accomplishments:
- 62,000 served in Healthcare
- 4,000 students received education
- 1,000 individuals received skills training
- 32,000 individuals were provided awareness counseling
- 2,600 individuals participated in various awareness events organized by Spreeha
Spreeha Celebrated "Safe Motherhood Day"
Spreeha celebrated "Safe Motherhood Day" on April 11th like every year. Maternal and child health continues to be a key focus of Spreeha's healthcare program.

On safe motherhood day, Spreeha organized a knowledge sharing session for expectant mothers at our healthcare center and within the community. The sessions highlighted the importance of providing proper healthcare and maternity facilities to expecting and lactating mothers.

In this interactive session, Spreeha's trained health educators shared lessons from the book "Babu Barta", which is specifically designed to cater to communities suffering from a severe lack of knowledge on prenatal and postnatal healthcare. The participants were counselled on how to respond efficiently to the needs of pregnancy and motherhood, so they are aware of their own health as well as their babies.
Spreeha "Stories of Hope" Event
Spreeha "Stories of Hope" event was held on 21st April 2019 in Richland Library, Richland, WA. The story tellers were Ferdous Oneza – Spreeha CEO, Akram Hossain - Professor of Civil & Environmental Engineering, and former Vice-Chancellor for Research and Graduate Studies of Washington State University Tri-Cities, and L Michelle – Director of Strategy, Spreeha.
The eager audience heard about inspiring stories of struggles, challenges and hope! It was an engaging event and turned out to be a noteworthy afternoon.