Dear Friends,
Our relationship turned 6 years old last month. We launched this education project in 2013 with a dream of imparting meaningful and joyful school education to first generation learners from the Sahariya Adivasi (indigenous) community. Through Global Giving, we reached out to individuals who shared this dream and were willing to offer us their support, guidance and motivation. This laid the foundation of a most fulfilling journey that continues to grow and flourish. Our tiny initiative with 2 schools and 80 children today reaches more than 600 young first-generation learners. Every month, your donations support our teachers' salaries, floor mats, books, notebooks, toys, sports equipment and other resource material for the schools we run for and with our community. We cannot thank you enough for your consistent support over these 6 years.
However, every journey has its set of challenges. We are writing to update you about a (hopefully temporary) challenge that Adharshila is facing. Due to unavoidable circumstances, we are facing a delay in the renewal of our permission to receive foreign funds, which is an essential part of the statutory compliances required for us to remain active on this portal. We have already initiated the process of renewal of the permissions to receive foreign funds, but in the interim, we have requested GlobalGiving to deactivate this project.
We are hoping to overcome this situation soon, and as soon as this is done, we will be back on the GlobalGiving portal to seek your support once again for our work with the Sahariya children.
If you are an Indian national who is in a position to send us funds directly from an Indian bank account, please do reach out to us at adharshilaschool2005@gmail.com for details.
Please accept our warmest regards and heartfelt gratitude.
Links: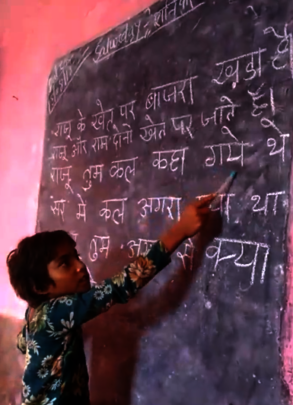 Dear Supporters,
We always strive to make learning interesting, hands-on, and at the same time meaningful. Our teachers create various activities, where children can engage with the concepts and construct their own knowledge. Such a child-centric pedagogy helps us in making the learning a funfilled experience for our students. Here we present you pictures straight from our classrooms, where children are 'playing their way to learning'.
Picture 1: English is an foreign language in our context. It is much more difficult to teach English as the surrounding doesn't provide any support. Therefore, we use lots of stories and poems to help children get acquainted with the language. Here children are singing one of their favourite poem in a group.
Picture 2: Verbs are 'action words' and they best can be learnt while acting them out. In this activity, the teacher is assessing students, if they have mastered the new verbs learned. Students have a good time acting the verbs called by the teacher.
Picture 3: Reading is certainly one of the biggest milestones of language learning, and it gives immense satisfaction to the teacher as well as the students when that is achieved. In this picture, children are reading texts, and also modelling it to the ones still in the process.
We are extremely delighted to be able to take you to our class activities through these pictures. We hope that you enjoyed being introduced to our funfilled learning activities. Looking forward to hear from you. Your suggestions would take us a long way in strenghtening our initiative. Keep spreading the word about our initiative.
Thank you!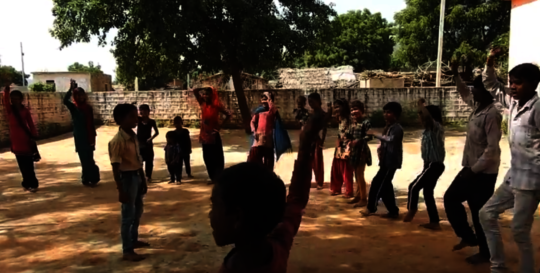 Dear Donors,
This time we bring to you the story of our students, who not just inspire their fellow students but also us. They are the live examples that motivates our team in continuing this initiative of free and quality education for all. Let us introduce you to two such inspiring students.
First one is Arvind, who came to Adharshila on the very first day of the school's opening. It was 15th of August 2005 and Arvind a little boy of 8 joined us. He never liked to miss a day of school till he graduated from Adharshila in March 2016 after taking the board exams, which he aced. Soon after he started preparing for competitive exams. In 2017, he took the recruitment exam for State police service and got selected. At Adharshila Arvind has been known for his passion for Mathematics and Cricket. He loves talking and thus relishes being on the stage. Once he grew taller enough to stand to the microphone, he never missed any opportunity of anchoring and was always the first to grab any anchoring opportunity. From a toddler in grade III, Arvind has become a source of inspiration to other children. We hope that he blossoms into a man of honour and integrity. We wish him all the luck in life and career.
Another inspirational story is of a tribal girl Papita. Papita is in 9th standard now, and it's been 4 years since she joined AMHS. Earlier she was studying at one of our SRCs and got promoted to AMHS after successfully completing her primary schooling. She is seen actively taking part in various events at the school. In her words "One thing I cherish here is that we have all the freedom to take part in activity and event of our choice". Be it games like kho-kho and kabaddi or dance performances at the annual cultural event, Papita can be easily spotted everywhere. She adds "we do not have to face discrimination here; all students get the same treatment and I really like this… People from our village used to say that Adivasi do not study, but now that a number of us are attending school and doing well people have stopped making such comments". She understands the role of education and thus says "I aspire to become independent one day, my schooling will pave the way for achieving my goals"
We hope that you enjoyed knowing our students. We look forward to having a few words from your side about our initiative. Meanwhile, please spread the word about our work and keep supporting us.
Thank you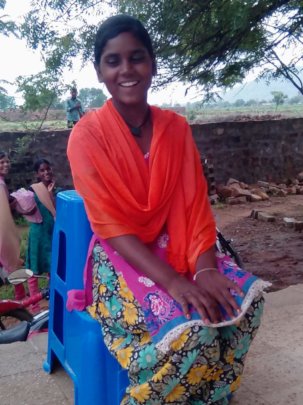 WARNING: Javascript is currently disabled or is not available in your browser. GlobalGiving makes extensive use of Javascript and will not function properly with Javascript disabled.
Please enable Javascript
and refresh this page.