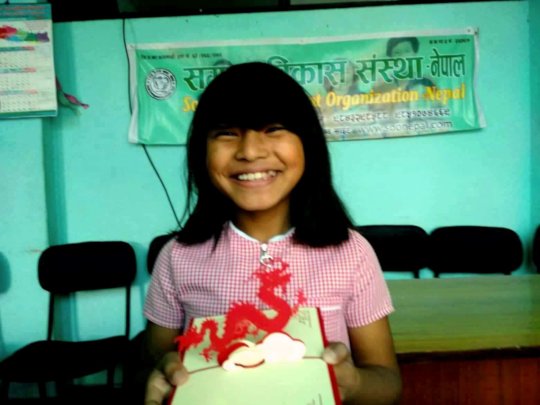 Dear friends,
Namaste and Greetings,
It's our great pleasure to share with you all beloved friends the Quarterly progress report of SDO-Nepal's child-home-orphanage for the duration of 8th May to-date as follows:
1) Our voice:
"Whose stool is this ?"- neighbor shouted seeing the feces at the top of the building. 8 years old NIRA when she came first time at this orphanage she had not excreting since 3 days inside our toilet because she has not habit to excrete on floor mount type toilet and also did not understand the Nepali language as she has habit of excreting on open areas at her village. Instead, she was excreting on the top of the building on open areas. Hence, the smallest girl SABITA, 5 years old who is staying here since two and half year, taught NIRA on toilet using process staying inside toilet everyday until NIRA finishes her excretion. As a result , now, NIRA is habituate to use this toilet without the help of Sabita. Indeed, Changing the habit/ tradition is very difficult to human. Now, NIRA is studying at class-KG and she is very industrious, well disciplined and lovely girl. Her class teacher told that NIRA incredibly progressing on her study.
2) Achievements:
a)Educational progress of children:
We are so glad to share the Educational progress Report of the children who received the outstanding and excellent performances on UNIT-TESTS.
* SRIJANA, class-3 received FULL-MARKS i.e. 30/30 on Math and 24.5/25 on Science subjects and awarded with pencils and beautiful dragon's post card from her school.
* SABITA, class-KG is rewarded with pencils, sharpener and cutter on the excellent art work on Mango-Coloring from her school.
* SUSMITA, class-4 received FULL-MARKS i.e. 10/10 on Science subject and awarded with pencils from her school.
*DOLMA, Class-4 received FULL-MARKS i.e. 10/10 on Science and English subjects.
* KARISHMA, class-3 received FULL-MARKS i.e.10/10 on class tests of Math subject.
* PRIYA, class-9 received A+ marks on Math's class works
*Rest girls also received good results in this exam.
b) Extra-Curricular-Activities:
* PEMBA, class-3 is appointed as class captain, green house captain and cleaning captain.
* DOLMA, class-4 is also appointed as class captain.
3) Others:
We have protected a new girl KARISHMA , 8 years old who is from remotest Karnali region. KARISHMA is an orphaned girl and is from marginalized and very poor family. She is admitted on Class-3 at Tilingatar HS School and is provided her new school dresses and new books.
Children have celebrated various feasts, festivals and functions as Mother's-Day ,Teacher's-Day, Saune Shakranti, 15th Ashar and 15th Shrawan with great joys.
Vice-Chairman Mr. THAKUR has participated on GlobalGiving's Workshop at Kathmandu ,on improving the online fundraising skills to partner organizations.
Mrs. BIMALA mam from the Women and Children Section of Tokha Municipality, monitored and observed all the activities conducted at SDO-Orphanage and interacted with all children and members.
Dr. THAKUR has examined and provided the medical consultation to all children as a regular health checkup. Doctor told, all the children are in good health. Thank you Dr. for your love and great support.
Best wishes and congratulations to our secretary Mona for participating on International Teacher's Training at Toronto, Canada.
3) Financial status:
During this 3 months of period we paid- $220 for school fee/ exam fee. Books/stationery purchased $ 40. Food items purchased- $380, School uniform / shoes/ socks / umbrella purchased- $60 , House rent paid $ 480, paid for electricity for a year $75, paid for cable TV $25, wooden drawer purchased $ 15, care-giver salary paid $180.
4) Our kind Gratitude and Acknowledgements:
i) We are always Grateful to our most-respected-DONORS: ANN, KRYSTINA,SAMITA &MAHESH, CINDY, BEATRICE, SUZANE, ANA MARIA, WOLF GANG , RAJAN, SAMBIT for your CONTINUOUS MONTHLY DONATIONS through GlobalGiving and at our office !
We are heartily Grateful to our respected friend ANN for your love and continuous support since very beginning of this orphanage through GlobalGiving and increased your donations to $190 per month.
We are thankful to our respected friends MATT & CORRINE for your love and worthy donations of $ 225 through GlobalGiving.
We Thanks to our friend Samita & Mahesh for your love and continuous monthly donations of Nrs 4000 per month here at office
We are always thankful to our friend Beatrice for your love and donating Nrs 4,826 here at office to provide school uniform, shoes, tie, belt, bag, stationery and good treats to Karishma, class-3.
We are indebted with you all beloved friends for your love, inspiration and support to ensure the lives of these children. THANK YOU ALL!!
ii) Similarly, we are so thankful to those friends who supported with cash/foods/ cloths/accessories etc during this 3 months period are:
Our Thanks to respected Gangaram sir for providing 3rd installment of EQ scholarship to our orphaned girl Sabita, class-KG to continue her school education.
Our kind Gratitude to Chandrakala & Grainne mam for your great visit , love and donating Nrs 5000 and $40 with chocolates.
We are always Thankful to our lovely friend Leila for your love and providing gifts of toothpaste, soap, shampoo, face wash, lip balm and bananas to children. You played carom board , gatta, jigshaw puzzle with children and making them always happy.
Similarly, our Thanks to our friend Bipin for providing T-shirts and Trousers to little girls Sabita and Nira of class-KG.
Dear friends, from the love and support from all of you, our hopes are sprouting and getting encouragement to protect more needy children and run the orphanage sustainably. But, due to the highly increasing market price day by day and rapidly increasing education costs, it is being hard to provide the fundamental needs to our orphans and abandoned children. You all know well, our Project is Live on GlobalGiving's site. GlobalGiving is launching a matching campaign during YOUTH-WEEK starting from 9:00:01 EDT of 6th AUGUST and will run until 12th AUGUST. There is 100% MATCH on every NEW-RECURRING-DONATION started within this matching campaign with other bonus prizes.
Your every donation is precious and will bring the significant changes on the life of these orphans and abandoned children. we look forward for your continuous support, encouragement and hoping that you will spread your kind words to support on our Cause. These are also your own children. Before closing, we would like to extend our heartiest thanks to GlobalGiving Team, Our valued Donors and Supporters who have been supporting to our children!
With kind gratitude !