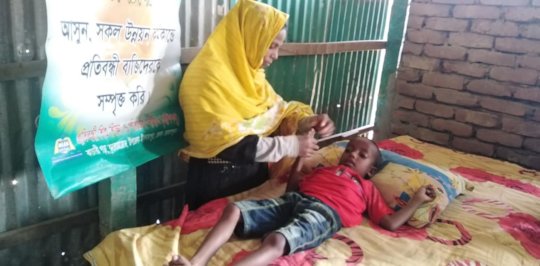 Progress Report on Health services of Children with Disabilities.
ProtibandhiShishuShiekkha O Paricharja Samity (Proships) is implementing program ensuring health service of the rural and remote areas children with Disabilities. Our working areas Parents are very much feeling tensions with their child because home is far distance from urban medical Centre. Parents are not understood what are doing. Parents are illiterate and care less and not aware about their children treatment. As a result they have no accesses to rehabilitation from medical Centre. Mothers and also fathers are suffers from inferiority complex.
Under the services numbers of 60 (sixty) children received and we provide therapeutically services and medicine support in to cerebral Palsy Children. Organization rehabilitation team members are identify to Children with Disabilities with Cerebral Palsy Children and We are addressing and Plan to Provide home based therapy services once a week. Organizational Technical staff's member provide home based rehabilitation therapy services twice a week and trained to mothers and care givers of the children for rest of the days services delivery to the concern children. Beside we are established referral services for advanced treatment and also general health.
Organization Conducted a Medical Camp on the date 24th February 2020 for their ensure health services, we are addressing the camp services are re-assessment and Diagnosis and develop a Plan for Rehabilitation their Physical improvement. Provide Medicine to the Cerebral palsy Children and Intellectually Disable Children and also Mentally illness children. Most of the Parents are explain their feeling "We are not affording expenses so it is free from money expenses from the organizational services. it is good for our children and we are grateful". Our team member are conducting courtyard meeting with her neighbor creating positive attitudes on her disability. Parents are thanks to PROSHIPS rehabilitation activities for their continue support for her development. Overall health would be ensured to create a healthier society. If we are support to health services on Doctors fee , Diagnosis cost , Medicine and others related health in order to make them physically and emotionally capable to lead a successful life.
We are attention to our GlobalGiving Donors for donate to health services of Children with Disabilities for their Physical and mental improvement.
Md.Rafiqul Islam
Partner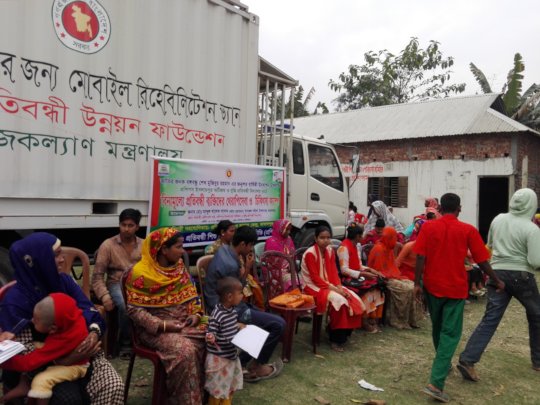 Babita wants to help on menstruation Hygienic Materials.
Babita is 15 years Adolescent girls with Disabilities. Parul is Hearing Aid user and she is one of the most vulnerable adolescent girls. Always they are looked down upon, neglected and deprived of most of their basic human rights. Menstruation is a biological process in girls & women. But this is a big social taboo in our area. Babita is bound with social and family's restrictions such as:- not touching books, barrier doing home work and outside walking , not publicly discuss about this issue.Organization co workers are Provide the basic knowledge and aware to her menstruation hygiene .With support of GlobalGiving Foundation she received sanitary napkin on menstruation period and she manages her personnel hygienic. Now she is happy and grateful to GlobalGiving foundation for support her menstruation hygienic materials and wants to continue. Now she is enjoying fulfill life independently. Use of Sanitary napkins will help them to remain healthy. Free from infections, more confident positively. Enhanced knowledge on menstruation will enlighten them against malpractices during menstruation. She is leading the Community awareness raising activities through discussion with others girl friends and neighbors. But Most of the Adolescent girls still use old and dirty cloth pieces during periods and these cloths dry in behind and due to lack of menstrual hygiene awareness and difficult access of sanitary pads in rural places. Adolescent girls with disabilities in the rural areas don't management due to their habit and have no knowledge menstrual process and reproductive health.Overall health and gender empowerment would be ensured to create a healthier society. If we are support to empower and educate Adolescent girls on Personnel hygienic in order to make them physically and emotionally capable to lead a successful life. Finally we are apologies to donors for support to her and others and we hope and believe comes to support us with adolescents' girls to protecting critical disease and ensuring her empower.
Mr.Rafiqul Islam
Partner
Donate wants for making difference with education.
Ranjan is a 14 years boy he is Cerebral Palsy Children with Disabilities (CWDs) with wheel Chair user. He is our listed beneficiaries of our organization. He is now reading Class four and he is attending annual final examination last year. He is read in Dewangonj Model Primary school. He is late admission in school due to his disability. Before admission in the early age he is not walking properly.
Proships provided therapeutically rehabilitation service. After therapeutically services now he is goes to school with wheel chair very hardship .His father name is Poddi and Lives in Village of Dewangonj Bazaripara under Upazilla Jamalpur district northern part of Bangladesh. He has a disability by birth and they are three brothers and sister. His father and mothers are very poor. Father is van driver. Father is only earning members of the family. Mother is a house wife. Ranjan is one of the most Vulnerable Children in the community. Community Peoples looked down, neglected and deprived of most of their basic human rights. Parents' showing negative attitude regarding the to their disable children due to illiteracy Parents. In the early Parents do not wants to enroll in school due to their hardcore poverty But he is determined and committed about his education. He and his parents are very happy for their performance and now parents is motivated and understood about their children future. He is disadvantaged and they have need tuition fees, session charge, school Uniform /school dress educational materials, tiffin cost for his continue education.
If we provide support to him on education, he is growing up as productive resource of the community through our services. He will be interested to going to school and improve educational performance and attendance will increase in the school. Reduce possibilities of the drop out in the school.
Our organization has implementation to ensure the educational rights of the Children with disabilities and support through facilitating proper education. So we apply to our donors for supporting running our education program smoothly.
Mr.Rafiqul Islam Partner
WARNING: Javascript is currently disabled or is not available in your browser. GlobalGiving makes extensive use of Javascript and will not function properly with Javascript disabled.
Please enable Javascript
and refresh this page.