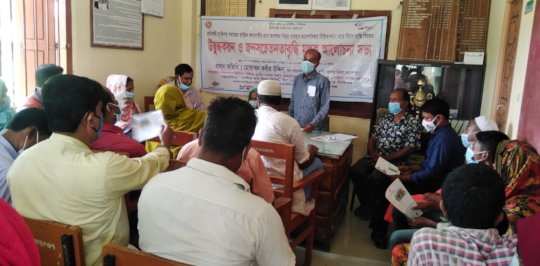 TOGETHER SUPPORT WANTS ON COVID 19 IMPACT RECOVERY
Corona Virus COVID-19 pandemic has caused devastation across the Country and with our areas. With early stage economies have taken a huge hit for our working areas with shutting transportation, market Place and declare keeping quarantines. Now going stared second weave, Our targeted family and their members will be victims and with bigger face problems with possibilities jobless, especially among the small Businessman, shop keeper and daily wage workers. As a result their life will hampered and stopped, humanity will destroyed. Our organization team members are organize awareness raising meeting on the dated 30th June 2021 with Physically Challenged people and Community Elite on management of COVID19 and on regularly conducted Court yard Meeting, leaflet distribute, Hand wash Practice. we are trying to provide some Masks, hand Gloves, hand sanitizer and provide food package into our Project areas with few beneficiaries But Not support to them regularly every one protective materials for pandemic protect of COVID 19 due to our financial limitations & constraints.
Now they have need help basic living needs like food, medicine, mask, hand gloves, hand sanitizer , referral services for vaccine received , Support need for small shop keeper & daily wages worker and others daily needed goods for survival of the family members on Period of the COVID 19.
We understand that we are in this for the long term. We are dedicated to helping our community survive this Corona virus pandemic and come out stronger on the other side if we can take initiative together for support to them and this project activity will help them to recover from covid-19 impact. During this time is distress, save the livelihood of 500 moderate and severely physically challenged families to your timely donations. We apologies to your donation and come with us help them acquire their basic living needs and protective materials support.
Md. Rafiqul Islam
Project Leader/Partner
Donation needs for free from infection and difficulties .
Sajeda is 17 years Adolescent girls with Disabilities and she is Partial visually Impaired adolescent girl and she is one of the most vulnerable adolescent girls. She lives with her family upazilla islampur district Jamalpur northern part of Bangladesh. Her family economic condition is low level. But she has high ambition she will be educated on her Menstruation hygienic with safety. Organization co workers are Provide the basic knowledge and aware to her menstruation hygiene and she manages her personnel hygienic.Due to family economic condition now she wants donation for buy Hygienic materials and continue. Now she will be enjoying fulfill life independently. She wants monthly Sanitary napkins support during menstruation periods and thinks she has to help them to remain healthy, free from infections, more confident positively.Most of the Adolescent girls with Disabilities still use old and dirty cloth pieces during periods and these cloths dry in behind and due to lack of menstrual hygiene awareness and difficult access of sanitary pads in rural places. Adolescent girls with disabilities in the rural areas don't management due to their habit and have no knowledge menstrual process and reproductive health. Menstruation is a biological process in women. But this is a big social taboo in our area. She is bound with social and family's restrictions such as:- not touching books, barrier doing home work and outside walking , not publicly discuss about this issue.If we are support to empower and educate Adolescent girls on Personnel hygienic in order to make them physically and emotionally capable to lead a successful life. Enhanced knowledge on menstruation will enlighten them against malpractices during menstruation. We are apologies to donors for support to her and others and we hope and believe comes to us for support adolescents protecting and empower.
Mr.Rafiqul Islam
Project leader/Partner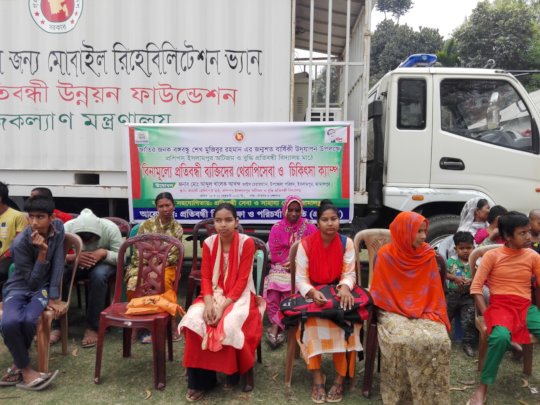 Donation need for Health service activities.
Our Organizations Conducted a Mobile Medical Camp with Van on the date 24th February 2021 support with Govt. Protibandhi Seba O Shahaja Kendra Jamalpur district for their ensure health services, we are addressing the camp services are re-assessment and Diagnosis for treatment their Physical improvement and Provide Medicine to the adolescent, Children and Mentally illness person. Beside we are established referral services for advanced treatment and also general health.
Parents very much feeling tensions with their child health because home is far distance from urban medical Centre. Parents are very poor and Day labour and most of mothers works in house wife. Parents are illiterate and care less and not aware about their adolescent girls treatment and also suffers from inferiority complex. As a result they have no accesses to health services from medical Centre. Their parents cannot bear any cost of the health services. They have need support to General health services on doctors fee , Diagnosis cost , Medicine and others related health in order to make them physically and emotionally capable to lead a successful life.
Under the services numbers of 60 (sixty) children and Adolescent girls received Diagnosis and medicine support with free of cost . Parents are explain their feeling "We are not affording expenses so it is free from money expenses from the organizational services. it is good for our families and we are grateful".
If we can support to health services on Doctors fee, Diagnosis cost , Medicine and others related health in order to make them physically and emotionally capable to lead a successful life. So we need donation for ensure health services expenses and Overall health would be ensured to create a healthier society.
Md.Rafiqul Islam
Project Leader/Partner
WARNING: Javascript is currently disabled or is not available in your browser. GlobalGiving makes extensive use of Javascript and will not function properly with Javascript disabled.
Please enable Javascript
and refresh this page.