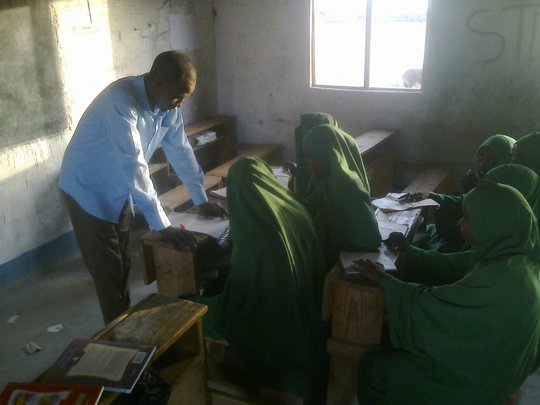 We have some fantastic news to share with you. In April, we organised a meeting for the main project stakeholders, i.e., the parents of the beneficiary girls, teachers, and members of the school management committee, local leaders and education administrators.
Fortunately, before this meeting, an educational conference was held in El-wak Town, the project location. The objective of the conference was to bring together different education stakeholders to deliberate on the poor standard of education in El-wak Sub-county. The conference helped raise the awareness of the community concerning underachievement of children both at the primary and secondary level.
By the time we organised our April stakeholder meeting, the local community, especially the parents of the direct project beneficiaries, are determined to support any effort to improve the standard of education in the region. Among the support we received towards the project included the following;
• The local primary school kindly allowed us to use their Classrooms to conduct intervention lessons for the three key subjects of Mathematics, English and Kiswahili
• Five volunteers from the local community joined us to provide mentoring services for the children and support the training the School Management Committee.
• Support from the local business communities with discounts on books, Stationery and transport
• Support from local leaders and individuals with future fundraising for the project.
Since our last report, several activities have been completed.
• The selection of project beneficiaries- Because we have not reached our target of £31,000 to support the initially planned 100 Orphan girls, we started with 30 orphan girls (10 -14 yrs) from El-wak Girls Primary School.
• All the 30 girls have received a solar lantern, School Uniform, books and stationery to support their studies.
• Four Classrooms, an Staffroom and Head Teacher office have been renovated (replacement of doors, painting and fixing Notice boards) and electricity installed. This will help with night time intervention lessons for older children and also the opportunity to use Computers and other audio-visual resources.
• Three competent teachers from neighbouring schools were selected and will receive additional training and support during the course of the project.
• The girls are receiving 12 hours of lessons outside the normal school time
Because of your generous support, 30 Orphan girls have now the opportunity to realise their dreams. They have school Uniform, writing and reading books, lights for reading and the opportunity to receive support in small groups ( Max 16) compared to the normal class sizes in the local primary schools (average of 100). In addition, the solar lanterns are being used by the whole family saving them money and the risk of fire and pollution coming from the fumes of kerosene lamps.
In addition, girls living closer to the school now have the opportunity to study at night since the school has electricity. This was made possible by your kind donations and support, and we thank you sincerely on behalf of our beneficiary.