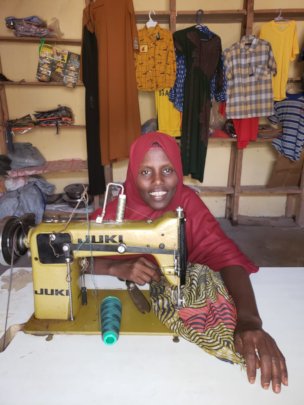 Dear our wonderful donors,
In my last report, I mentioned that 48 out of 50 women who started the Street Business School training programme completed it and received their certificate. After graduation, the beneficiary women and our staff embarked on feasibility studies on viable business opportunities available in the towns. The women used their newly-acquired business skills, especially market research well before the COVID-19 pandemic caused disruptions to movement. Mandera County, where our project is located in is one of the National Government declared COVID-19 hotspot, which means there are no movements of people into or out of the county. Despite this setback, about 19 out of 50 women successfully identified a livelihood option that they felt meets their needs and in line with their experience and skills.
In total three livelihood options was identified;
1. Goats rearing
Nine women choose goat rearing as a livelihood option

In total 117 goats (13 per woman including one buck)
2. Donkey cart business (8 women)
Eight women choose this livelihood option.

Each woman received mature male donkey and a donkey cart, tools required to support quarry activities and maintenance of the donkey cart.
3. Tailoring services
Two women choose this livelihood option

Each woman received a sewing machine, necessary accessories and a supply of materials to make school uniform and usual dresses.

Also, the two women are currently undergoing further training in tailoring to upskill them.
As I mentioned previously, this project is partly funded by DFID's Small Charities Challenge Fund. Our success in securing funding from SCCF was partly made possible by the support we have received from you, our wonderful individual donors. On behalf of our beneficiaries, staff, and trustees THANK YOU.
During our recent monitoring field visits, the project team were happy with the progress most of the women were making. For example, the following women shared their success stories with them.
Fatuma " I am delighted with my stock's performance. So far, we have one additional kid and a lamb. Unfortunately, one goat had a miscarriage, and we expect two more goats and sheep to give birth anytime soon. My son Abdihamid was excited to see the new lamb."
Rahma " my donkey carts have been busy since I received it. I am grateful GENCAD gave us additional donkey cart body suitable for carrying soil. I have the flexibility to engage in different activities. My donkey cart can carry stones, soil and firewood, which means I am always busy. I just secured a contract to supply 200 trips of soil and stones to a construction site. I am pleased."
We are delighted our little investment with your help have put smiles on the faces of many families in Elwak Town. Such positive sentiments coming from our beneficiaries is a reason for us to exist as an organisation. We thank you most sincerely for helping us change many lives.
In the coming weeks and months, we hope the remaining women would have identified their livelihood options and set themselves on the path to graduation out of poverty. The beneficiary women's enthusiasm to succeed is refreshing.
Thank you, our wonderful donors for making this possible. I am sure you will work with us to continue making a difference in the lives of ultra-poor women and their families in Kenya.
This project will be competing for match funding starting Wednesday, July 15, 2020 at 09:00:00 a.m. ET. Any donations of $100 - $499 will be matched at 15%, donations of $500 - $749 will be matched at 30%, and donations of $750 - $1,000 will be matched at 50%. Please consider donating to this project so that we can support our beneficiaries during these difficult times and ensure that they don't sale their assets to cope with the impact of COVID-19.
Thank you, and may God bless you.