Mentoring teen orphans is not always a piece of cake. Sometimes it takes a while to get to know each other, to start trusting and sharing.
One of the "Teen Mother" program recent graduates, Nastya, shared a touching story about her relations with her mentor Oxana. When Nastya saw Oxana for the first time, she immediately knew they were soulmates. But she was too shy to approach this woman. She waited several months, until Oxana came back to one of the regular events Kidsave organizes to bring teens and potential mentor together. Nastya couldn't believe that she was seeing that woman again. She held her breath and introduced herself. They talked for several hours non-stop. Not only Oxana became Nastya's mentor within the program, she is her life-long friend now.
Watch Nastya and Oxana sharing their mentor-mentee story (English subtitles available).
Mentor Oxana and her mentee Nastya
We have selected, trained and matched mentors to at least four teen mothers in Moscow in the past 3 months, and we continue monitoring and supporting the existing mentor-mentee relationships. Both young mothers and their kids are at risk and in need of connections to trustworthy, caring adults who would be by their side when they need it most.
New participants are joining the program, new babies are arriving, and we are grateful that, thanks to you, they get a chance for a better life.
Links: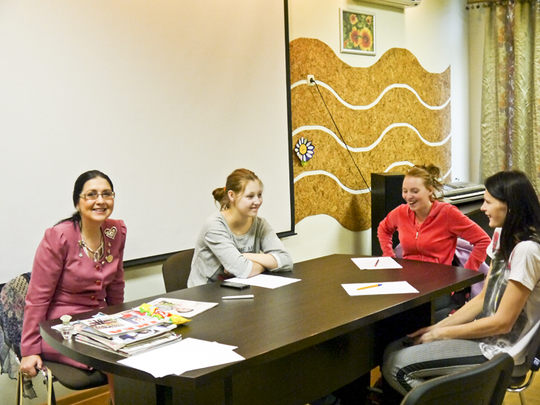 We've started a new series of professional consultations and workshops for our program's teen mothers in Moscow. One of such workshops took place on October 16, 2014. It was devoted to turning dreams into actions and creating a map of the future.
Svetlana Lototskaya, a Kidsave Russia supporter and a successful makeup industry expert, talked to our girls about the importance of continious personal development, setting life priorities and visualizing dreams. They discussed different ways of planning the future for teen moms and their kids.
After this inspiring and personal discussion young moms, a bit nervous and reserved first, started sharing their dreams with Svetlana. One of the teen mothers is waiting for her child's father to come back from the army. Many girls talked about their dream home - a cozy and safe place filled with their kids' laughter and family traditions.
Svetlana suggested taking these dreams one step closer to reality and creating a real physical map or a collage of things the girls hope for or like. It was a touching moment when you could really see how young and vulnerable these mothers are - giggling, chatting, cutting images out of magazines, drawing pictures and mapping a brighter future for themselves and their babies.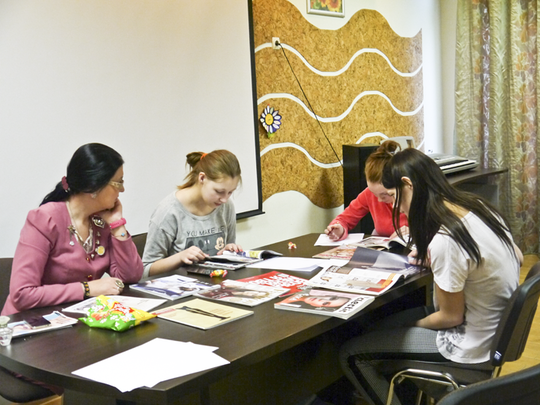 On June 24 teen mothers, mentors, volunteers, graduates, supporters and staff of Malenkaya Mama Moscow program came together on a city boat trip. The name for this event came about naturally – STAND BY ME. A boat, a ship is symbolic as it reminds us that "we are all in the same boat" when sailing along the river of life.
For a couple of hours "Malenkaya mama" program participants and supporters find themselves in the most peaceful and friendly environment – a place where they can talk, laugh, find new connections or just stay in the moment and feel each other's presence.
Svetlana has been with our Moscow program since its launch in 2011. She is a proud mentor of two wonderful young moms, one of which has already left the program and is now living independently with her daughter.
Yaroslava is a make-up artist and stylist. She has been volunteering and helping our program for quite a long time. Recently she decided to become a mentor for a 17-year old girl and her 5-months-old daughter. They first met at the program event in the end of May and connected immediately. This time they were sitting together and chatting during the whole trip. Yaroslava will go through Kidsave's training and hopefully become a long-term trusted mentor.
Thanks to your support, Kidsave was granted a permanent space on GlobalGiving
Sonja Lehner, Program Associate for the Crowdsourcing Social Innovation Program: "We have been so impressed by your hard work and determination that we would like to invite you to continue fundraising on GlobalGiving as a permanent partner."
We are so grateful for your help to these young mothers! Please spread the word about Kidsave's programs in Russia and invite your friends to support this cause. Have a wonderful week!
Links:
WARNING: Javascript is currently disabled or is not available in your browser. GlobalGiving makes extensive use of Javascript and will not function properly with Javascript disabled.
Please enable Javascript
and refresh this page.