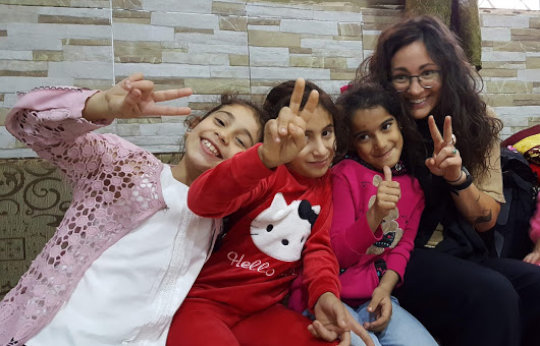 The latest upsurge in war violence against civilian populations in Iblib and other areas of Syria is adding to the tragic humanitarian crisis and resulting in additional hundreds of thousands of refugees fleeing for their lives, most facing a dangerous odyssey on foot through winter. Once again Jordan is receiving these refuges and adding to the massive number of refugees it is already struggling to care for and protect.
In the midst of this rising challenge, our trauma healing programs and treatment skills training provided to local trainees are continuing to steadily and successfully work on increasing the local capacity within Jordan to provide the critical care required to meet this need.
** A FULL WEEK OF 50% MATCHED FUNDING COMING UP:
On March 23-27 EVERY ON-LINE DONATION WILL BE MATCHED UP TO $50.
So this is a 5-Day opportunity to increase the value of all donations - and our ability to continue these life-saving services!
The campaign begins March 23 at 9:00 am (Eastern Standard Time) and ends March 27 at 12:00 am midnight. Please consider making a donation during this time.
Two examples of our community-based direct service programs that have very high potential for being quickly replicated and expanded to reach significantly more children and their families, and that we are seeking support for to make it possible, are the Trauma Informed Schools (TIS) program and the Women's Safe Space (WSS) program.
1) The TRAUMA-INFORMED SCHOOLS (TIS) program
integrates trauma healing, recovery, empowerment, and resilience building for Syrian refugee children and their families, as well as the schools teachers, into the regular school setting.
It is currently implemented at an elementary school for refugees in Amman where the students served have lost one or both parents to the war and violence of the Syrian civil war, and is being received enthusiastically.
This program works to create a school culture that supports children experiencing psycho-emotional trauma and profound loss. Services include:
- teaching children personal self care and coping skills oriented to their age group and culture,
- providing them with direct psychosocial counseling and intervention
- providing these children and their families with resilience building experiences,
- supporting teachers and training them to identify and understand trauma symptoms and how they impact a child's learning and behavior, and to gain skills in how to best respond to and be supportive of students and parenting
- providing parents with support and guidance in how to assist their child's psychological and emotional needs, including their school performance,
- developing teacher/parent groups to promote on-going cooperation and support between faculty and parents as they utilize the learned awareness and skills to continue developing and strengthening the program into the future.
With the support and endorsement of our participating schools and universities our intent is to demonstrate the success of this program in key cities throughout Jordan and promote the Ministry of Education integrating it into the curriculum of the existing national school system.
2) The WOMEN'S SAFE SPACE (WSS) program
is a 2nd important psychosocial service program we have established and have been operating in Irbid that serves at-risk refugee women and girls. This service provides a place where vulnerable refugee women and girls can gather and feel secure, comfortable, and nurtured in receiving psycho-social support, healthcare services, and basic personal needs, and where they can acquire skills to regain their dignity and confidence to help them heal and cope with their traumatic experiences to successfully recover. It provides a consistently available and inviting place for women and young girls to come together for needed guidance and support from psychosocial service staff, aid workers, and volunteers, and where they can regularly interact with and support each other as a mutual support system
Like all of our community based service programs, these two examples demonstrate effective, culturally tailored, and highly portable models that can be quickly scaled up, sustained, and replicated at other schools and local partner service agencies in Jordan - where the need is massive and skill and financial resources are scarce, to serve more refugee children, women, and their families.
We are now hoping to achieve the financial resources that will enable us to replicate these service programs in other major refugee population centers in Jordan.
With the needed support, we are preparing to use the trauma-informed school demonstration in Amman to replicate it at schools in Irbid and Karak, as well as other locations in Amman, and to replicate the Women's Safe Space service program in Amman, Karak, and Mafraq
These cities both have significant refugee populations and are also where 4 of the 5 medical schools we have official partnerships are located. We also have local team members located in each city.
Importantly, our university partnerships provide a steady stream of medical student trainees we are equipping with psychosocial treatment skills through our Social Health Care certified psychosocial treatment and skills training program – which they receive credit for as part of their official academic programs. Through their field work for this training we are provided with a consistent pool of professional trainees who devote substantial time and energy to directly assisting our team in staffing and conducting these critical services, while also progressively increasing the overall pool of medical service providers in Jordan who are equipped to address psychosocial treatment needs for all.
An added benefit of having such a consistent supply of medical student trainees is that we can offer medical health screening and education services to those we serve.
Our overall model and commitment is always one of strategic collaboration with other local humanitarian service organizations and groups that share our commitment, to achieve a greater and more sustainable impact for large populations in desperate and immediate need, and to stretch scarce funds.
In this way every dollar donated to our efforts goes fully into direct services to multiply the amount of service actually provided, and the number of refugee children and their families who are reached with these services.
Although the need is immense, through our efforts and those we partner with, and with the essential help of those who generously contribute the needed financial resources that make it possible for us to continue this life-saving work, we are steadily making a significant, concrete, and lasting difference in healing and rebuilding the lives of so many - while making every dollar count.
HOW YOU CAN HELP MAINTAIN OUR LIFE-SAVING ASSISTANCE:
Continue supporting our work with your generous contributions. Every donation amount results in our reaching more children and families to achieve more healing and recovery. And the 50% matching campaign increases the size of your donation.
Share our story with family, friends, and colleagues to encourage their support by raising awareness of both the need and the concrete good being done.
Link our appeal site to your social media sites and ask others to do the same.
Learn if your employment offers matching donations for humanitarian causes to multiply our contributions.
Feel free to contact Steve Olweean or Myron Eshowsky with any questions or to share your feedback: SOlweean@aol.com.
Links: