Our man in Cuba.
(presently 97 visits and counting)
Cuba's New Special Period
Dear Friends, I thought I would take this opportunity to catch you up on what is happening in Cuba. In short, we need your support now more than ever, because the Cuban people are facing new hardships.
You might think the opposite is true. News broadcasts in the United States often make it appear life has changed in Cuba. It's easy to think things must be getting better, thanks to the sudden increase in tourism dollars from the United States, and the multiple politicians and celebrities going to the island.
However, just 4 weeks ago Cuba warned its people of a possible second "Special Period." The first was immediately after the Soviet Union pulled their support from Cuba, causing great suffering for Cuban families. Shortages of food, medicine, energy and general supplies were common. So what could create such a condition in Cuba to cause this to happen a second time?
Two reasons: First, Cuba's biggest source of economic support has been Venezuela. However, Venezuela is in economic trouble now, so they have withdrawn their support. In fact, their last shipment of fuel to Cuba was delivered a few weeks ago.
Second: Tourism has reached an all-time high on the island (just look at any travel magazine these days). But tourism comes with a price that a country must be prepared for. Cuba was not quite ready for such a large influx of foreign visitors. The joke among the tourists from other countries is that they must see Cuba quickly before Americans get there and change the culture.
Most people that have been there recently can tell you that the infrastructure is not set up for the load, and resources aren't adequate. With the increased tourism, more water, food and energy are needed--and they must be taken from somewhere else in the system: yes, the Cuban people. Only two weeks ago when I was in Cuba, blackouts in Havana neighborhoods had begun.
Every Cuban in the cities and rural villages that I visited only spoke about the current hardships. Discontent among the people on the streets is common.
As First Hand Aid begins planning for next year, we weigh what is most important in our outreach. How can we give the most support to families not being able to survive day by day? We will keep you posted on how we focus next year's projects and assistance to the Cuban people, and I'll let you know how you can help.
Once again thank you for all of your support every year to our organization and the Cuban families who receive our help.
If by chance I ever forget why we do this and why I dedicate my life to this cause, I remember this little girl. Each time we drove to a remote mountain village she was standing by the street. She lived in a one room farmhouse, no plumbing, no electric. We always stopped and gave her toys and things for her family. I believe even though we only we up the mountain four times a year, she waited everyday hoping for us to drive by her house.
Marc Boland
Executive Director
First Hand Aid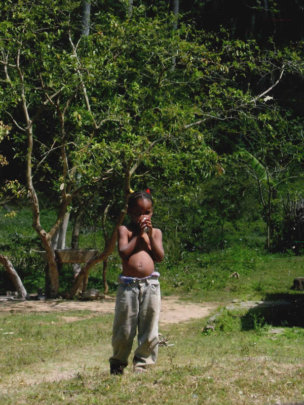 Links: