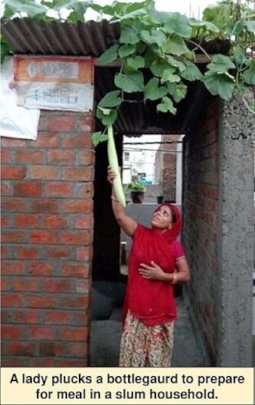 Key Message: Home vegetable gardening promoted by provision of seeds is helping families use tomatoes, brinjals, pumpkins, beans growing in their small slum houses. In 2020 the distribution of seeds was increased from 600 (in 2019) to 1100 families. During COVID19, sharing of surplus harvest with neighbours is helping over 27500 slum dwellers surmount food insecurity during hard times.
UHRC has been promoting vegetable gardening since past five years in slum households in Indore. Seeds are provided by UHRC social facilitators. Facilitators motivate families to tend plants as they grow. Basti (slum) families grew beans, bottle gourds, round gourds, sponge gourds, tomatoes, brinjals, small green peppers, and pumpkins in small spaces and broken buckets. Creepers also helped surmount space constraint. They were motivated, overcome space constraints of small slum houses and enhanced confidence to nurture household vegetable gardens.
Bast (slum) families were practicing vegetable gardening were able to avail benefits of their produce during COVID-19 which ravaged livelihoods and savings of many slum dwellers. In 2019 to 20 600 families grew 85000 kilo vegetables. Families were able to cook vegetables which they grew such as bottle guard, tomatoes, cauliflower, brinjals etc. This approach served as lifeline helping many families tide through the acute crisis during the May-July 2020 lockdown and continues to help many families who as they wade through uncertain livelihoods and exhausted savings. 1100 families are sharing their produce with neighbors setting examples of solidarity networks, promoting a sense of psychological well-being and accomplishment crucial to the well-being of urban vulnerable population. This is helping about 27500 disadvantaged families surmount nutrition and food insecurity in the hard times.
Home vegetable gardening in bastis (slums) demonstrates an approach of local resilience promoting food security and inclusive urbanization. Home gardening, a constituent of urban agriculture has the potential to foster crucial elements of healthier, more sustainable cities. This is helping during covid19, and can be helpful in non-COVID times as well. Growing vegetables in small basti (slum) houses is a strategy towards SDG11 (Sustainable Cities and Communities), SDG2 (tackle undernutrition and hunger)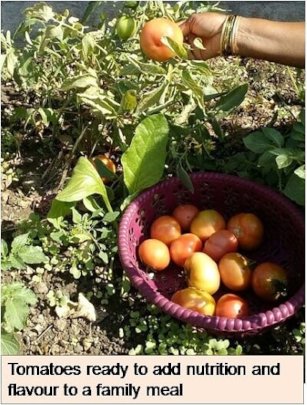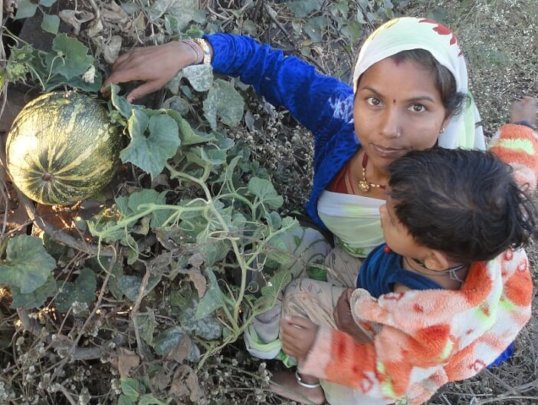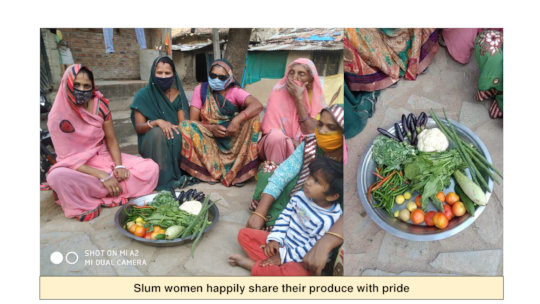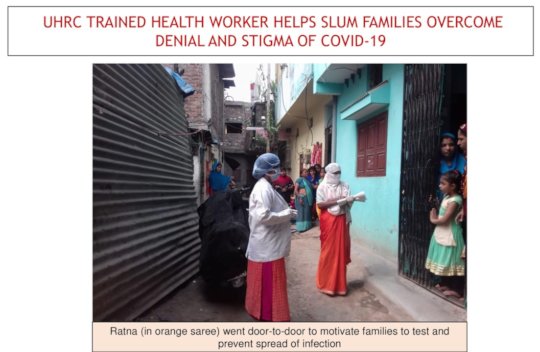 As cases of COVID-19 find a new hunting ground in urban slums in India, addressing denial and stigma among slum communities towards testing is a new challenge. In some slum areas residents put up a defense to reinforce the absence of any cases in the area. In support of their denial, they walked out in the lane without wearing masks nor maintained physical distancing. Their false brave acts and defiant body language prevented UHRC mentored women's group members from making any effort to help the basti families overcome denial.

We learnt of a positive example where slum dwellers overcame stigma. In one basti, 26 year old Ratna, a UHRC trained active Urban ASHA (Accredited Social Health Activist) was able to motivate families which had the first 2-3 COVID-19 positive cases to not consider the infection as stigma. She encouraged their family members and neighbours to get tested. She proactively visited the houses, and families in the vicinity and confidently encouraged them to go in for COVID-19 testing. Ratna, the Urban ASHA urged the Health Department team to visit and test family members and neighbours of those who initially tested positive. Eventually 18-20 people were tested positive within the neighborhood. Through these efforts basti dwellers were able to act in an informed way and overcome their fears. Most people in the neighborhood wore masks to prevent them from spreading the infection and from acquiring it.

Ratna's confidence comes from her mother who herself has been an active women's group member. Ratna has also been involved with UHRC's training and outreach work since she was an adolescent.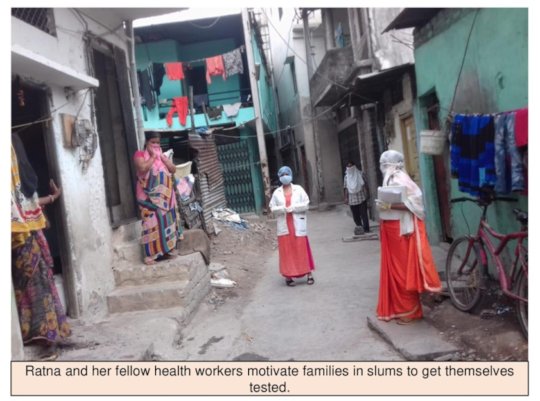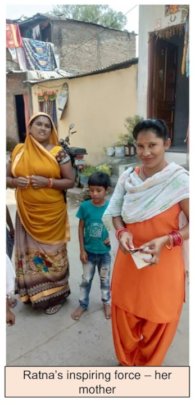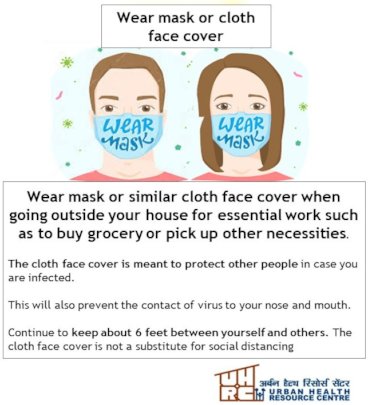 With the surge in COVID-19 crisis in India's slums and informal settlements, UHRC team continues to reinforce messages to promote infection prevent behaviours through the use of social media platforms such as WhatsApp and Facebook. These messages are circulated in local language (Hindi).
Wearing a mask is a suitable method to prevent transmission of virus to others who might not be infected. Covering one's mouth while being outside for essential work such as buying groceries is crucial as an infection prevention practice as risk of transmission in public places is high.
The mask or face cover should be covering the bridge of the nose and mouth. It is crucial to remember that maintaining physical distancing of 6 feet is also very important and wearing masks cannot substitute it.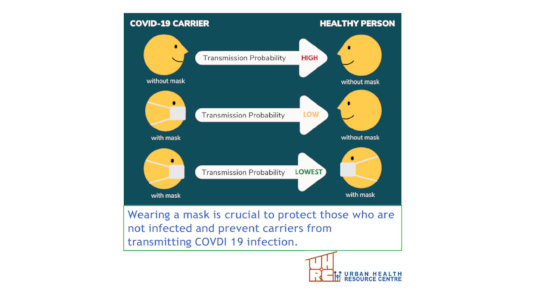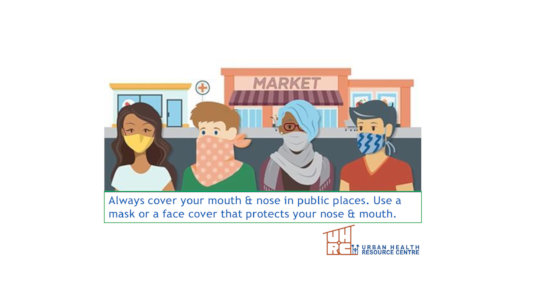 WARNING: Javascript is currently disabled or is not available in your browser. GlobalGiving makes extensive use of Javascript and will not function properly with Javascript disabled.
Please enable Javascript
and refresh this page.