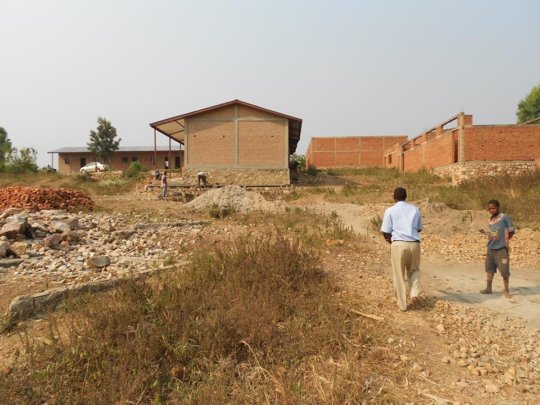 OVER 500 CHILDREN HAVE ACCESS TO EDUCATION
Thanks to you, because of your donation, 504 underprivileged children continue to have access to education which will enable them to become self-sufficient and serve their community and nation.
These are some of our accomplishments together you: 1. Iwacu Kazoza School continues to provide education to 504 underprivileged children from Ruhagarika Community and surrounding areas of Cibitoke Province. 2. One part of the orphanage's buildings has been roofed. The roofed building will accommodate 80 orphans and care for them.
3. A well is being dug to provide clean water to Iwacu Kazoza School, orphanage and surrounding community. However, our work is not finished, your donations can help meet our current needs:
1. To put on metal windows and doors on roofed building : $5,850
2. To put cement on walls and floor on roofed building: $11,365
3. To put ceiling, glass for windows and doors, and painting the roofed building: $8,496
Total funds needed to complete the construction of the roofed building: $25,711
4. Teachers' salaries for 7 months (January-July 2016), school materials, and other expenses related to Iwacu Kazoza School: $22,750
5. Funds to finish the construction of the orphanage's buildings which are still at the stage of foundation, as you can see from the attached pictures.
I know there are a lot of other ways you could have spent this money, but you believe in our cause, so you chose to invest it in our project. Because of this investment, I want you to feel like part of our team. We're in this together. I want our success to be your success. We give thanks to our donors and GlobalGiving for making possible the education of these children, who could not have access to education without your financial help and prayers.
I will remain very grateful and appreciative to each one you for all you are doing to help us help our underprivileged children to have access to education.
Prosper Ndabishuriye
General Coordinator and Founder