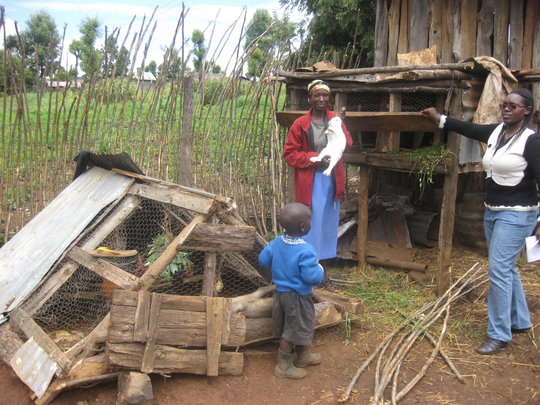 FOOD AND LIVELIHOOD INTERVENTIONS FOR FAMILIES LIVING WITH HIV/AIDS IN MOLO DISTRICT, KENYA.
Network for Ecofarming in Africa (Necofa-Kenya) is a local non governmental organization, whose one of the key missions is empowering Kenyan communities to achieve food and nutrition security in a sustainable way and with social dignity. Slow Food Central Rift Convivium conducted a survey in Molo district to better understand the food and nutrition security situation of families affected by HIV/AIDS, and identify ways to improve their situation. In most of Molo district, the impact of the HIV and AIDS pandemic has eroded the asset base of rural households, depleted their labor force, and restricted their ability to earn cash from farming and non-farm activities. This has had an adverse effect on the households' abilities to feed themselves and maintain adequate levels of nutrition. After developing the report, Necofa found it very important to start pilot model projects for identified people living with HIV/Aids. The projects were tailored to ensure that the families acquired nutritious food both for themselves and if possible for sale, through establishment of home gardens to promote food diversification through use of local food resources, establishment of fresh assorted vegetables and fruits selling business (kiosk) and rearing of rabbits and chicken. Necofa and other friends of Necofa have supported currently 12 families . They have been assisted in different ways depending on their household situations.
Francis is an internally displaced person living in Lare Division, Njoro District. He is a widower having lost his wife through HIV/Aids infections, and subsequently he is also infected. He has a family of 4 children, two boys and two girls who are currently in primary school level. He lives with them on his rented small piece of land. Francis was assisted to start a small kitchen garden, by dividing his small plot into segments where he could plant diverse crops including indigenous vegetables, cowpeas, millet, carrots, kales, spinach etc. A storey garden was erected at one corner of the garden where he could plant more vegetables. With seedlings ready Francis planted the garden and considering the hot weather of Lare, he had to water the plants by buying water from the nearest bore hole. Fortunately, after a few months, the rains were on, and his garden looked superbly green. He was given two hens and one rooster to supplement his protein needs. Francis has not only been able to meet his food and nutrition needs but now his whole family looks healthier, happy and looking on into the future. Currently he is selling the extra vegetables to neighbours and use the money to supplement his other house holds requirements.
Beatrice is a widow living in Mau Nark centre, having lost her Husband through HIV/Aids related diseases. She lives with her 5 children; 2 girls and 3 boys at their home in Mau Narok. The fact that Beatrice has a small piece of land, and adores farming. Due to the difficulties and challenges she encounters overtime, Necofa identified her as one of the beneficiaries of the designed project. She was assisted to plan and establish her kitchen garden, as well as erecting a storey garden and was also provided with 2 hens and 1 rooster. Beatrice could not hide her joy, when the Necofa staff visited her, and helped her in planting some of the seedlings. Necofa believes that with time her food insecurity will be a thing of the past, because she will be able to farm her small land and acquire enough nutritious food both for her and her family.
Tabitha is an infected widow from Elburgon, having lost her husband to HIV/Aids related illnesses. She lives at a rented house with her 3 children; 2 girls and 1 boy. Her first born child, Grace completed her primary school last year but she has not joined secondary school yet due to financial constraints.
She farms on her half an acre plot which had been bought by her husband. When Necofa paid her a visit, her main problem was how to acquire enough nutritious food for her family since she had not harvested anything that season due to erratic weather changes. Owing to her poor health condition she's hardly capable to accomplish her chores hence unable to sustain her family. It is from her revelations that Necofa found it important to create a kitchen garden for her, provide seedlings of assorted crops, erect a storey garden and provide 2 hens and 1 rooster. During follow up visits, Necofa staff realized that the family now show confidence and hope in their day to day life, as they can now get enough nutritious food from their small kitchen and storey garden and eggs are now available.
Ann is an infected widow from Molo having lost her husband in HIV/Aids related illnesses. She lives with her 3 children; 2 boys and 1 girl at a rented house. She has acquired a small piece of land from her uncle, but it is located far away from her home and therefore vulnerable to theft by strangers. She therefore prefers to plant maize, beans and peas which cannot be stolen as vegetables are likely to be picked by strangers.
Necofa found it necessary to start her off with a fresh assorted vegetables and fruits selling business (kiosk). From the stock she would also get her daily requirements, hence ensuring she is food secure even as she continues with the business. She received 2 hens and 1 rooster to cater for her protein needs and if possible sell the extra eggs at the kiosk.
Ann is doing well as she is able to increase the stock and also diversify the products from her small farm. She has bought one doe and a buck from the extra money she has made from the kiosk. She is no longer staying idle at home, thinking about her condition, but confident of a bright future and living to see all her children go through school.
Josephine is a single parent as her husband walked out on her, when he learned of her HIV/Aids status. She lives with her 5 year old son in a rented house. She has no farm. Necofa found it necessary for Josephine who has skills in Knitting and weaving to start a small assorted vegetables and fruits selling business where she would also display her knitted and weaved products. They provided her with 2 hens and 1 rooster.
Josephine took up the initiative, and she is doing very well as she is diversifying her business each and every other time. Currently she has 10 chicks from the hens provided. She is able to meet her nutrition food requirements and that of her son, and now they are leading a healthier and happy life thanks to the friends of Necofa intervention.
Adamson is an orphaned young man of 24 years who was infected during his secondary school life. Subsequently after completing his secondary education, his mother who was also infected succumbed to the illness. Adamson lives with his aunt in Njoro, who facilitates him with everything. When Necofa staff visited him, he was very weak physically. With continued visits and encouragements, Adamson is now a healthier, happy man. Necofa assisted him to start rearing small livestock, which includes; 2 does 1 buck, 2 hens and 1 rooster.
Adamson's time is now spent feeding and caring for the rabbits. He no longer spends time locked up in his room like he used to do before. His health has improved considerably, as he feeds well and he has realized that there are people out there who care about him. He hopes to continue with his studies in electronic engineering whenever funds will be available.
Mary is infected and a single mother of 4 children; 3 girls and 1 boy. They live in a rented house in Elburgon. They have no farm of their own hence they have to buy their food from the little money her daughter earns by doing manual jobs. Sometimes they go hungry when there is no job for her to do. After a visit to the family home, Necofa found it best to start them off with assorted vegetables and fruits selling business for the daughter Wambui so she could be around to care and support her mother since her condition is at an advanced stage.
Necofa supplied the assorted stock after ensuring the point of sale was appropriate, and hence Mary and her family are able to acquire their nutritious food from the stock without making losses and diversifying what they sell as time goes on.