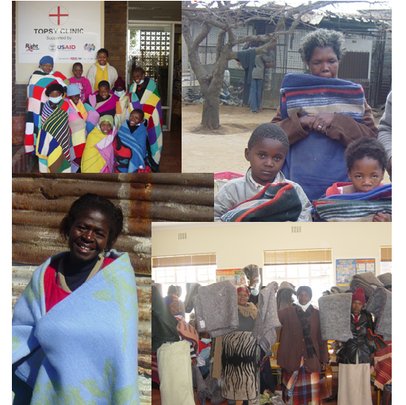 When we first posted a notice about this project, 800 children were benefiting from it.
We are pleased to report that with the support of our individual donors and Corporate supporters, we reached a record total of 1329 children in July 2010!!!!!!!
As soon as the latest statistics are available, I will post those too.
The Orphaned and Vulnerable Children we assist receive a number of services from us, food parcels are just one of the many forms of assistance.
Other forms of support that these children receive are as follows;
Vegetable Gardens, Home Based Care, Free Antiretroviral Treatment and comprehensive HIV and AIDS care at our Clinic, assistance with access to child grants, assistance with school uniforms, career guidance days where we help the children to find a goal to work towards, public speaking competitions, clothing, blankets and food parcels.
We also offer support groups to the caregivers of these children and a safe, supportive space where they can get together and share their experiences.
Orphaned and Vulnerable Children are a really sad result of the HIV and AIDS pandemic which has had devastating consequences in South Africa.
In Africa, we often say; 'It takes a village to raise a child'. This is happening more and more in South Africa as caregivers step in to look after these children, doing so despite their own level of poverty.
By supporting us, you have joined our village, your support has strengthened us, and for that, we are truly thankful.