Indeed it was a painful death that those kids when through in Connecticut. Those that were killed could have been the next world leaders, inventors, medical doctors and scientists but the evil one did not allow them to grow and achieve their potentials. We as Liberian understand and know how painful it is to kill someone with gun especially kids. We went through it for 14 years so we know the pain and grieve. Been that we have had strong tie with the state of Connecticut, we the Carolyn A. Miller School family identified with the people of Connecticut and the people of America. Twenty (20) school kids were chosen from the Carolyn A. Miller School in Monrovia to mention the names and lay a flower to of the kids that were killed in NewTown Connecticut USA. And after that each child shook the hand of the US ambassador. The students and teachers of the Carolyn A. Miller School were received by the United States Ambassador at the US Embassy in Monrovia who gave a very short speech.
This Condolences Program held at the USA Embassy in Monrovia for the untimely death of students and teachers in Newtown, Connecticut. Organized by NewSight Eye Center ( Robert F. Dolo) & The Carolyn A. Miller School ( Karrus Hayes). The program lasted for 30 minutes and this is how the names of kids were arranged below. Student Francess Komoyan gave a speech on behalf of the students and Philemana Tolbert gave a speech on behalf of the school. Please work to safe the kids of this world from danger.
List of Children
Sympathizers deceased
Ezekiel Tamba Charlotte Bacon
Dorcas Felker Daniel Barden
Royechell Pitman Olivia Engel
Princess Mentoe Josephine Gay
Anthony Howe Ana M. Marquez-Greene
Eddie Logan Dylan Hockley
Robert Gbogar Madeleine F. Hsu
Catherine Zaza Catherine V. Hubbard
Prince Komoyan Chase Kowalski
Christiana Diggs Jesse Lewis
Korpo Howard James Mattioli
Jerry Sumo Grace McDonnell
Nula Flomo Emilie Parker
Francess Komoyan Jack Pinto
Meckie Davis Noah Pozner
Joseph Zaza Caroline Previdi
Amie Kamando Jessica Rekos
Nyamah Sunday Aveille Richman
Naomi Diggs Benjamin Wheeler
Norah Veah Allison N. Wyatt
Condolence speech
We are grieving with the people of The United States of America especially those in Newtown
This is because of our specially relationship with the people of Newtown, Connecticut Karen King, Rotary Club of Newtown and Unit For Sight.
The people of Newtown are now family to us in Liberia through the Carolyn A. Millar & New Sight Eye Center.
This relationship goes back as far as 2007 when we were in exile Accra, Ghana. Individuals in New Town have been very supportive to Liberians. They have been the back bone to all our establishments both during the time of exile and in Liberia. To name few:
Pen pal programs between the Reed intermediate and Carolyn A. Miller School
Supplies of school materials
Transportation of school and teachers belonging from Accra to Monrovia
School and Eye clinic establishment in Liberia
Restoration of sight in Liberia and many others
In View of this strong tide between the two communities, we believe it will be convenient to symbolically express our deepest regret and sympathy in this manner to let our brothers and sisters in Connecticut and the United States of America to know that we share their sorrow. We also like to join our President Mama Ellen Johnson Sirleaf in expressing condolences to the Government and people of the United States of America. We strongly condemned such horrible act and join the many calls to tighten the measures on arm control to prevent recurrence. Indeed, out children are the future generation and such an untimely dead will put fear in teachers and students.
Please accept our condolences!!!.
We want to appreciate the globalgiving family and all donors for their continuous support and we want to say that without you we can never continue this project. There is a great need toward the school having now own building. We received some money from one of our special donor and we working to have this project get stated. You can donate to build a class room that you name can printed on as your contribution. Thank you so much for your support and ask that you please continue this work and relationship you have built over the year.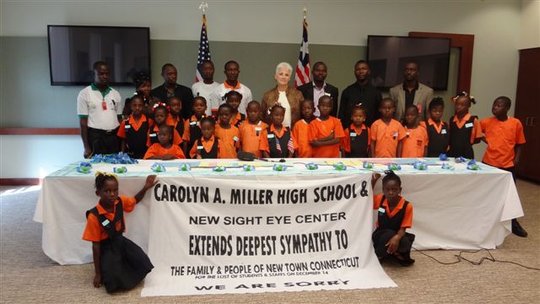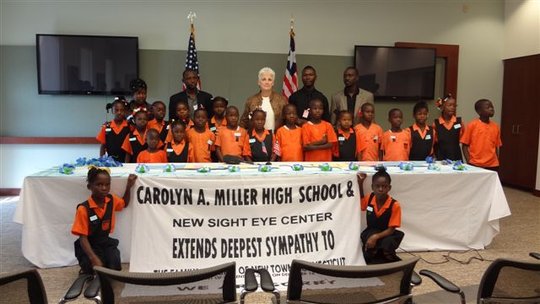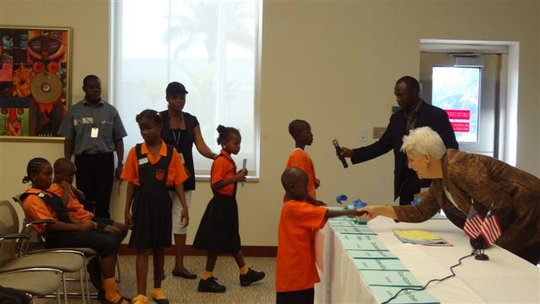 Links: