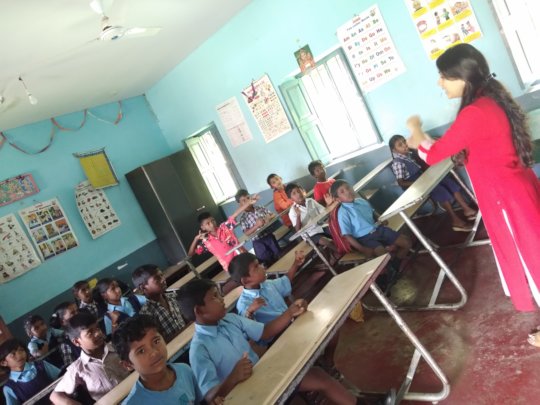 Our interventions include teaching,providing food,recreation and mentoring the children and we continuously conduct various extracurricular programs and provide food in the school to inspire and motivate them to come to school regularly.
• Make a daily protein mix which has all the vital nutrients and vitamins that the growing children need, as most of the children come to school without having breakfast. We have measured the height and weight of all the children this year to assess and analyse the impact of nutritious protein powder. In this year we have started giving them biscuits with the protein mix.
• Celebrate birthdays of the children at the end of each month. The children cut a huge cake in front of their friends, school teachers.
• Conduct music classes every Wednesday by SAPA teachers for the students of Class 5 and above. We have selected 20 students through an audition and the class lasts for more than one hour.
• Our regular volunteers' conduct Maths and Elementary English reading, writing and spoken classes for all the children.
• Every November we celebrate Annual day. This year we celebrated our 19th Annual Day with our children. Some of our outstanding students, mothers and volunteers were recognized on this day including two Tamil Govt. School children..
• Celebrated Christmas at Tamil Government School for the children of both the Government Schools. The volunteers had planned the occasion to the last detail. To celebrate the spirit of the season, fun filled activities had been arranged for the children at both venues. Santa Claus distributed Christmas cake, cotton candy, gifts and goodies. Christmas Carolls.
Many thanks for making 2019 memorable for the children. Let's welcome 2020 to help bring smiles to their faces. Let's unite to dream big for the underprivileged children and seek to bring the children to school regularly.