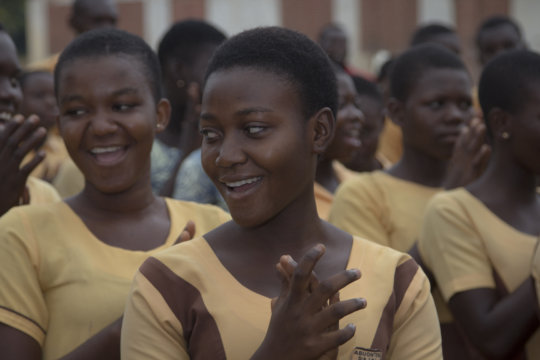 "I've passed my exams! I'm through to secondary school!"
This is the message 204 excited children from five schools in Ghana's Upper East region could take home after they received the results of the Basic Education Certificate Examination (B.E.C.E).
The children are all students of the Hands-on Computer Classes project. Since the begining of the year, mobile libraries equipped with laptops and wi-fi internet have been travelling to under-resourced rural schools in four regions of Ghana every week to give children practical computer classes and vital exam preparation sessions.
Overall, 64% of the children who wrote the B.E.C.E. exam at the five Upper East schools passed - a remarkable 54% more than in 2015, when the B.E.C.E. pass rate was just 10%. In a short survey, teachers at the schools said the libraries' practical computer skills classes had significantly improved the children's performance in Information and Communications Technology (ICT).
"As a result of the library's classes, many children saw a laptop for the first time. Their performance in school tests improved tremendously," said Pius Adombila, a delighted teacher.
"I can now use the computer to type, store and retrieve information easily. I can now browse the internet, create new email addresses and use Facebook to make friends across the world," said Joseph Adingo, who is now a proud secondary school student.
The project has also raised awareness about the value of ICT in farming communities. "More community members are coming to the library to use our internet services," said librarian Leslie Kasanga.
The children, parents, teachers and librarians all have one important message for the New Year: "We want these classes to continue! Thank you for your support!"