We had a great end of year celebration for the women in our Maternal Child Program. Of the 67 women enrolled in the program 65 came plus 2 whose children had just graduated. One mother brought her husband and there were also several grandmothers and lots of children! We started off with games for the women, including the tocoyal race-who can put a tocoyal on first. . We also did sack races for both the women and the children. Things got very competitive-with a little pushing and shoving! The kids really enjoyed the sack races. We also played pin the star on the Christmas tree, which was a good game for the little ones.
Every women received a broom, dishcloth and bar of laundry soap-in line with our goal of improving the health of beneficiaries. Half of the brooms were donated by a local business thanks to our social work intern Vilma Concepcion Mendoza Sosof. The kids also received a small package of clothes, which were in-kind donations.
We awarded one mother Antonia Mendoza Pablo with a certificate for having attended all the classes in 2011, being on time and participating actively. Chonita, our outreach worker,was given a certificate of appreciation for all her hard work throughout the year .
Finally came the food, which included tamales (traditional for Christmas time), tostadas, mandarins and bananas and rosa de Jamaica juice. We also gave out little pineapple pies.
Everyone had a great time and left satisfied and ready for the holiday! We look forward to an even stronger program with more women next year.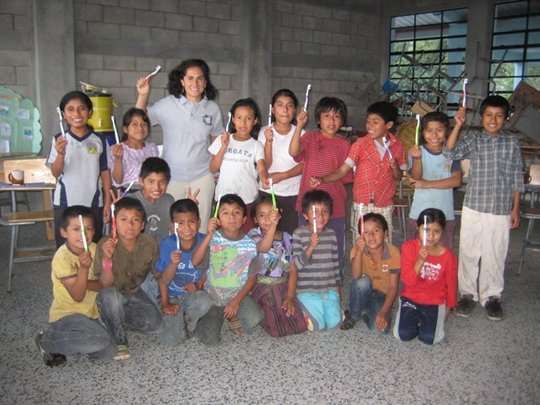 During the November and December school recess, Pueblo a Pueblo is implementing a vacation program at the four schools where we have organic gardens as well as at the school with a Pueblo a Pueblo supported library. We took advantage of these activities to reinforce correct and consistent dental hygiene.
Using a short story developed in Bolivia and adapted by Peace Corps Guatemala, "Mariquita and Margarita," we engaged the children in a discussion about what leads to unhealthy teeth and what they can do to improve their dental hygiene. Due to the impoverished situation most of the students live in, we also discussed alternatives to toothpaste, including salt and baking soda. After a demonstration of how to brush your teeth, students were all given their own brushes thanks to a generous in-kind donation from St. Paul's Episcopal Church Youth Group from Bellingham, WA. So far we have distributed over 100 toothbrushes to children between the ages of 4 and 14 and hope to make it to 130 by the end of the vacation activities.
After brushing our teeth as a group with baking soda we reviewed why and how many times we should brush our teeth, and when to change our toothbrushes. The kids had differing reactions to the baking soda-some spat it right out and asked for Colgate and others really liked it!
In addition, as we mentioned in our previous report, we have focused our efforts on improving sanitation facilities at La Cumbre School. Construction of washbasins for one block of bathrooms is now complete. The new washbasins have been built at the right height for elementary school aged children, meaning children will no longer have to climb into the pila (large washbasin used for laundry and dishes) to reach the faucet. Soon, we will begin work on the second block of bathrooms to ensure daily access to water and will also repair some of the toilets. Check back soon for more details!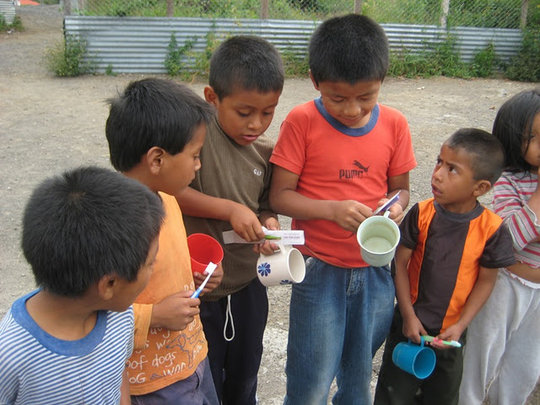 Thanks to a generous in-kind donation from Zutano, a baby clothing company based in Cabot, Vermont, we are able to gift each woman in our program a pack of baby clothes when they give birth.
These clothes are bright and colorful and always bring a smile to the new mothers. So far we have distributed packs that include onesies, leggings, hats, short sleeve shirts, long sleeve shirts, socks, shorts, body suits, dresses and blankets to over 20 women this year.
What a beautiful way to enter the world!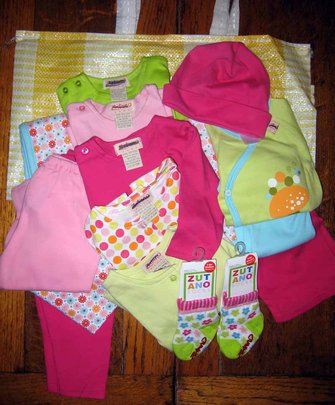 WARNING: Javascript is currently disabled or is not available in your browser. GlobalGiving makes extensive use of Javascript and will not function properly with Javascript disabled.
Please enable Javascript
and refresh this page.