The Maternal Child Program has been busy hosting clinics as well as having our monthly educational session. We were also able to enroll a new woman into the group who is very excited and grateful to be a part of this program and welcome a new baby, born Sunday, March 18th.
In the beginning of March, Pueblo a Pueblo and Rxiin Tnamet organized a Pap smear clinic in order to encourage annual exams to improve the health of the women within the community in and around Santiago Atitlan. During the monthly educational meetings leading up to the clinic, the women were given individual appointments with the date and location of their exam. They learned about the benefits of receiving a yearly check-up and the procedures involved with such an exam in order to promote informed decision making. Many women report the main barrier that exists to getting this exam is fear. One woman said, "Yes, I have recommended it to my friends and neighbors from my church, but they are very scared and they feel ashamed to come in for the exam. They need to be taught the right information." At our follow-up session after the clinic, the women were able to share their experiences. Our goal is through clinics such as this, we can help spread correct knowledge about healthcare throughout the community.
This month, our educational session focused on childhood illnesses and when it is necessary to seek medical attention. Children under the age of five, especially those whom are malnourished, are most susceptible to fatal illnesses. Therefore, recognizing early signs can not only result in better health as they grow older, but can also save lives.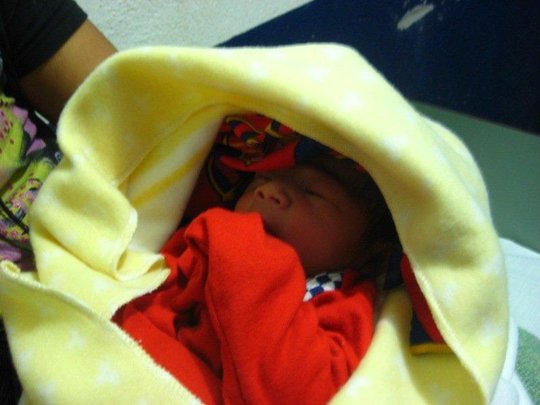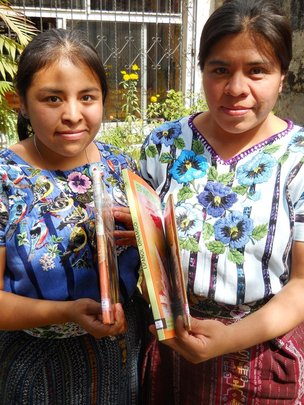 We're settling in to our new location in the Chukmuk school, and the children are so excited! Every day they ask our librarian, Lidia, "When are the library activities going to start?" We assure them that activities will be starting very soon, but in the meantime, we've been moving, cleaning, and organizing.
Throughout February we were…
Moving the library furniture to the new location
Packing, unpacking, and organizing six hundred new books donated and purchased with donations over the past year
Cleaning!
Library Coordinator Johanny and Librarian Lidia hold the first three books cataloged for the library.
Cataloging the library's stock with the simplified Dewey
decimal system and a junior color code
Expanding our "library start-up" guide so that other teachers or schools who are interested in starting a library can model our work
Registering and updating our existing inventory of 290 books
Painting bookshelves in cheery colors to make the library more inviting to children and also to protect the books from humidity during the rainy season
Holding our first training for teachers and library support group members
Starting our ongoing training for teachers and the library support group.
We're off to a great start, but we could still use about five times more books!
We're pleased to have come so far, but also know how much more we have to do. For example, we need to grow our library stock. International guidelines recommend a minimum of 3,000 items in library stock, including books in Spanish, educational materials, etc.) to satisfy the needs of 250 students. And we still need to furnish three separate areas of the library: the investigation area, the story area, and the creativity area. In the meantime, we're thrilled to be in our new space, and looking forward to watching our library—and the literacy and imaginations of the children—grow and grow.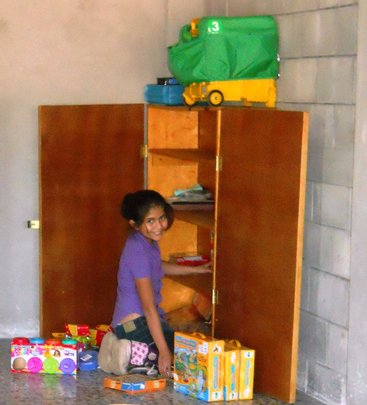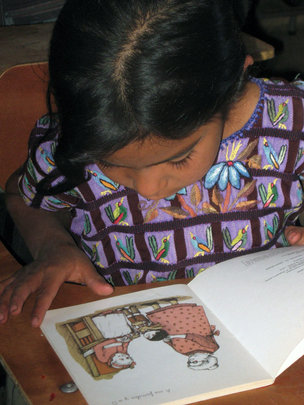 The Maternal Child Health Program has started the year with a bang. Last week we had our monthly class and focused on dental hygiene. The women received information related to the importance of and how to look after both baby teeth and permanent teeth. We distributed brushes to both mothers and children and practiced using the correct techniques.
We also announced to beneficiaries new services to be provided this year, including a Cervical Cancer and Pap Smear Clinic day and the family planning method of their choice. While the fertility rate across Guatemala has dropped to 4 births per woman, in and around Santiago Atitlán it still averages 7. Many women desire to space their children or prevent additional pregnancies but do not have the resources to purchase a method. We are excited to be adding these crucial reproductive health services to the MCH Program, services which will ensure the continued good health of the women which in turn will allow them to better care for their children.
WARNING: Javascript is currently disabled or is not available in your browser. GlobalGiving makes extensive use of Javascript and will not function properly with Javascript disabled.
Please enable Javascript
and refresh this page.