The 2012 school year in Santiago Atitlan is getting off to a great start this year! The Pueblo a Pueblo School Lunch project will continue to provide hot daily lunches to the children of La Cumbre, Chacaya, and Panabaj. Additionally this year, because of the support of donors, we are expanding the program to the School of Tzanchaj II! Tzanchaj is located on the shores of Lake Atitlan and within the danger zone declared following the devastating mudslides of 2005. The 215 children who attend Tzanchaj will now receive a daily hot lunch, often their first meal of the day for children from families who often do not have the resources to provide a healthy breakfast. Pueblo a Pueblo's school lunch program will begin this year by providing daily hot lunches to over 760 students in Santiago Atitlan. With additional donor support through GlobalGiving, we hope to expand the School Lunch Project this year to provide an important and healthy meal to more children within the Santiago Atitlan region. Thank you for your continued support!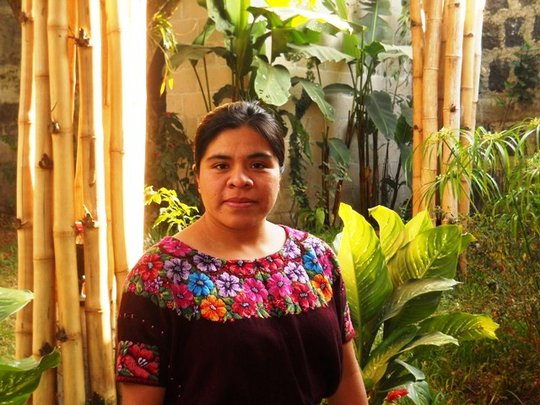 Pueblo a Pueblo welcomes Juana Lidia to our small Library Project team! Juana Lidia will be the school librarian for the Chukmuk School. She'll be sharing both enthusiasm and her experience working in two local libraries with the children of Chukmuk, ensuring our library is not only filled with books, but also with boundless opportunities for learning.
The library's new location is nearly finished. All it needs is a coat of paint and we'll be ready to start cataloging and organizing books on the shelves. With generous donor support, we've been able to offer literacy activities and even summer camp programs in provisional locations while we waited for the new school and library location to be finalized. But now we're looking forward to the smiles on the children's faces as they walk through the door and see their new library full of books for the very first time!
Links:
We had a great end of year celebration for the women in our Maternal Child Program. Of the 67 women enrolled in the program 65 came plus 2 whose children had just graduated. One mother brought her husband and there were also several grandmothers and lots of children! We started off with games for the women, including the tocoyal race-who can put a tocoyal on first. . We also did sack races for both the women and the children. Things got very competitive-with a little pushing and shoving! The kids really enjoyed the sack races. We also played pin the star on the Christmas tree, which was a good game for the little ones.
Every women received a broom, dishcloth and bar of laundry soap-in line with our goal of improving the health of beneficiaries. Half of the brooms were donated by a local business thanks to our social work intern Vilma Concepcion Mendoza Sosof. The kids also received a small package of clothes, which were in-kind donations.
We awarded one mother Antonia Mendoza Pablo with a certificate for having attended all the classes in 2011, being on time and participating actively. Chonita, our outreach worker,was given a certificate of appreciation for all her hard work throughout the year .
Finally came the food, which included tamales (traditional for Christmas time), tostadas, mandarins and bananas and rosa de Jamaica juice. We also gave out little pineapple pies.
Everyone had a great time and left satisfied and ready for the holiday! We look forward to an even stronger program with more women next year.
WARNING: Javascript is currently disabled or is not available in your browser. GlobalGiving makes extensive use of Javascript and will not function properly with Javascript disabled.
Please enable Javascript
and refresh this page.