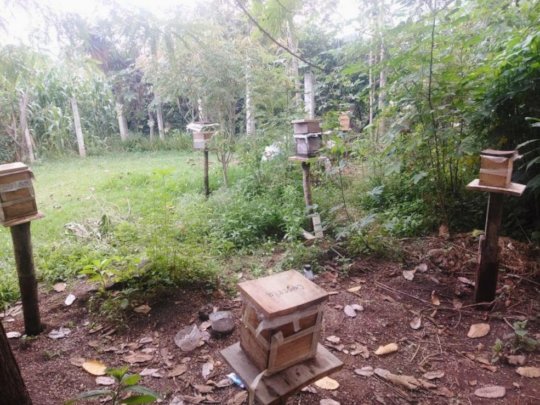 This month, our partners in San Pablo La Laguna will celebrate one year together as a beekeeping team. Over the past year, they've worked hard to find their rhythm and establish some efficient group practices. In recent weeks, the beekeepers have taken on a new challenge: starting a second apiary for native stingless bees.
The group's main apiary consists of 22 hives of European honey bees. This variety is widely used throughout the world because they produce large amounts of sweet honey. However, the San Pablo team is interested in more than just producing honey—they want to help preserve the biodiversity of their lakeside home, especially its native pollinators.
Last month, the group set up ten new hives with the assistance of Pueblo a Pueblo's Senior Beekeeping Technician Genaro Simalaj. Their new apiary is home to five distinct varieties of native stingless bees. The group plans to transition into a two-part model: in addition to harvesting, bottling, and selling honey from their apiaries, they will operate as a beekeeping training center, offering technical instruction in beekeeping techniques and selling starter materials.
Since the group formed, they have been invested in sharing what they learn so that the benefits of the project can be multiplied. We're proud to be working alongside beekeepers who are so dedicated to their families, their community, and their natural environment. Thank you for your investment in beekeeping for coffee farmers—your support fuels our San Pablo partners' success!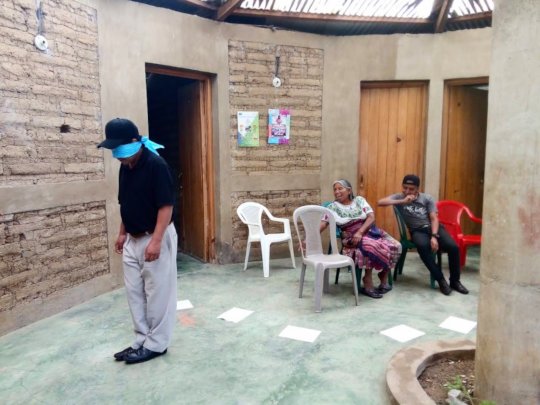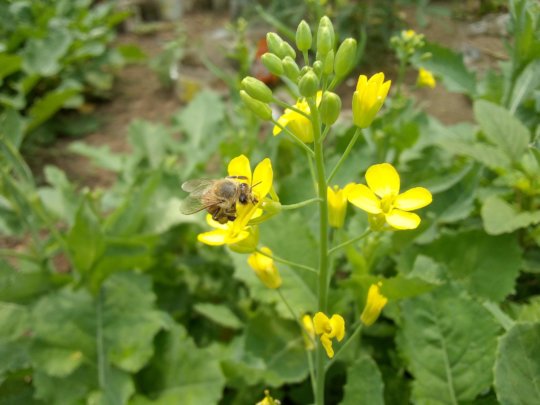 Links:
When we teach nutrition, it's not always in the kitchen. Last week, Sandy visited Patzilin Abaj Primary School to lead a nutrition workshop for teachers—in the school's organic garden!
"Healthy cooking is just one facet of nutrition," says Sandy. "We also need to know where our food comes from in order to understand how to prepare and eat healthy food." The Patzilin Abaj school garden—established by local teens through Pueblo a Pueblo's Youth Leadership project—is a valuable teaching tool that gives students hands-on experience with the process of growing organic vegetables from seed to harvest.
Sandy also hopes to encourage teachers to use the garden as an outdoor classroom. "Being outdoors gets students excited to learn," she says, "so teachers have a lot to gain from incorporating the garden into their lesson plans no matter what subject they teach."
During the workshop, Sandy led a game to model a fun way teachers can engage students in nutrition education. She assigned each teacher an element of the food system to wear on their forehead and challenged them to guess their "identity" by asking their fellow teachers questions. Some, like tomatoes and spinach, were easier to guess. But others forced the teachers to think outside the box. "Yes," said Sandy as she laughed along with the others, "water and soil are important parts of our food system, too!" She also modeled an activity based on the "olla familiar": the Guatemalan equivalent of the food pyramid.
This kind of nutrition education addresses all three of Pueblo a Pueblo's focus areas—health, education, and food security—which are deeply intertwined in the lives of our project partners. We seek not only to spread the word about eating healthy food but also to teach families how to grow that food in their own backyard. Thank you for believing in the power of education to build healthier communities! Your support fuels our success.
Links:
For many families in Santiago Atitlán, Guatemala, sending a child to school gets complicated fast. When a household of five or six family members depends on an income of less than $4.00 per day, it is nearly impossible for parents to enroll even one child in school due to the laundry list of costs associated with school attendance.
For example, every public school student in Santiago Atitlán must purchase a sports uniform and shoes to wear during gym class throughout the school year. While gym clothes may seem an insignificant detail, the inability to pay for a sports uniform can prevent children in Santiago from attending and excelling in school.
At Pueblo a Pueblo, we believe that economic need should not prevent children from having the opportunity to learn. That's why every student participating in the Primary Education Scholarships project receives a uniform and a pair of athletic shoes each year.
Last week, project manager Johanny Quiejú visited Chukmuk Primary School to deliver a brand-new uniform to each student. Once she had passed out a shirt and sweatpants to each of the sixteen students in attendance, the boys and girls tried them on. With a color-coordinated uniform in tow, each student is more prepared to take on elementary school and all its challenges—without worrying about how to pay for gym clothes.
Our Primary Education Scholarships team works hard to set students up for success, but we can't do it without supporters like you! Thank you for believing in the power of education to transform lives and the little boosts—sometimes as simple as a gym uniform—that make a big difference along the way.
Links:
WARNING: Javascript is currently disabled or is not available in your browser. GlobalGiving makes extensive use of Javascript and will not function properly with Javascript disabled.
Please enable Javascript
and refresh this page.