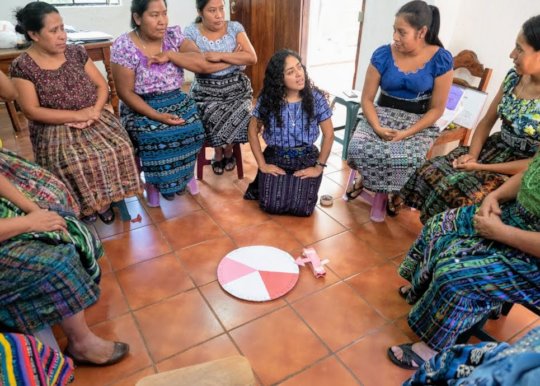 Our Maternal Child Health team works with 22 mothers in and around Santiago Atitlán, but Vilma and Rebeca are invested in the health of women all across the Lake Atitlán region. Cultural norms here in rural Guatemala tend to discourage open, honest conversation about women's bodies, health, and sexuality, so education on these topics is as rare as it is vital. Our team believes that whether or not a woman is a mother, or ever plans to be, she deserves access to knowledge that helps her care for her whole body and her whole self.
While Vilma and Rebeca coordinate the logistics of our Maternal Child Health project, they are health educators first, passionate about empowering women to care for their own bodies. They regularly lead educational sessions for project participants, but during the month of September, Vilma and Rebeca traveled out into communities all around Lake Atitlán to lead workshops on sexual and reproductive health with women of all ages.
First, Vilma set off across the lake to an area she rarely visits in the course of her work. Recognized for her experience as a family planning educator with our Maternal Child Health project, she was invited to bring a workshop on that topic to women in six different communities along the lake's northeast edge. Throughout September, she crossed the lake to meet women in their own communities.
Taboos around women's bodies often produce misconceptions about family planning methods and their relationship to reproductive health. Vilma notes that her work often consists of challenging these misconceptions. "Many times women will say to other women, 'That kind of family planning didn't work for me, so it won't work for you—or it made me sick, so it will hurt you too," she says. "So maybe the most important thing I explain during the sessions is that every woman's body is different, and not all methods will work for all bodies."
During the last week of September, Vilma and Rebeca attended an activity right here in Santiago Atitlán. They were invited to participate in a health fair hosted by our partner health clinic Rxiin Tnamet in honor of World Contraception Day and asked to present on the topic of sexual and reproductive anatomy to the high school students in attendance. So Vilma and Rebeca brought their diagrams and their plastic models and spent the day teaching teens about their own bodies.
"We participated in this activity because I believe that if we promote the prevention of unplanned pregnancies, then we will see fewer single mothers in our community," Vilma reflected. "Young people have to learn to respect women and women's bodies." She also noted the importance of a deep understanding of reproductive health topics. "Many people know their own anatomy in an intellectual sense, but they don't understand it on a personal level, as it relates to their own emotions and desires. We want our community to be made up of people who are capable of making empowered decisions about their own health and their own futures. That is why it is important to educate young people."
Vilma and Rebeca's regular duties have brought them back to the Pueblo a Pueblo office, but they remain as invested as ever in empowering women through health education–both here at home and on the road!
*Photos by Alexandra Harrison-Cripps and Livvy Runyon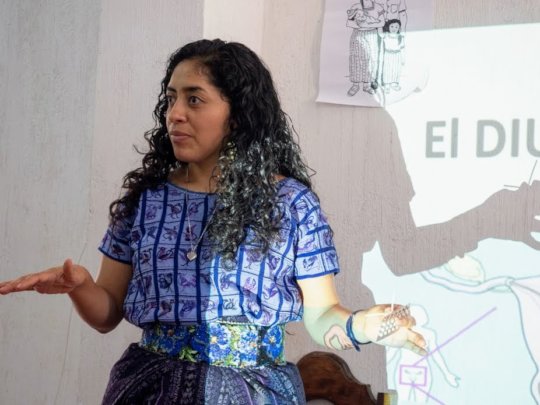 Links: