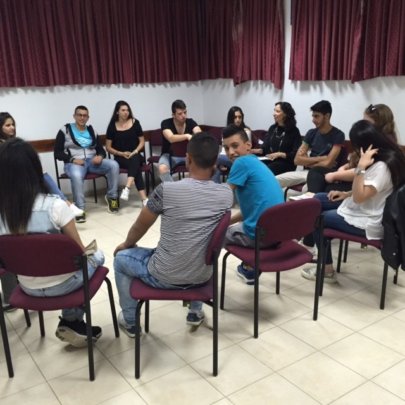 If a picture is worth a thousand words, what is a smile worth? If it's between high school students from Ibn Rushd High School in Kafar Kana and Ohel Shem High School in Ramat Gan, it's priceless.
A smile can mean so much. It's an invitation; an opportunity to connect with another person. In Israel, a smile shared between a Jew and a Palestinian can be a powerful step toward overcoming the prejudice that exists between the two peoples in a divided country.
Through our Youth Encounters program, the School for Peace at Neve Shalom/Wahat al-Salam gives Palestinian and Jewish high school students a safe place to exchange that first smile, opening the door to a reality where coexistence is possible.
Our facilitators have the skills to get a conversation going and guide it through the murky waters of the unknown. The students quickly take the reins as they discover that they aren't as different as they thought they were. Students sit together as equals, with equal representation. They get to hear about what life is like for the 'other' side, often for the first time.
These youth encounters are an important first step on the path to peace. They plant the seed of the possibility of peace between Jews and Palestinians. With support from donors around the world, this program has brought over 25,000 students together to share smiles and stories. You can take part in this groundbreaking program by donating today.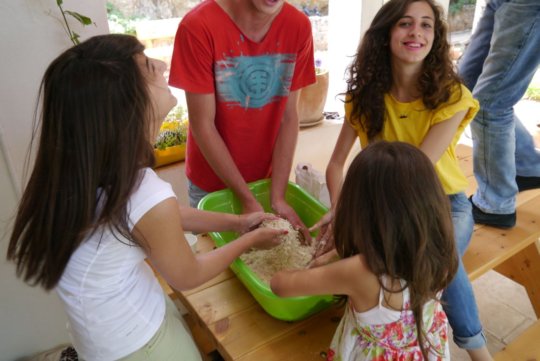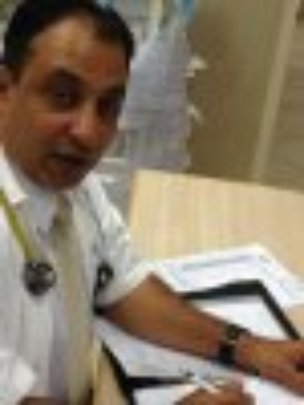 A pediatrician and member of the Neve Shalom/Wahat al-Salam village, Dr. Raid Haj Yehia has dedicated his life to helping others. Through his work with the Physicians for Human Rights organization and his commitment to the Humanitarian Aid Program (HAP) at Neve Shalom/Wahat al-Salam, Dr. Yehia has helped hundreds of children in Gaza receive critical medical treatment. Up to four times a year he goes through the difficult process of obtaining the necessary permits to travel to Gaza to provide medical care at Al-Shifa hospital.
In his own words, Dr. Yehia describes the conditions at Al-Shifa Hospital,
"There is no correlation between what we see on TV-even foreign channels-and what you experience going there…Conditions there are chaotic…The hospitals rely on generators because electricity is so sporadic. Normally the hospitals can rely on about 6 hours of electricity a day…The equipment they use is damaged and old. Even tools for performing surgery are rusty. Part of the problem is the salty water they use for cleaning. The hospitals receive many donations of equipment, but then have no means to fix the equipment, so it becomes unusable…I saw one family where almost everyone was injured, including a 102- year-old woman. I felt very sad to see this."
Thanks to donations through GlobalGiving and other organizations, Dr. Yehia can deliver life-saving medicine and equipment to Al-Shifa Hospital when he visits Gaza. Helping more children recover from injuries and life-threatening illnesses gives them and their families hope for their children's future.
Dr. Yehia's motivation to volunteer his time and talents is simply to help. "There is always hope. The spirit of humanity will come through. The good, human side will win." In his tireless efforts to help children with limited access to medical care, he embodies the spirit of activism upon which Neve Shalom/What al-Salam was founded.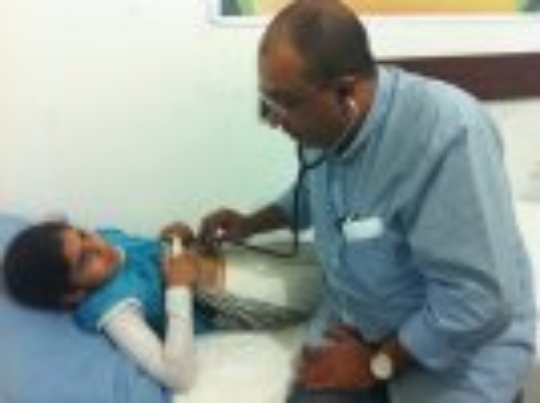 Students at the Primary School are encouraged to use their voices in unity. Last spring, the students did just that when they wanted new computers. Inspired by a lesson in democracy, the students petitioned, organized and protested for a systems upgrade. Now, a year later, with the generous support of donors, the Primary School is celebrating the opening of the new library and computer lab!
The success of their endeavor and the generosity of key donors was recognized at an assembly of the students and teachers of the Primary School in the courtyard outside of the school buildings. The principal and teachers said some words of welcome, and the school musicians and choir played and sang songs to greet the visitors who contributed to the project.
The spirit of activism is alive in the students. With their new petition to expand the school to include middle school and high school, the steaks are much higher. They might have to wait more than a year to see results. This time they have enlisted friends and family to add their names to the petition. With over 400 signatures already, the petition has been submitted to the Ministry of Education and to the Municipal council.
You can support our students and give other children the opportunity to experience the inclusive, bicultural education that the Primary School offers by making a donation to AFNSWAS today. Over the past two years, our school enrollment is up 46%! It is due to the continued support of our donors that NSWAS' message of peace continues to spread far and wide. Your gift is so important to the students of the Primary School. Thank you for your continued support. Together, we can make peace a reality.
WARNING: Javascript is currently disabled or is not available in your browser. GlobalGiving makes extensive use of Javascript and will not function properly with Javascript disabled.
Please enable Javascript
and refresh this page.