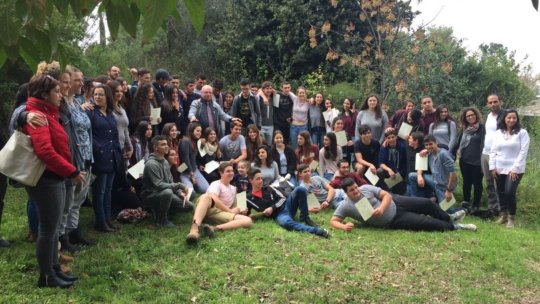 How do you get 30 Palestinian students and 27 Jewish students, who don't know each other, to volunteer to come together for a 3-day Youth Encounter workshop that addresses complex, emotional, personal issues? Students from Jewish high school, Givat Brenner and Palestinian high school, Orthodox Nazareth could tell you; trust and confidence. After many years of working with these two schools, the reputation of the School for Peace's highly trained facilitators who run the program is well known among faculty and students. This session generated so much curiosity that spaces filled up quickly and the work shop could not accommodate everyone who wanted to participate.
Guided by two SFP facilitators, one Jewish, one Palestinian, students discussed the war, injustice and prejudice that is part of their daily lives. Facilitators worked with the students to set up the rules of a respectful and constructive dialogue and the results were amazing. By the second day they were ready to hold a simulated peace negotiation that focused on the future and discussed education, reconciliation and justice. At the end of the negotiations, students presented the agreements they had reached and the points on with they remained divided.
The conflict is far from solved, but I think that with meetings and actions like this we are getting closer and closer to making change. I understood that for the truth to reach a certain place both sides have to give up and compromise and sometimes even the more powerful side is the one which needs to give up more. -Yael Golombo, Jewish participant
Peace in this country is important; we have to have mutual respect and sympathy toward the other people. …In the end we will remain two peoples in one country. We have to live together. I met people who believe in this and I can live with them. I mean, we are all one people, we have to live together and it does not matter if it's our right or yours. -Roua Dujan, Palestinian Participant
These powerful and hopeful words from the students are so inspiring. Through this workshop they have been shown what is possible when Jews and Palestinians work together. They understand that their future hangs in the balance. By donating to this program, you can help bring hope to students, like Yael and Roua, who believe in the possibility of a peaceful future together.