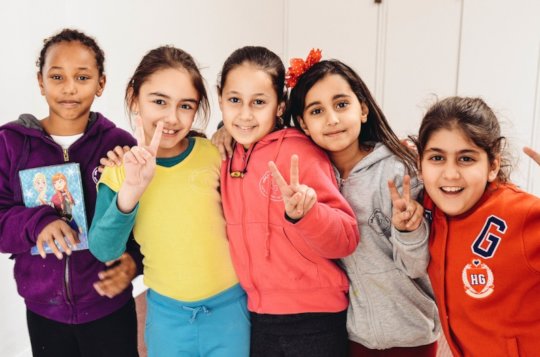 In February 2017 the school opened the new school library, the library has been designed to be particularly inviting and inclusive for all children of the school and has become a favorite place for many of the children. In addition a new state of the art computer room with 28 workstations is now fully operational. The computer room was actualized from the determination of the school children, who started a campaign for improved computer facilities, as part of a process of understanding democratic processes.
The Primary School library and computer center are essential elements in the Primary School's education program - a place where children from nursery age through to the primary school can learn to enjoy literature, watch films, do research, or simply relax with a book. The innovative planning, with a soft-covered central stage, four computer workstations, cushions on the floor, a screen and video projector, and intelligent use of space, provides for all of these functions and more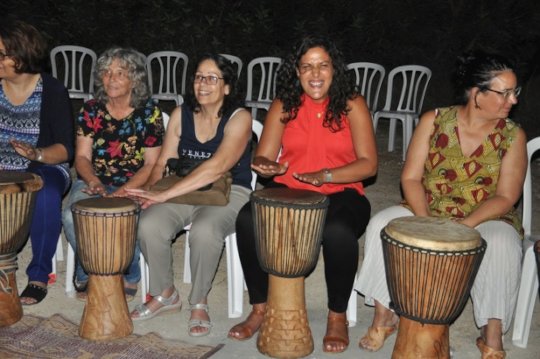 At the Spiritual Center, celebrations are an important component to community building. Creating opportunities for fellowship between Jews and Palestinians helps to bridge over the difficulties they must sur-mount to come together.
Children and adults were treated to an evening of celebrating the full moon. A story teller enter-tained the children with tales about the moon in Arabic and Hebrew and the adults learned about the significance of the moon in Sufi philosophy and Islamic culture.

Everyone enjoyed music courtesy of the young members of the Makmat Music Conservatory from Nazareth as they mingled under the stars. To cap off the evening, as the moon rose in the sky, they ven-tured into the forest for a drumming workshop. The Spiritual Center at NSWAS is the heart of Palestinian and Jewish fellowship for the village and its surrounding communities. Your support keeps that fellowship growing.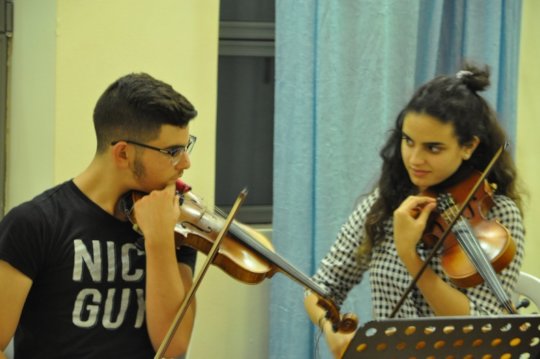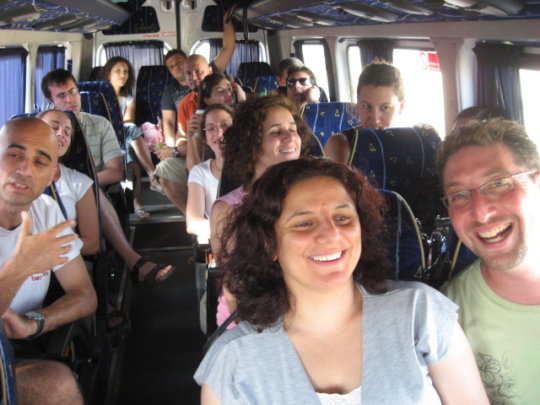 Supporting a 60 year-old Bedouin village under threat of destruction sometimes means that School For Peace faculty and their children will establish a library in that village, offering encouragement - a needed resource as a vision for a
future.
The village of Umm al-Hiran became a living project in a School for Peace environmental
justice course, which also connected with the southern Hebron hills. Villages in this region were being assisted by COMET-ME, an organization providing green energy and water to unrecognized villages. School for Peace students experienced.
The challenges these Israeli villages face. Whether it is a library or clean water, they experienced being part of the solution to those challenges. Forty young emerging politicians are being
prepared by the School for Peace, through year-long seminars and projects, to be future leaders invested
in working toward peace through a program designed to connect theory, actions and consequences.
Can we imagine the outcome as this academic year unfolds, of several dozen high school teachers from across Israel choosing to spend some of their summer vacation focusing on the struggle against racism, or learning how to teach Palestinian poetry in Jewish classrooms?

"At Neve Shalom, I finally understood my connection to all the conquests and expulsions: not a legal connection, but one of silence, of acquiescence, of resigning myself to let it happen. It's about responsibility."
- human rights attorney and SFP graduate.


WARNING: Javascript is currently disabled or is not available in your browser. GlobalGiving makes extensive use of Javascript and will not function properly with Javascript disabled.
Please enable Javascript
and refresh this page.