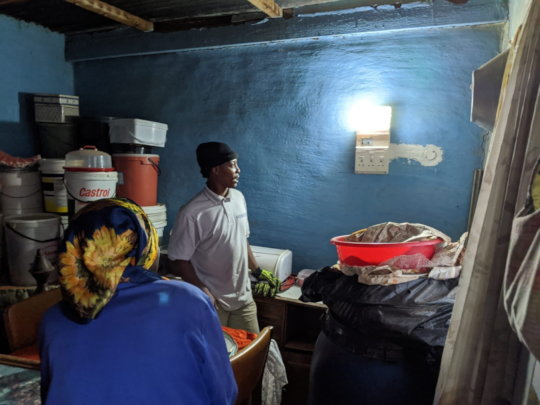 Hello everyone,
I am happy to share one final update from Lesotho in this calendar year! For this report I would like to focus on the progress at Ha Makebe, Lesotho's very first commercial minigrid which Onepower has been operating since earlier this year.
To date I am happy to report that the minigrid has so far delivered almost 1MWh of energy to the pilot customers in Ha Makebe with operational uptime of 98% - numbers we are very proud of for a unique first-time system. In addition, we brought the 8th customer online in December! It has been exciting so far to interact with the customers, see how they are using the electricity, and watch my team grow and take ownership of this achievement and responsibility.
We are also excited to announce that Onepower is the preferred bidder for 8 minigrid sites to be supported by a United Nations Development Programme (UNDP) initaitive for minigrid development in Lesotho. We hosted their Investment Team at Ha Makebe earlier this month (photo below), and we are very positive about the upcoming negotiation phase and being involved in this effort!
Thank you again for all of your ongoing support and interest! I hope that everyone has had a wonderful year of 2019, and sending you all wishes for happy holidays and a happy new year.
Best,
Matt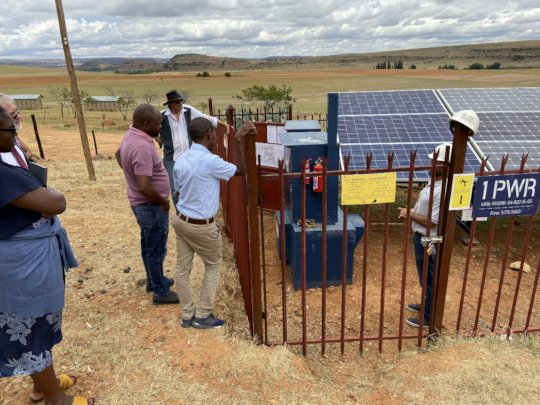 Hello again there folks,

Short update from Lesotho to catch you all up! We're at an exciting stage with our projects, in productive conversations with the stakeholders and government here in Lesotho to get permits and contracts in place: holding community meetings (you'll see one in the photos), completing environmental assessments, and designing energy systems.

We also had a team of fantastic Energy Access Fellows with us in Lesotho for the past several months: Mamaswatsi, Ruitian, Rohan, and Bahla. Our Fulbright Fellow Erika also wrapped up her time and project with us. Attached is a photo of a team dinner while everyone was still in town.
Mamaswatsi and Ruitian, working with team members Makoanyane and Kubutu, conducted surveys at several communities throughout Lesotho - communities identified to be part of an upcoming UNDP project to build 10 minigrids across the country. They spent some cold nights up in the highlights to collect data on the people, buildings, and environments making up some of these communities. Back in Maseru Rohan put his economics studies to work upgrading Onepower's minigrid design tool to better model the range of funding options that we foresee in the future. Bahla, an engineer starting graduate school this September, prototyped new capabilities for Onepower's smart meters, working toward the first version that can be used for energy delivery in addition to energy monitoring.
Erika wrapped up a very productive 9 months of studying Productive Uses of Electricity (PUE) - identifying ways that Onepower can support development of businesses and other productive activities in the communities we serve. As part of this work she surveyed communities to find out what types of businesses individuals would like to start - everything from butcheries to piggeries to internet cafes - as well as understanding what types of equipment these businesses would need. This is critical in developing pipelines for small business loans and other support structures for these would-be entrepreneurs.
And we've been making upgrades to the new space all along the way - including having our lathe delivered from our old partner's facility in Bethel to Ha Thetsane (picture here for you all to see).
Wishing you all a pleasant September!
-Matt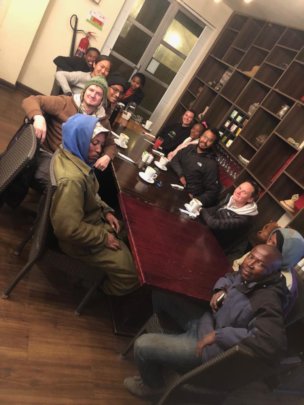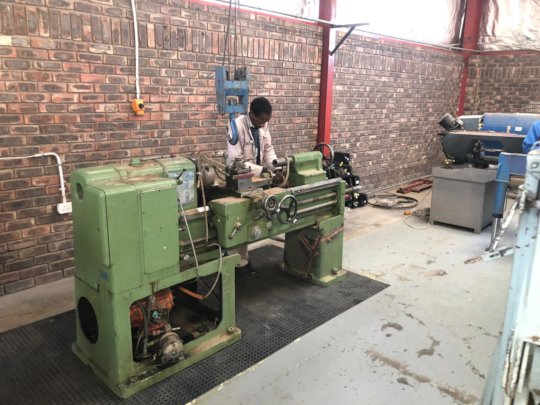 Hello again from Lesotho!
It's been three months now of operations at the Ha Makebe minigrid, and things are going well. We've been learning a lot (including a few late-night trips out to check meters before we realized that sometimes rain clouds just interferes with communications!), and the community containues to be excited about the service. Our 8 customers are consistently using power, reloading their prepay accounts, and sending us good feedback. Our team is thrilled watching this run, and we are hard at work with the final permitting to start construction for service to the rest of the community.
In other exciting news, Onepower moved to our recently-renovated Headquarters, a factory shell managed by the Leostho National Development Corporation (LNDC), the Lesotho government agency whose mission is to foster domestic economic and industrial growth. We are in the early stages of outfitting the offices, setting up the electronics (electricity meters) manufacturing, setting up the machine shop, etc. - but it is already feeling and looking like our new home.
A few pictures below - those of you who have been following along for some years may recognize the aluminum legs on our conference table as parts we used in a manufacturing frame for an early design of our STG solar concentrator. It's truly unique to OnePower and gives character to the place where we invite partners to meetings.
The development of the 20MW Project is still progressing - right now we are on track to start construction in late 2019 or early 2020, and you will all be hearing more about that as soon as we have news and pictures to share!
Hoping that everyone is having a healthy and prosperous 2019 so far, and thank you again for your continued interest and support.
Best,
Matt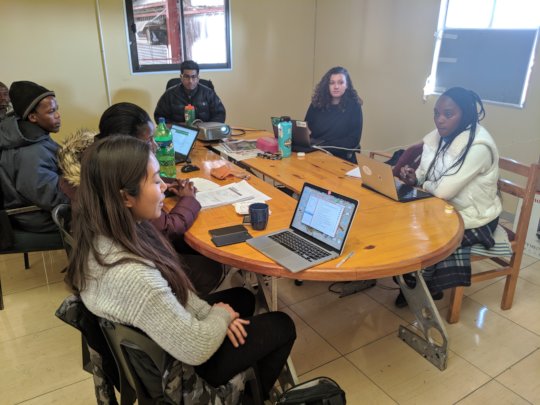 WARNING: Javascript is currently disabled or is not available in your browser. GlobalGiving makes extensive use of Javascript and will not function properly with Javascript disabled.
Please enable Javascript
and refresh this page.