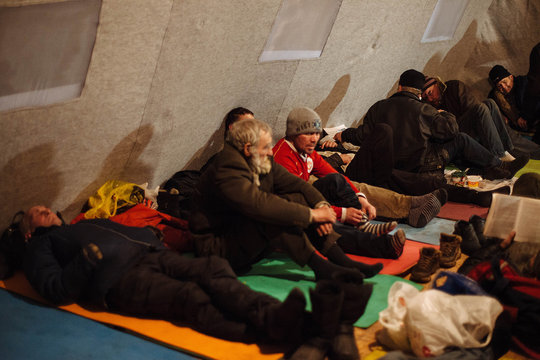 Heating center - a heated tent for 60 people in which homeless can spend a night in warmth, be provided with warm meal and with assistance of a medical or social worker.
In winter 2013-2014 for the first time Nochlezhka managed to open and operate two Heating centers:
on Rasstannayastr., 20/80 (not far from Nochlezhka's building) and Morskaya emb., 39-3 on Vassilievsky island. First tent was open during the period from December, 1th 2013 to March, 1th 2014. Second - from December, 1th 2014 to March, 31th 2014.
Nochlezhka's expenses for the work of one tent, winter 2013-2014:
One night 8 983 RUR
One month 278 469 RUR
One season of work of one tent (December-March) 1 392 343 RUR
The main goal of tents is to allow homeless people to sleep in warmth. They are heated by power air heater, operating on diesel.
Results of work of Heating centers season 2013-2014
Services of tent on Rasstannaja street were used by 385 persons (343 men and 42 women)
Among them: 122 Petersburgers (31,6%), 39 persons came from Leningradskaya oblast region (10%), 32 persons – citizens of foreign states (8,3%: Ukraine -8, Belorussia -16, Uzbekistan -4, Tadzhikistan). Average age 43 years
In tent on Vassillievsky island stayed overnight 189 persons (172 men and 17 women).
Among them: 86 Petersburgers (45,5%), 22 persons came from Leningradskaya oblast region (11,6%), 10 persons – citizens of foreign states (5,2%: Ukraine - 1, Belorussia - 4, Uzbekistan -3, Moldova - 2). Average age 41 year
Altogether during winter season 2013-2014 services of Nochlezhka's Heating centers were used by 574 persons.
THANK YOU!