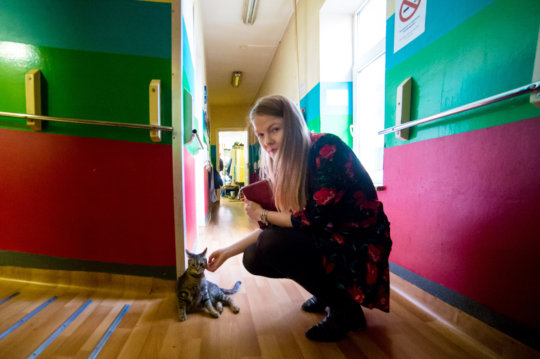 Dear Friends!

We want to share some stories from homeless people, whom we were able to help. We find these stories very inspiring! Thank you on behalf of our clients for your support.

Slava's story

For a few months Nochlezhka's shelter was a home to Slava, who had been brought up in an orphanage and who had lost his flat as a result of a fraud. With the help of his social worker, Lena Kondrakhina, the young man managed to get his papers re-issued and started working with the Raul Foundation which helps people from orphanages and special needs schools. Over the course of two months Slava did an internship in a large energy company and in February he was officially employed there.

Slava took part in the video we made where people living in our shelter were reading comments posted online about the homeless. Having seen him in this video, a girl from Moscow wanted to help him and offered to pay for his travel card to cover the cost of his commute for a year. This was a generous and a very timely offer, since Nochlezhka cannot pay its clients travel expenses and this expenditure is unavoidable and takes a significant share of one's wages.

His social worker Lena also contacted a social hostel for minors and managed to arrange a room for Slava there despite him being older than 18. The young man had not been quite comfortable in our shelter with dormitories for 10 people, where most people were a lot older than him. Meanwhile, Nochlezhka's experts continue to fight for his rights and have contested the fraud transaction involving his flat.


Alexey's story

This sad story ended well, even with a hint of magic. It's frightening to think, though, what would have happened if there was no such place as Nochlezhka in St. Petersburg.

On 28 December last year Alexey came to our counselling service. By then he had spent several nights at our heated tent in Obukhovo (district of St. Petersburg), where he was told that he should go to our counselling service and seek advice from our social workers.

The man was suffering from memory loss and had no papers. He could only remember his name, his date of birth and that he was from Gomel (Ukraine) and, perhaps, had come to St. Petersburg to find a job. Alexey could not remember what happened next. Most likely, the man got serious injuries, maybe a concussion.

While Alexey was being examined at the first aid unit for homeless people at the Botkin Hospital, our social worker Kira Podlipaeva called the Housing Authority in charge of the district of Gomel where Alexey thought he was from. Kira sent a few more emails to various institutions asking them to help find Alexey's relatives, contact them and find out whether there was indeed someone under that name registered at the address given by Alexey.

It's hard to believe but late in the evening of the same day, Kira got a call from the Housing Authority from Gomel! They had found Alexey's mother (the address turned out to be right!), gave her Nochlezhka's contact details and were willing to provide more help if needed.

Kira gave Alexey's mother a call, and the woman was ready to get on the train to come and take her son the following day. It turned out that Alexey had left home to find a job earlier in the autumn and his mother hadn't heard from him for a while. Kira contacted the attendant at our heated tent in Obukhovo to pass the happy news to Alexey and ask him not to go anywhere, so that he wouldn't miss his mum's arrival.

Kira gave the woman detailed directions to the tent where her son was waiting for her. And during the first days of the new year the meeting took place and Alexey went back home to Gomel with his mother.
We made a video where homeless people read out some comments about them posted online
This video got over 40,000 views. It shows how easy it is to write really nasty and cruel things about some abstract homeless people, an unknown human mass, and how different it is to actually see the eyes of particular people who have found themselves in trouble. This is another attempt to show the society that there is no 'us' and 'them'. There are only people.