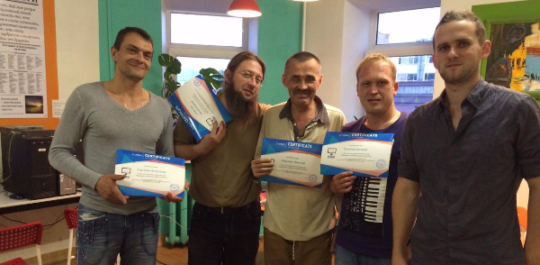 Dear friends!
What great news! At the end of July four people living in our shelter completed a course to become a system administrator's assistant and even got certificates!

They were taught by the head of the 1rost.com company, Yuri Lebedev, who contacted us back in April telling us that he wanted to train our clients for free and teach them a technical profession which is currently in demand. He even developed this course especially for Nochlezhka's clients!

Six residents of our shelter started this course and four of them had all 30 lessons and passed the final exam to get a certificate. In the photo you can see all our graduates with their teacher Yuri (the first on the right) in the lounge of our shelter.
Our residents are holding their certificates which can help them find a job. You know full well how keen employers are on papers. Yuri thought of that, too, and did not just provide his students with the necessary knowledge but also with personal certificates.
While we are waiting for Yuri's students to get jobs, he is preparing the next course for our shelter's residents! We're very grateful to him for his professional support of our clients: we have been dreaming about training courses for the homeless living at our shelter but we haven't had time to implement this project yet. But thanks to Yuri's help we have got a step closer to our dream and made it possible for our clients to get employed as professionals.
There you go. This is just one of Nochlezhka's stories from July. You can find a detailed report on how many homeless people we helped in July and how on our website.
Another homeless man was able to get back to stable life (whatch the video)
Dmitry's parents died a long time ago. He came to St. Petersburg from Norilsk eight years ago and got enrolled on a course at the department of Philosophy at St. Petersburg State University. He tried working and studying at the same time, which proved to be hard, so he left University two years later and focused on the job. He had a go at running his own business selling cars but it did not work out. He ended up in debt and had to sell his flat.
'I failed on all fronts, in love life, in finances and in the professional sphere. I tried to commit suicide and ended up in a mental hospital as a result. When I was discharged three months later, I had nothing. Before I got into hospital, I was renting a flat with my girlfriend. After the hospital, I had no flat, no girlfriend, and all my stuff had been thrown away. I was left with my ID and a medical insurance policy. I had nowhere to go, so I went to the house where I had been renting before the hospital. Simply because I was able to get in, I still had the keys. So I went to the top floor and spent the night there. I had no phone or money. I tried looking for some newspapers, for a job because I had no money whatsoever, not even to pay for food, nothing at all. I needed to find some information in order to work, to call someone', recalls Dmitry.
He had a few months of hardship on the street during which he lost his papers and came to Nochlezhka to restore his papers. We had a vacancy at the shelter at the time so we were able to accommodate the man.
He spent five months at Nochlezhka and is currently working and renting. He has great plans and we believe in him.
Thank you for the great support!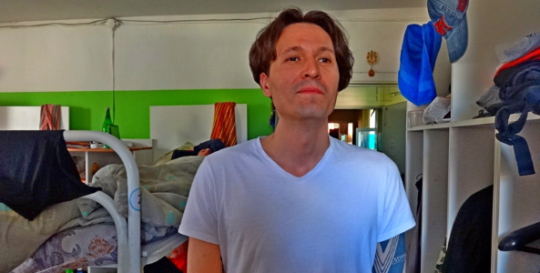 Links: