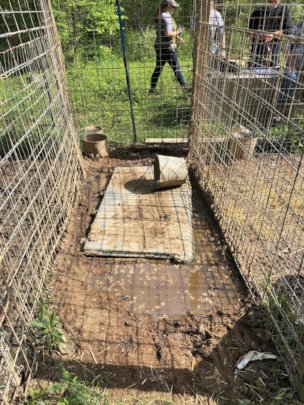 Dear Current and Future Supporters of Full Moon Farm,
This is one of the hardest letters I have ever had to write.
"Rescue is not what I do, but who I am."
*I write those words from my heart, after returning from the first rescue that ever made me cry.*
Once upon a time, in a life far away, I was a normal corporate American, making a living and trying to get ahead. I call that "Life before wolfdogs". Things were fairly simple then, living the American Dream, a little house in the country, and raising children to be successful and content. I can say I succeeded in that mission, as my three children are awesome adults! They are responsible pet owners, great parents, active in their communities and good friends to their friends. I could not be more proud of them and their choices as adults. The little house in the country is now the office for Full Moon Farm, Inc., Wolfdog Rescue and Sanctuary. While it needs a total rehab, right now, it is dry and safe.
Fast forward to "Life with wolfdogs". Well, as my kids sometimes say, there is no life after wolfdogs, they become your life! I have missed holidays, birthdays, special events, grandkids activities, and so much in the past 17 years that a lot of my family has stopped inviting me. This has been a price I have willingly paid, because, for me, "It's about the animals"...
Full Moon Farm was incorporated in 2002 from a dream and a desire to help the wolfdog "breed" I had grown to love. I didn't have a plan, nor did I have non profit experience! I had property, a retirement fund, (I was 45 then), and a burning desire to help the ones with no voice, the ones who were "myth"understood, the ones who were homeless or thrown away. That dream has turned into more than 700 lives touched, saved, rehabilitated and "loved". Those 700 rescues, will be stories in a book one day, but right now, the story is we need help to continue this mission. We are an ALL volunteer organization,-- NO ONE, including me, collects a salary. Your donation dollars go to the dogs. Those 700 animals have been saved by the Grace of G-d, my own stubbornness, my savings and your donations. Full Moon Farm has never once threatened to close, resorted to bribery or blackmail, greed or threats, and will never do so, as I am a believer that the dogs and I will always get what we need, and that is how the last 17 years have been lived.
The old adage, ask and thou shall receive...
We, the dogs, the BOD and I, were sadly disappointed last December when a local grant we were counting on did not come through. An $8000.00 gap in an already strained budget. Not sure why we were skipped, as I have never received an explanation. We have never received national grants, corporate sponsors, free dog food, governmental help, free vet care, or more than $92,000 in a fiscal year. However, we are survivors. We live in the state of Faith. We are grateful.
Now, we are at a critical junction with finances, with support and with our mission, so, we are asking.
Are you able to help us help wolfdogs?
Our needs right now are great.
Our vet bill for our seniors, the new rescues, medications and spay/neuter surgeries is well over $2000.00. (I nominate our veterinarian for Sainthood!) Farm visit upcoming, which will add more!
Our Big Van - the workhorse, is 18 years old, has 265,000 miles on it, and not safe to take on long distance rescues any longer. We need a replacement vehicle. It is a one ton, (Chevy 3500), old church bus I personally bought in March 2003 for the Omaha Nebraska Rescue of 8 wolfdogs. (In May, I had to rent a vehicle for the Ohio rescue of 12!)
Our Golf Cart has been dead for two years. We have not been able to troubleshoot it ourselves. We need a new golf cart with a "bed", desperately. or someone to help us get our Yamaha working again.
Our Tractor was damaged during the fire in November of 2016 when it jackknifed . We are still fixing it, and wondering if it will ever be right again. A reliable tractor with a bucket and backhoe would be a tremendous boost to our driveway and grounds maintenance.
Our Big Truck - an F250, just had the front end rebuilt and now the back brakes are needing replaced. It has 155,000 miles on it. An newer, more reliable Big Van would allow us to sell the Big Truck, although the 4WD, (rebuilt last year), was a life saver in the big snow in December!
The Little Truck is heading to the transmission shop - it has been down since March. Reverse stopped working and a friend of the farm in SC is willing to work on it if I can get it down there! It has 255,000 miles on it, and I bought it in 2001, before the formation of Full Moon Farm!
The Toyota Mini Van is our all purpose vehicle with AWD, but, it cannot haul what the trucks or Big Van can, nor can it pull a trailer, BUT, WE LOVE IT and are THANKFUL to the donor who gifted is in 2015. It now has 154,000 miles and will need some work soon.
Our cash reserves are non existent and if I didn't have great credit, I cannot imagine............
So, unlike the big Madison Avenue alphabet soup animal groups, unlike the Big Guys in town with donated cars, vans and millions in assets, who pay their directors more than we bring in during a fiscal year, and unlike paid professional fundraisers, we struggle.
Will you help? $5.00 to an organization like Full Moon Farm is treasured. If $5.00 (or more) was donated by our 2500 email subscribers, our 29,000 facebook followers, or the Howl In visitors, we would be solvent, with safety reserves in the bank. We are not greedy. We do not need millions - we only need "enough". Enough to pay our bills. Enough to know that the electricity will not be turned off. Enough to pay our veterinarian what she is due. Enough to have a months dog food in reserves - ($2500 a month!)
*The Rescue that made me cry*. In May, I worked with a humane society investigator on the rescue of 12 animals in Ohio. In 18 years, I have seen hell holes. I have seen abuse. I have seen starvation. I have seen hoarding. I thought I was immune to tears. Well, I was wrong. It wasn't horrific like some of the cases I have been on, but it was heartbreaking. These animals were once pets. These animals were once loved. These animals deserved so much more than the abandonment of their owner, a member of the wolfdog community. These animals broke my heart...
While we work to get them healthy and whole again, I humbly ask - if you cannot donate, then please pray. Pray for justice. Pray for healing. Pray for wonderful forever homes. Pray for me and my volunteers who cannot understand how someone could do this to their animals. Pray that the animals can forgive and start new lives again.
My tears flow because rescue is not what I do, but who I am.
Peace.
Nancy

Yes, there was a dog chained in that muddy small space.....