Autism Pensacola continues to improve the lives of those living with autism in our community. Because of the generosity of donors like you, our Give Kids a Voice program has helped fund iPads for 8 families who have been trained to work with their children through our Parent Empowerment Program (funded by Pensacola Bay Impact 100).
Parents report that iPads are making a difference in their children's lives everyday. Some have found new ways to communicate and others have a new learning tool. Parents can also connect with other families to share support and ideas via the iPads as well as use aps to track their child's progress. All of this was made possible because of your gift to Give Kids a Voice.
We will continue to support our families who are trained on working with their children because this assures that they are equiped to maximize the impact of the iPads. Autism Pensacola works in all ways to maximize our impact and the use of our donors' dollars.
Thank you again for your support of this important project! We are grateful for your support!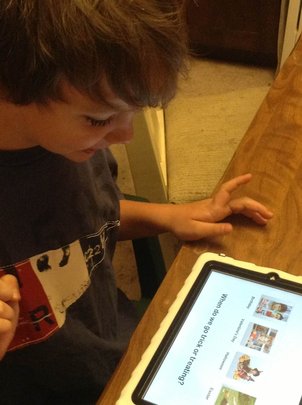 Our pilot class of the Parent Empowerment Program was a great success! Fifteen families learned to work with their children using the principles of best practice teaching called Applied Behavior Analysis. They were also trained and used iPads with their children. At the end of the class, 6 families requested and recieved financial support to purchase their iPads and received them because of your generous support of iPads for Autism! Thank you so much!!
Families of children like Max and Brenden are reporting that their children are learning and growing in new ways because of the iPad you helped them purchase.
Brenden's mom writes:

Special topics and interests can be a tricky thing for an eight year old boy. When you are born not knowing how to make friends there is no such thing as having a simple conversation. Or so I thought. Introduce an eight year old boy with Aspergers to an iPad and suddenly that awkward special topic that leaves other kids eyes glazed over changes to eager conversation (a real two-sided conversation) and budding friendships. My son is using his iPad to connect to the rest of the world. He has discovered he loves playing Scrabble pass-and-play with me and Where's Waldo with his sister. He can show his daddy funny videos from YouTube. The best is at school where he is now joining in about his favorite games and apps and kids are actually responding to him. His special interest is now an asset. He is also able to grow by using his chore chart and zone apps to help him focus and build social skills. My autism day also helps us keep track of his days whether they are good or bad. And the good days just keep on growing. His confidence is also blossoming. When you can outmaneuver Mom on the iPad you feel like one smart cookie. His favorite thing to do is change the colors to negative in settings. He laughs as I sit there and struggle to find anything. If anyone is unsure how to do something on their iPad, just ask Brenden. He was even able to help his grandparents to get the hang of theirs. We want to express our sincere gratitude and thanks to Autism Pensacola and everyone who helps support this worthwhile and terrific organization.

Max's mom says:

Max's iPad helps him communicate in a world that often does not understand him. He can use it to type out words that others may not understand or by touching pictures that express his needs or thoughts. We also use it to help reinforce concepts that are difficult for him to learn by traditional means such as the Wh concepts you see in the photos

. In addition we use the video function to help video modeling behaviors that reinforces his appropriate or desired behavior and to help us learn to work on those behaviors that continue to cause functional difficulties. Max also uses the video function to let us see the world through his eyes. The iPad has been a blessing to our family and we are so grateful for the opportunity to be a recipient.
These are just two of the children who are benefiting everyday in so many ways from your support of Autism Pensacola and iPads for Autism. Thank you for making a difference!! This summer we will hold two more sets of classes for up to 30 more families--and those in need will receive iPads to keep because of generous donors like you! Thank you!
Links: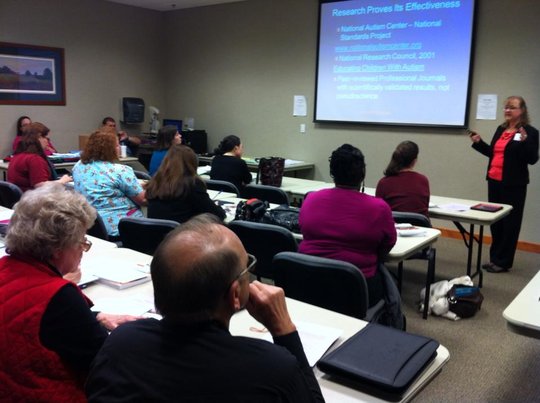 Autism Pensacola is so excited to have reached our goal to be a partner of GlobalGiving. Thank you so much for your generous donation that helped make this possible.
iPads for Autism is ready to provide iPads to families who are enrolled in our Parent Empowerment Program. We began our first class on February 5 with 15 families. These parents are already telling us great things. Jenn said, ' Tonight's PEP class completely changed my entire thinking when it comes to working with my son regarding his communication. What has caused me YEARS of tears and worry was reduced in a simple 2 hour class which provided me not only hope but actual SOLUTIONS. I wish I had been able to take this class years ago. This will help me feel some sense of control again.' These parents are learning techniques to work with their children using the iPads and will be eligible to apply for financial support to obtain an iPad at the end of the class in April.
Thank you again for your donation and for making a difference to the families we serve! I look forward to writing to you again soon with more information on how this program is changing the lives of those with autism. Thank you!!!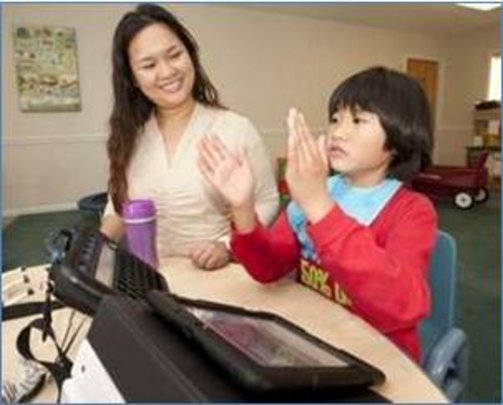 Links:
WARNING: Javascript is currently disabled or is not available in your browser. GlobalGiving makes extensive use of Javascript and will not function properly with Javascript disabled.
Please enable Javascript
and refresh this page.