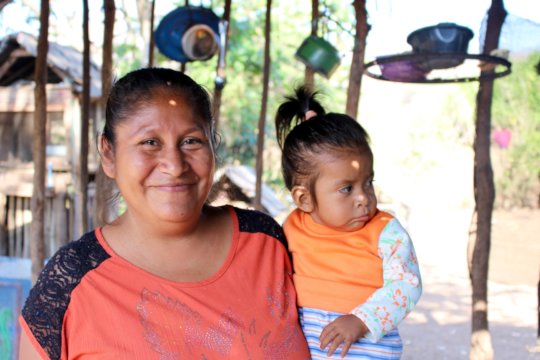 Traditionally, most rural families in Guatemala cook over wood fire because there is a strong preference for the flavor wood gives to food and wood is a more accessible source of energy that can be gathered locally at low or no cost. For this reason, HRI is working to resolve the health and environmental challenges that traditional open wood fire stoves create by implementing a healthier and more environmentally friendly alternative that continues to satisfy local needs and preferences.
Over the past 5 years that HRI has been implementing alternative stoves, we appreciate that women, the majority of which are mothers, have a lot to say on this topic. We take their opinions and feedback seriously so we can advance our mission to create healthy behavior change and help shift every household towards a safer, more efficient method of cooking for the long term. We recently checked in with several moms cooking in 2 different school kitchens with our newest stoves, manufactured by Estufa Chispa. This is what they had to say:
"I like these stoves a lot - especially that they are smaller, that there is less smoke in the kitchen and that we don't need as much wood to cook the food for the children. These stoves help a lot and I would like to have one like it in my home." ~Olga
"The thing I like most about these stoves is that they are easy to use and clean. The stove I have in my house is made of mud - these in the school are more durable, they need less wood and the food tastes like it was made by the oven." ~Matea
"I would love one of these stoves for my home. I really like the small size of these stoves and they are much easier to clean if you do it soon after cooking. Before we used too much wood and now it is better with no smoke in the kitchen. I also think the food tastes better." ~Marta
"These stoves are so much more comfortable to use, especially lifting large pots on and off the heat. I like the way these stoves function and we save more time and wood when cooking." ~Otilia
Now that these stoves have been thoroughly tested by moms in school kitchens, we are confident that a home version would be a big success! As we move forward, we are looking to expand our effort to reach more families in need of a safe cooking option in their home. We hope you'll continue to be a part of the solution to save lives and improve the health of children and families in desperate need.