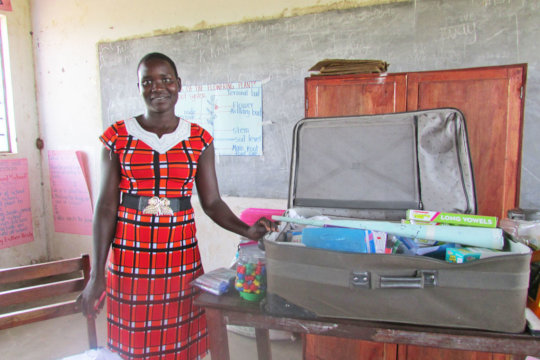 We are one third of the way to having our libary fully funded. Our goal is to complete our fundraising for the library addition no later than early January so that we can begin construction on the library in January. We estimate that it will take 30 to 45 days to complete. This would mean that students and teachers could begin using the library no later than the beginning of the 2nd term of school which starts in early June.
We have alwo written a separate grant request asking for funding for the necessary furniture, shelving, and equipment to be used inside this room. We've attached a photo from July of our first grade teacher, Irene. Irene was showing us how she stores reading books for her students right now--in a suitcase which is quite cumbersome to use and does not store very many books. We currently have 300 primary reading books on hand in Uganda. There is just no place to store them where they can be easily accessed by students and teachers until the library addition is completed.
We thank you so much for your early contributions to this project. We hope that this will in turn excite other donors to come on board with additional donations to complete it. If you know of any connections to school librarians or library associations that might want to join in helping, please let us know.
Links: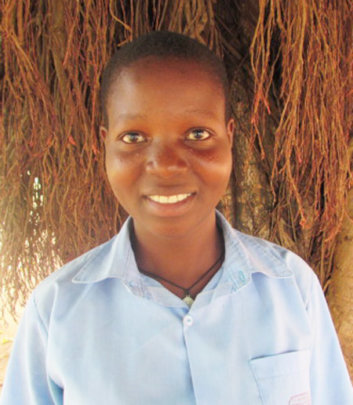 Vivian was one of the top performing students in the Lamwo district in 2017 when she completed 6th grade. And yet she could barely afford to go to secondary school and then only sporadically as a day student during 7th grade thanks to an auntie that could occasionally provide help. Teachers at her secondary school quickly realized her potential and even began taking up collections among themselves to help buy her school supplies. And yet, they knew they couldn't do this forever.
That's why we selected Vivian to be a part of our child sponsorship program. She does not have a full time, long term sponsor yet, but thanks to this project on GlobalGiving, we have been able to pay her school fees as a boarding student at her school in Kitgum Uganda for the first two terms of the 2018 school year.
Vivian is very thankful and overjoyed that she can now attend school regularly and board at school like most of her other fellow students. In Uganda, most secondary students board at school so they have time to study, adequate food to eat, and electricity to study at night.
Thanks to you, Vivian has now risen to being the top performing girl student in her 8th grade class. Please share this letter with family and friends who might be interested in our project of helping girls like Vivian remain in school. Or who knows? Maybe one of them would want to sponsor Vivian to complete her secondary schooling!
We appreciate you very much. Thank you from the bottom of our hearts. You have made Vivian's dream come true by giving her the gift of education.
Links: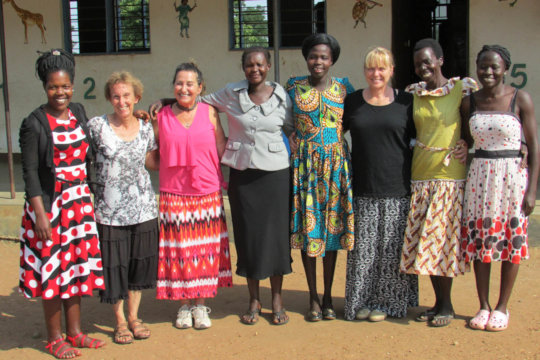 Good news! We're happy to report that we have successfully raised all needed funds for this classroom project. We've expended all the funds on our 5th classroom building and it is now complete. Therefore, we're deactivating this project on GlobalGiving.
I visited our nursery classroom building in July along with a pre-school director who volunteered at the Agwata pre-school for two weeks, as well as another primary teacher and one of our board members. All three volunteers were impressed by the nursery classroom building. It is our only classroom building which has shutters. And everyone agreed, the veranda was very nice.
Our next project at the school is doing a one-room addition to an existing class building. This room will serve as a library as well as a mini technology center, and storeroom. If you or friends, family or co-workers would like to help us with this newest project, please learn more at: http://goto.gg/34999
In the meantime, we sincerely thank you for making our nursery classroom building a success and helping assure that our 150 nursery students get a great start on their education!
Thanks again for making our nursery students' and teachers' dreams come true.
Links:
WARNING: Javascript is currently disabled or is not available in your browser. GlobalGiving makes extensive use of Javascript and will not function properly with Javascript disabled.
Please enable Javascript
and refresh this page.