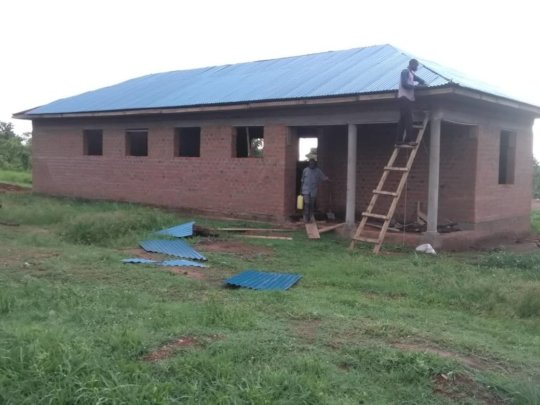 Workers made steady progress on the library during April and May in spite of quite a few days of rain. The roof was successfullly completed in May. Work continues in June with windows being installed this week.
We were all relieved when the windows were finally done because lack of electricity in the town where the windows were being welded delayed their installation by a couple of weeks. As soon as the windows are in, final finishing work will take place inside the building. Your support of our library project on GlobalGiving has made all this possible!
The library will give both teachers and students access to the many books that donors have provided for the library including a up to date encyclopedia set which is very important in an area which does not have any easy access to the internet.
We are raising additional funds to purchase Ugandan textbooks and other resources including maps on Uganda and East Africa. Students will be able to access these study materials during their free time. This is important because most students have no personal textbooks.
We hope that the final library funding can soon be completed. If not, then cementing of the outside veranda may be delayed. Nonetheless, the library can still be used.
We plan on traveling to Agwata by mid-July to help the new librarian set up the shelving and organize books on the library shelves. We'll keep you posted and have lots more photos in July once we arrive on site!
Links: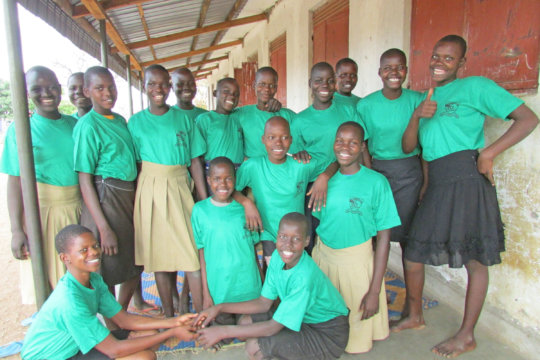 The 2nd term of Uganda's school year began on May 27th. The Agwata School's 6th grade class has 13 girls in its class of 24 students. These girls are very appreciative of being able to board at school during this term. Your continued support makes it possible for all girls to board at school regardless of whether they have a permanent sponsor or not.
Your support helps pay for food and supply costs to support the unsponsored girls at school during the school term. There was a severe drought in this area of northern Uganda duirng the last half of 2018. This meant very little harvest at year end. Parents are struggling now to provide food for their families until the 2019 harvest later this year. This makes it especially important and valuable for the 6th grade girls to stay at school where they receive three meals per day.
Boarding at school is not a luxury. The students follow a rigorous schedule of studying while they board at school. This provides them ample time for extra lessons from the teachers as well as time to revise their notes and study with fellow students. The girls hope that their extra study time will pay off when they take their very important year end exams at the end of November.
Thanks so much for your generous contributions which help make this possible!
Links:
Exciting News: Our local builder began construction on the library building in late February. The foundation has been set and the walls are almost complete. Later next week, we expect the workers will be working on the wood beam which will support the iron sheet roof.
In the meantime, we are holding discussions with the teachers as well as others involved with the school, to share views on how the library should be organized, what are the high priority uses expected of the library plus what kinds of books and resources are wanted in the library.
As mentioned in our prior report, the school decided it wanted to add a second small office to the library building. It is being constructed but final finish work and cementing plus installation of metal shutters may be postponed until such time that we raise the remaining amount of funding.
If you have friends or family members that might want to help us complete these final steps, please share this project report with them too!
Our goal is to complete the library building in May so that students and teachers can use the library begining with the 2nd school term which begins on May 24th.
We thank you for your generosity and support!
Links:
WARNING: Javascript is currently disabled or is not available in your browser. GlobalGiving makes extensive use of Javascript and will not function properly with Javascript disabled.
Please enable Javascript
and refresh this page.