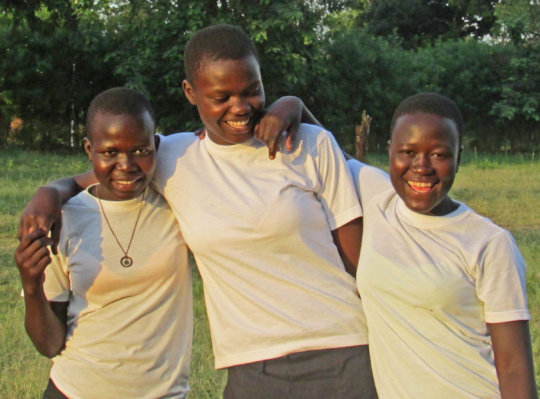 i was in Uganda from mid-February to mid-March and want to update you about the status of our older girls in school, the very girls this project is helping to support! The good news is the Uganda school year got off to a good start in February. I, along with two other volunteers visited many of the secondary students at the schools where they board. I've included a photo of one visit at the very end of February. This gave us the opportunity to talk with the girls one on one to see how they liked school as well as to provide encouragement to the girls.
Four days after I flew back to the U.S.,.Uganda's president sent all students home from school for 30 days as well as undertook other measures, all aimed at stopping the coronavirus from spreading within Uganda. As of April 8th, there are 53 reported coronaivrus cases in Uganda with zero deaths reported. We hope that containment efforts continue to be successful.
According to Uganda school officials, they currently expect the school year to progress with students returning to school at some point and making up for missed school days by shortening or eliminating the two three-week term breaks and/or extending the school year into December. We are operating under this understanding that students are just home for an earlier break than normal but will go back in May (or maybe June) depending on what happens.
In the meantime, we are helping the northern Agwata community where many of our students live. The clinic is making preparations to better withstand any health issues the community might face during the upcoming rainy season (May and June). So whether it might be increased cases of malaria, pneumonia or coronavirus, we are helping the community's clinic workers prepare to the extent we have funds available for this. This in turn will better support our students who are home on break and who depend on the local clinic for their health care.
We appreciate your continued support of keeping older secondary (7th to 12th grade) girls in school until we locate additional sponsorship and scholarship supporters for them. We also appreciate your continued support during this time as the whole world waits for the coronavirus crisis to pass so that we can return to a new normal. And especially importantly, so that our girls can return to school!
Links: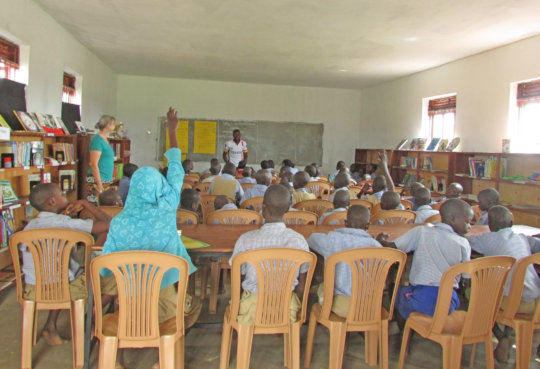 I, along with two other volunteers from the U.S. visited the Agwata school and its library during February. It was an exciting time where we got to see the final finishing coat of paint put on the library's walls. At the same time, students and teachers were busy scheduling their library times both individually and for classes. We even had a special movie night in the library where we used the library's technology equipment to watch the Queen of Katwe movie with the 6th grade students and teachers.
We could see the library is bringing new ways of learning and teaching. We brought over 400 books with us from the U.S. as well as 21 special "book bags" made by students at a Colorado elementary school. Each book bag contained a book, and a cd player which contained the U.S. student reading the book in the bag.
Our English and literacy volunteer worked with the 4th to 6th grade teachers and classes on a variety of English teaching opportunities using the library materials. The photo we have included with this report shows the 6th graders learning how to gather information for reports they were writing in English on assigned topics.
The library still desperately needs funding for more Uganda textbooks for students. We hope to purchase more textbooks this year if funding becomes available. Books are very important, especially for 3rd to 6th graders,because the library is a place where they can come during breaks lunch time, and sometimes at the end of the day, to access and study from textbooks. During class time, often the teacher has a teacher's book for the subject and only 1 or 2 student textbooks to show students or write examples from. Library textbooks will not only help students in the library but the teacher will also be able to check them out so students can share them durng class time.
We thank you for your support of this very valuable project. Please share this gift giving opportunity with friends, family, coworkers, and book lovers that you may know.
Links: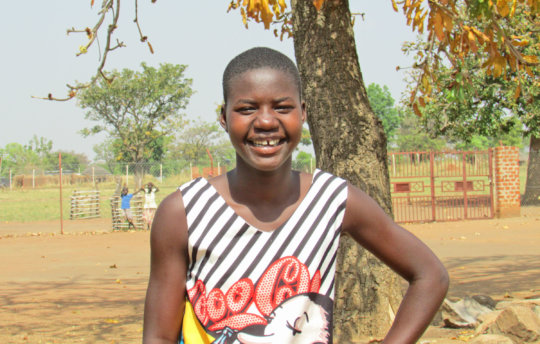 Tomorrow starts the new Uganda school year. We've exiciting news about the girls from Agwata village. In 2019 the school had the largest graduating class of girls (13) and they performed the best ever on their national exams that they took last November. In fact, this is the first time ever that one of our girls scored in the top division on the national exams.
We've got more good news--the incoming 6th grade class this year is the largest ever at 40 students with 25 girls, almost double our 2019 girl poopulation. What a contrast to 2011 when we first began working in Agwata village and there were no girls in 6th grade!
But with all this good news comes challenges. We have found lots of sponsors for these girls but more sponsors are needed. As we continue to look for sponsors, we remain very grateful to this GlobalGiving project for providing funding to plug the difference and allow additional girls to begin the school year tomorrow even if they have no long term sponsor.
You are helping girls like Patricia in this photo who does not yet have a sponsor but wants to go to 7th grade so she can eventually become a nurse. She's extremely hard working and did well on her year-end exams.
And, as we mentioned in our last report, we want Patricia to achieve her dreams but we also know that (based on UN statistics):
Girls who complete secondary school (7th to 12th grade) will most likely:
Be 60% more likely to find work
Be 66% less likely to marry at a young age
Be 60% less likely to have children before she reaches age 18
Be 50% less likely that any of her children will die before age 5 when she becomes a mother herself
Be 70% less likely to die in child birth
Thank you for helping Patricia and other girls like her start or continue on the path of completing secondary school! It's a huge gift to them and we couldn't do it without you!
Links:
WARNING: Javascript is currently disabled or is not available in your browser. GlobalGiving makes extensive use of Javascript and will not function properly with Javascript disabled.
Please enable Javascript
and refresh this page.