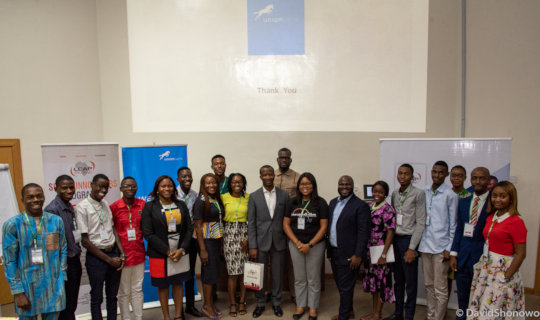 With a groundbreaking ceremony for the LEAP Institute in November 2019 in Ibeju Lekki, Lagos Nigeria, championed by President & CEO of Mastercard Foundation, Reeta Roy, LEAP Institute is on the rapid journey to realization. The journey of being a premier resource centre for developing dynamic, innovative and principled leaders who will drive Africa to achieve its full potential.
The LEAP Institute is LEAP Africa's proposed leadership centre for developing the next generation of Pan-African change agents across all sectors to champion the course of a new Africa. This project is a step further towards the LEAP's goal of raising innovative youths with an entrepreneurial mindset to catalyze the continent to prosperity and provide solutions to Africa's problems.
Statistics show that 1 out of every 10 secondary school in Africa will not make it University. They exit secondary school into the world of work. How is the secondary school curriculum preparing them for this reality? There is a lack of leadership development training institutions and curricula that can help them achieve their dreams or life ambitions.
There are many young people in Africa, who have brilliant ideas capable of transforming millions of lives and creating a huge impact across the continent. But these ideas, in most cases, are abandoned for lack of proper training and structural support. They are constantly in search of resources to help them navigate the complex life challenges that confronts them on a daily basis because there is no well-equipped institution in West Africa that can provide a holistic training, research and curriculum development for personal, organizational and community development. Young people need assess to Leadership development institutions and localized curricula that mirrors their realities, challenges, practical to their individual situation.
This the gap the LEAP Institute seeks to fulfil.
LEAP Institute will be a fully equipped academic platform for developing highly-skilled professionals who will lead cutting-edge research in the state of the youth affairs, social entrepreneurship, nation-building, advocacy and policy development and act as resource persons for government, the social and the private sector. It will also strengthen ecosystems in leadership, business sustainability, youth and social development in Africa by serving as a hub bringing key industry stakeholders to discuss and proffer innovative solutions to pertinent issues across Africa. The project is a five-year plan which is expected to be completed by 2025.
By 2025, LEAP expects to have impacted 10 million Africans directly and gained quantum leap in building ethical leaders and businesses to drive Africa's realization of its full potentials. This vision is only possible through the support of both local and international organizations, partners and individuals that share our passion for an Africa that will lead a new frontier for good governance, inclusive growth and economic prosperity.
Positive transformation in Africa may seem like a dream to many, but for us, we believe nothing is impossible when we work together. We invite you to make the LEAP institute a reality and give access to free and affordable leadership training to young Africans.
Join us on this journey to inspire a new generation of Young, ethical leaders for Africa!