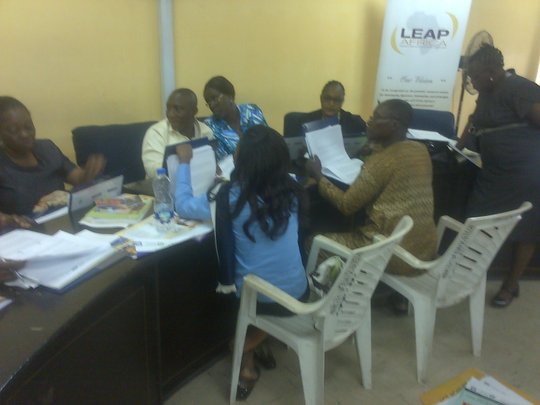 LEAP Africa, through the support of First Bank Nigeria, Interswitch Limited and Seven- Up Bottling Company held the second edition of its Youth Development Training Programme (YDTP), Training of Trainers (ToT) Workshop in Ogun State, Nigeria. The workshop was held at the Conference Room, Ministry of Education, Science & Technology, The Secretariat, Abeokuta- Ogun State, from August 19th through 23rd, 2013. The programme offered participants the opportunity to learn LEAP's core YDTP curriculum and acquire facilitation skills required to cascade this curriculum to youth beneficiaries within their spheres of influence. The first edition held of the ToT held in Lagos from April 22- 26, 2013, where 50 teachers and youth association representatives were trained on the YDTP curriculum.
Recruitment and Attendance
LEAP shared the YDTP call l for application across its online portals, social media platforms, NNGO networks, Ogun State Ministry of Education, Private School Associations and Religious Associations. 50 participants were accepted to the workshop, however, 45 signed up to commence the 5-day training programme.
Workshop Activity Details
The programme offered core sessions on the Youth Development Training Programme (YDTP) curriculum. The sessions included interactive exercises, case studies, games and group discussions on the following topics:
Connecting to Our Inner selves/Self Portrait, Leadership Game, The Act and Art of Leadership, Leadership for Change, Developing your Personal Mission Statement, Visioning and Goal Setting, Introduction to Moral Ethics, Communication Skills, Creativity, Networking, Project Planning & Management, Budgeting & Fund Raising, Time Management, Introduction to Moral Ethics, Patriotism & Social Responsibility, Introduction to Facilitation, Tools & Techniques for Effective Facilitation, Mock Facilitation
Facilitation Training
Two LEAP trainers led the training sessions supported by two LEAP volunteer. Each participant was provided with a training manual and facilitator's guide. The participants also took part in a 2-day mock facilitation session. At the end of the workshop, participants were briefed on next steps which included; drafting their programme implementation plans, selecting 30 youth beneficiaries each for cascade training, receiving ongoing support from LEAP during their cascade trainings to youth beneficiaries.
Suggested Areas for Improvement
Some of the feedback shared by participants are list below:
"School principals should also be invited to take part in this training so they can give teachers some level of support when stepping down the training to the students"
"More schools and teachers should know about this programme. It is a 'must have' in every school especially the government owned schools"
"The training of trainers should be structured as residential i.e. accommodation should be provided for the participants during the 5- day programme"
"Make provision for trained teachers to be able to train 2 more teachers in their schools peradventure the trained teacher gets transferred to another school"
Excerpts from Feedback Forms Circulated During the Workshop
"The training programme has been fantastic and educative."
"Very interactive sessions; Good facilitators who understand the curriculum and the delivery."
The session on 'Building Self Confidence' has made me realize that you cannot become great in life without believing in yourself.
"I enjoyed the fact that every session was introduced with a game or class activity which made it easier for me to connect to the main topic"
The open group discussions helped me build my self confidence. I sometimes find it difficult to express myself in such activities"
"I learnt that it is good to brainstorm with others no matter the age group"
"The training was excellent because one topic leads to another and they are all linked to leadership"
"I never thought that it was necessary for me to have a mission statement, I look forward to cascading the curriculum to youth within my network"
Post ToT/ LEAP's Next Steps
LEAP added the programme beneficiaries' details to its mailing list, providing them with monthly updates and offering ongoing support.
LEAP will support the teachers, guidance counselors and youth trainers in developing the best approach to cascade the YDTP curriculum to the youth beneficiaries.
The youth manuals will be delivered to the trainers as soon as their implementation plans have been approved by LEAP.
LEAP will send introductory letters to YDTP participating school principals to ensure their full buy-in and support of the trainers.
LEAP will monitor the cascading component of the programme over the next 12 months to ensure quality in the delivery and also give support to trainers experiencing challenges with the curriculum deliver. Each trainer will train 30 youth. By August 2014, a total of 1350 Nigerian youth will have been trained by the trainers on LEAP Africa's YDTP curriculum.
On behalf of the Board and staff of LEAP Africa, we would like to thank you for your generous support through your financial contributions towards the Youth Development Training Programme (YDTP).This gesture reaffirms your belief in the mission and objectives of LEAP Africa and your commitment to supporting us in our efforts to develop dynamic, innovative and principled African leaders. LEAP is committed to recognizing your contribution in our newsletter, annual report and website. Once again, thank you for your wonderful support. We look forward to making more positive impact through your support.
We are very happy to receive your suggestions and feedback on areas we can further improve on the YDTP project and possible collaboration for increased impact and wider support.
LEAP is also approaching other individuals, key influencers is the youth development space and corporate organizarions to support the programme so we can have a wider reach and create more impact.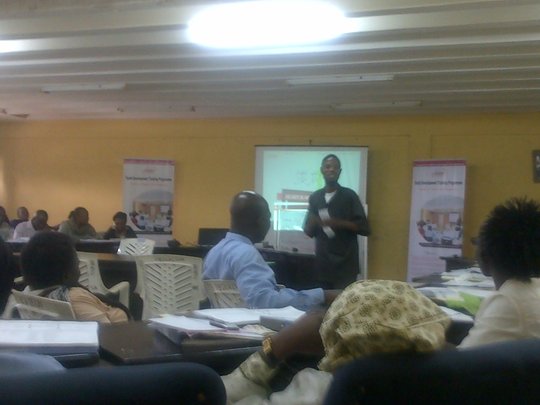 Links: