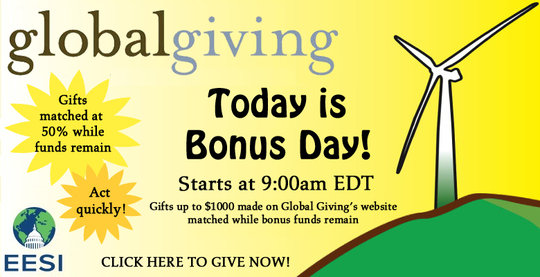 Today is Global Giving Bonus Day! Since you are an EESI supporter through Global Giving, I wanted to be sure to alert you of this special opportunity to make an even stronger impact TODAY!
As of now, Global Giving's partner nonprofits--including EESI--are competing for the chance to receive as much of Global Giving's matching funds as possible. There are $115,000 in Bonus Day matching funds available today! As a Global Giving "Superstar" partner, donations to EESI through the Global Giving website are matched at 50% for gifts of up to $1,000 per donor!
This is the highest matching reward level EESI has ever reached, thanks to you! Any size donation—from $10 to $1,000—will help EESI win bonus gifts of $1,000 by being the organization to earn the most funds and/or have the most individual donors today. It's the biggest Global Giving matching gift opportunity of the year. We expect funds to run out before the end of the day. Don't miss this chance to stretch your gift for energy and climate policy engagement further than ever by acting now!
With the Clean Power Plan high on policymakers' agenda--yet misunderstood and under fire from many sources--today is a very exciting day to give and show your support for climate and energy solutions.
Your gifts through Global Giving allow EESI to hold critical briefings and events that help educate policymakers in Congress about clean energy and the wide array of solutions to climate change. For example, your gifts, combined with those of others like you, made the 18th Annual Congressional Renewable Energy and Energy Efficiency EXPO + Forum last Thursday possible! Close to 50 organizations showcased to Congress the wide variety of renewable energy and energy efficiency technologies--including solar, wind, geothermal, and biomass—that can sustainably meet our energy needs. This year's EXPO drew in close to 1,000 people throughout the day. They came to learn about companies that are working to make clean energy and energy efficiency a reality throughout our nation, creating domestic jobs in the process. This was an amazing opportunity for Congressional staff to hear from clean energy companies, and for EXPO attendees and exhibitors to hear from Members of Congress from both sides of the aisle.
Yesterday, EESI held a public briefing and live webcast, "What Action is China Taking on Climate Change?" in partnership with the World Resources Institute. Timed to coincide with the release of China's national plans for climate mitigation, this was an incredibly important opportunity for the policymaking community to learn about the climate actions China has taken and plans to take as it looks ahead to the international negotiations in Paris. China is the highest emitter of greenhouse gases in the world (the United States comes second), making its commitments particularly critical.
Your renewed support—especially today, on Bonus Day—allows EESI to continue to spread the word to Congress about the importance of addressing climate change both domestically and internationally!
Thank you so much for supporting EESI in finding real solutions for energy and climate challenges, especially on this special Global Giving Bonus Day! You help EESI engage with Congress and the Administration on the Clean Power Plan, the run up to the international negotiations in Paris, the benefits of renewable energy and energy efficiency, and much, much more.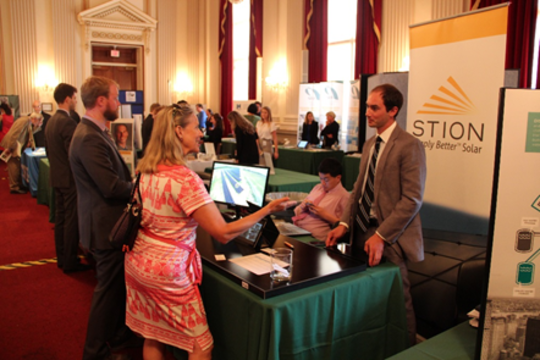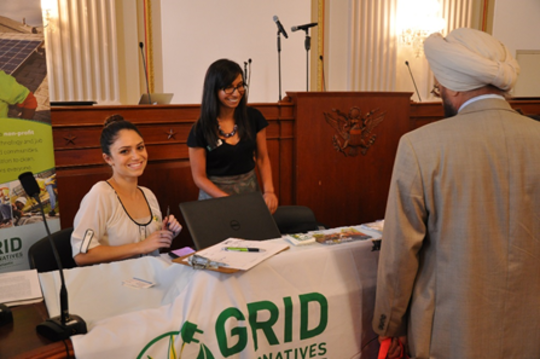 Links: