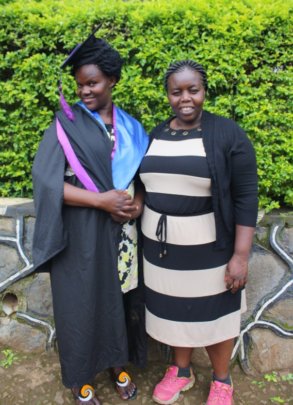 July 1st was a joyous day for the entire Arlington Academy of Hope community. After 12 years of working towards getting our children to a higher education, four of our students received their diplomas. Co-founder Joyce and many members of our Uganda staff were in attendance at the Mukono campus of Uganda Christian University (UCU) to watch them walk across the stage and celebrate their success and bright futures.
Three students received Bachelors of Arts in Public Administration and one received a Bachelors of Science in Development studies.
Attending a top university in Uganda is a dream come true for students from Bududa. They couldn't have done it without AAH. Nabutsale says that, "I would not have reached where I am today and would not have seen my dreams come to pass. I would have dropped out of school and would have been married off already with many kids in the village if I was not a part of AAH."
As the graduates are getting over the initial excitement around receiving their diplomas, they are now focusing on getting jobs and setting up their career. Nabulo is one student who has always put in extra effort to make sure she has a bright future. As a student, she competed and won the position of Female Youth Councillor of the Bududa District. Now, with a diploma she knows she will go even further.
"With my degree in Public Administration and Management, I can head an institution or even start my own. I can mobilize my community and even sensitize them on any matter," say Nabulo.
Arlington Academy of Hope has done what it set out to do. Provide children with not only a quality education and the skills to achieve their goals, but it has also provided them with a positive outlook on the future. "AAH has given me hope" says Nabutsale. "I believe that in a few years to come, my goals will be realized since I have already achieved one of graduating."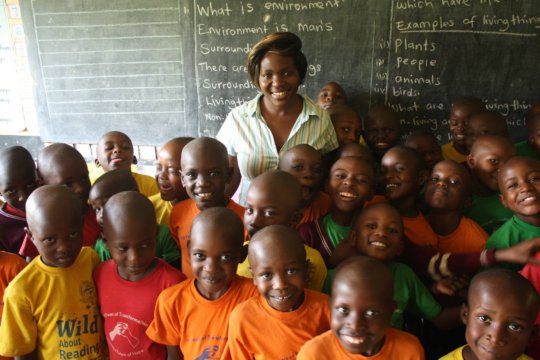 Meet Teacher Caroline Muyama, who a mere nine years ago was a student at Arlington Junior School and is now back as its P2 (Second Grade) teacher. After Arlington, Caroline attended a boarding secondary school far from the village, earning both "O" and "A" levels before securing her teaching diploma. During secondary school breaks, all AAH students are required to return to the village and contribute to school, health clinic and community projects, so it is natural for many to return after graduation. In addition to Caroline, we have two young nurses, former AJS students, that have returned to work in our Tierney Health Clinic in Bupoto.
This is the kind of strategic, long-term investment in young people made by our many wonderful donors that is now really paying off for these individuals and the community as a whole. In addition to the primary school (AJS), Arlington Academy of Hope is supporting almost 300 secondary students and 79 university/vocational stuidents this year. Many of them report a desire to return to their villages and continue contributing to their economic development. These former students also serve as role models for the younger students to excell in school and then give back to their communities.
Look at this picture and determine who is happier: Caroline or the students she is teaching?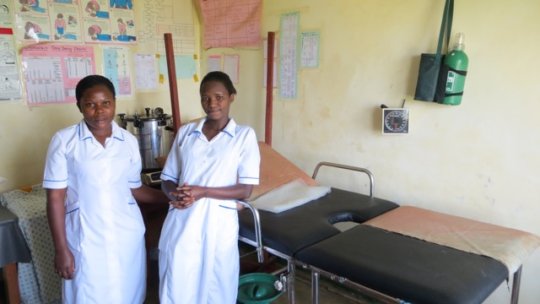 This summer marks a major milestone for the Arlington Academy of Hope (AAH). We are filled with pride to announce the first ever graduating class of university students. These graduates have been with us since day 1, having completed primary, secondary and university. Of the 41 graduating students, many have already lined up employment opportunities as mechanics, teachers, nurses and midwives to name a few. And we couldn't be more pleased that some of our graduates will be bringing their skills back home to work as the school coordinator and teachers at our very own AAH, and as nurses in our clinic.
This major achievement inspires us to continue our expansion efforts so that more students can have similar opportunities. We are proud to serve 340 students in primary at Arlington Junior School, and 320 students through sponsorships at regional secondary schools. But in order to make the greatest impact possible in Uganda where traditionally only 14% of students in primary will attend secondary school, and only 1% will continue to university, we need to continue to expand beyond the four walls at AAH.
Our primary goal is to alleviate some of the challenges facing Uganda's students and provide an opportunity for them to break through. We support 23 local schools in the Bududa and Manafwa districts. Our outreach efforts empower schools to follow what we at AAH believe are the pillars of quality education – an engaged teaching staff and regular student attendance, parental involvement, limited class sizes, lunch programs, and clean and adequate grounds. We also know that students who are rewarded for excellent performance, provided with opportunities to continue their education and who have access to mentors hold the tools they need to be successful. Currently we have served over 10,000 students through our outreach efforts.
As we reflect on the successes of the past, and celebrate the bright futures of our recent graduates, and the thousands of young people who are currently being touched by our programs, we are so thankful for our supporters, without whom none of this would be possible. Together we really are making a difference, one child at a time.
WARNING: Javascript is currently disabled or is not available in your browser. GlobalGiving makes extensive use of Javascript and will not function properly with Javascript disabled.
Please enable Javascript
and refresh this page.