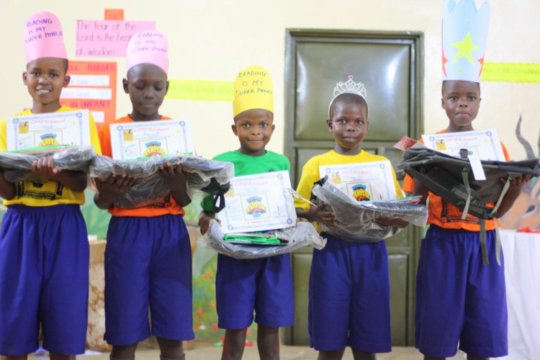 In 2006, the teachers of our sister school, Arlington Traditional School, solidified our partnership by bringing their annual Reading Challenge to Uganda with a theme of "Reading is Global." ATS' hope in including AAH in their tradition was to instill a positive reading culture with our students in Uganda to help their educational journey. At that time, Arlington Junior School had a very small 'library' which was a pile of books in the head teacher's office. Students had to individually visit the head teacher and choose from a small pile of books. As the years passed and more volunteers travelled to Uganda bringing hundreds of books with them, our students got more and more excited about reading.
Fast-forward to 2016 and we celebrated the completion of our 11th Reading Challenge in our own spacious library full of hundreds and hundreds of books and learning materials! With the highest number of books read being 572 and the total number read by all students of 105,896, it is safe to say that our students' super power really is reading. We could never have seen the growth in our students' passion for reading and their English skills if it wasn't for Arlington Traditional School. With countless donations of books, reading challenge materials, support, and even a recent donation of money for books, ATS has really made a positive impact on our school.
In late October, students, staff and community members gathered in our library to acknowledge the dedication the students showed in reading! All the best winners in the reading challenge were awarded gifts for their achievements. The overall best readers were given school bags, pencils, a reading book, and stickers. The top three readers at each class level were also awarded gifts of a reading book, stickers, pencils, pencil sharpeners, umbrellas, and kerosene lanterns. We also awarded the top readers in the "infant" classes, "middle" classes, and "upper" classes with similar gifts to encourage themselves and their peers to keep reading!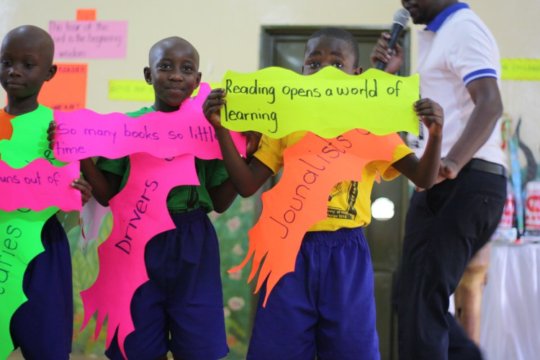 Links: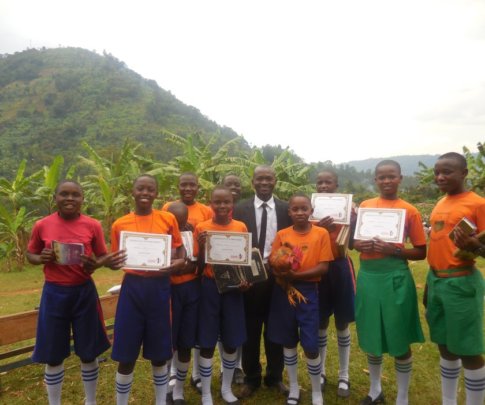 The Outreach Program Debate Tournament is an annual program in which teams from Arlington and other outreach schools compete in a series of debates. The goal of the program is for students to improve their public speaking, reasoning, and English skills, as well as encouraging friendly competition among the schools. The first round was held in April and it involved 8 schools, who debated on topics such as "Girls should be given more care at school than boys" and "Schools should not have holidays". Four schools then moved onto the semi-final round, which was held in July. These debates were very competitive, but eventually Arlington Junior School and Bukiga Primary School emerged as the finalists.
On October 19th, the highly anticipated final match was held at Bukiga Primary School. The motion of the debate was "Education is better than wealth." As the hosts of the debate, Bukiga supported the motion while Arlington were the opposers. Students from both schools gave impassioned arguments to support their side of the motion. After all speakers were finished, the judges revealed that Arlington had scored 85 while Bukiga scored 72, making Arlington the overall winner!
As the first place winners, the Arlington debate team won a goat for their school. The students were incredibly excited about this because the whole school will get to eat goat meat for lunch next week. The top debater from Arlington, Felistas said that "At first I was so nervous because the proposers were so good and I didn't know if we would win. But when we won I was so happy." Even though Bukiga didn't win, they were also happy about the program. Faith, one of the debaters from Bukiga commented that "It was so fantastic. I learned that you must make friends and cooperate with students from other schools." For the second place prize, Bukiga won a chicken and all participants also received certificates and glow sticks.
Overall, the debaters from both schools demonstrated amazing public speaking skills that impressed the judges and all spectators present. We're confident that these talented students will be the future leaders of Uganda!
Links: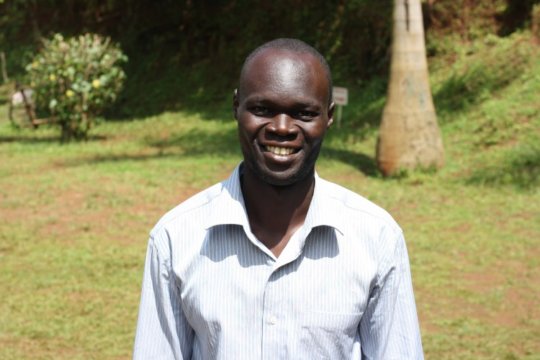 Meet Sam, the newest member of the Arlington family. Not only is he our new Procurement and Facilities Officer, but he is also an AAH alumni! Sam entered Arlington in its first year (2004) as a P5 student. He didn't know any English and couldn't read or write in the local language. "But when I went to school, through Arlington, I really changed. I transformed. I am now able to speak and write well in English and Lugisu, I am able to do so many things."
Fast forward 12 years and he is now a grown man. He's confident, well put-together and well spoken in both English and the local language. He's also an active member of his community and he has just finished his courses for a degree in Business Administration from Uganda Christian University!
Growing up, Sam never would have guessed that he would continue his education up to university, let alone get a prestigious job soon after completing his courses, but he doesn't take it for granted. He knows how much Arlington has helped him out and he wants to make sure that others get same opportunity. "I take this as a very good opportunity. It has opened a world of hope for me."
Sam also knows this isn't just an opportunity to continue his personal and family transformation, but he knows he can use his position as a way to inspire younger students. While working at Arlington and interacting with the students, Sam hopes to "act as a model to them." He says, " they are going to see me as a person who has gone through AAH and is now someone who is working. I think it is good, because AAH students will be encouraged to work hard at school … and they will really realize the benefit of having an education."
Sam's desire to give back to his community doesn't stop in being a role model. As the head of the Arlington Old Students Association, he already has plans to also become a sponsor for an Arlington student and to encourage his fellow alumni to do the same. He is confident his fellow students can get together to keep the inspirational change Arlington has instilled in his community to continue.
Links:
WARNING: Javascript is currently disabled or is not available in your browser. GlobalGiving makes extensive use of Javascript and will not function properly with Javascript disabled.
Please enable Javascript
and refresh this page.