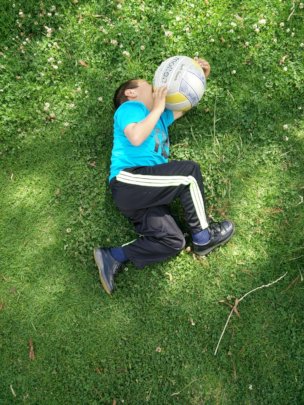 [Abajo puedes leer la versión en español]
Hello! Thanks to you we have been able to take care of and overcome a chickenpox outbreak that, since June, affected 23 of the children that we protect temporarily in our home until they recover a family for life.
To take care of them properly a professional was always with them day and night. In addition, we took all the hygiene measures in the house where the children stayed, in the food service and in the laundry, such as the purchase of disposable plates and cups and protective items such as face masks, caps and gowns.
Also thanks to you we guaranteed the medicines to mitigate itchy skin, analgesics and antihistamines.
Francisco, 5 years old, was one of the sick children. He tells us: "I got a lot of chickenpox all over my body, except in my arms. In the house I was happy, Alejandra, Wendy and Fanny loved me very much and took care of us ". "We saw movies, Alvin and the Chipmunks 3. We ate deliciously, eggs and rice, they put Caladryl on us, you know what it is, it's a pink cream so the chickenpox can be removed", adds Francisco. "When I went back to school, the teacher already knew that I had chickenpox."
Thank you for loving, protecting and caring for Francisco and all the children and for making it possible for them to recover their right to be loved in a family.
We invite you to continue contributing with our project and to spread it with your friends and family. Thank you!
***
¡Hola! Gracias a ti hemos podido atender y superar un brote de varicela que, desde junio, afectó a 23 de los niños que protegemos temporalmente en nuestro hogar hasta que recuperan una familia de por vida.
Para cuidarlos adecuadamente, una profesional siempre estaba con ellos día y noche. Además, tomamos todas las medidas de higiene en la casa donde los niños se quedaron, en el servicio de alimentos y en la lavandería, como la compra de platos y vasos desechables y artículos de protección como máscaras, gorros y batas.
También gracias a ti garantizamos los medicamentos para mitigar la picazón en la piel, analgésicos y antihistamínicos.
Francisco, de 5 años, fue uno de los niños enfermos. Él nos dice: "Me salió un montón de varicela en todo el cuerpo, menos en mis brazos. En la casa estaba contento, Alejandra, Wendy y Fanny me querían mucho y nos cuidaban". "Vimos películas, Alvin y las ardillas 3. Comimos rico, huevos y arroz, nos echaron Caladryl, sabes qué es, es una crema rosada para que la varicela se quite", agrega Francisco. "Cuando volví al colegio, la profe ya sabía que tenía varicela".
Gracias por querer, proteger y cuidar a Francisco y a todos los niños y por hacer posible que recuperen su derecho a ser amados en una familia.
Te invitamos a seguir contribuyendo con nuestro proyecto y a difundirlo con tus amigos y familiares. ¡Muchas gracias!