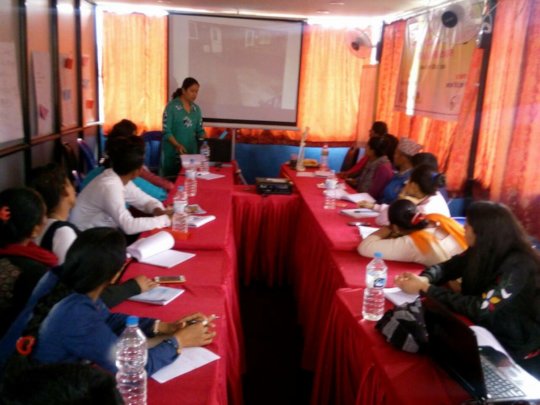 Welcome again! Thank you very much for your continuous support to Patan CBR Organization which ultimately helped in serving the needy community of Nepal. Till dte you gave us US $ 18,441 and received 190 donations.We praise you for supporting Patan CBR in the mission of rehabilitating Children with Disabilities. A small act of kindness from you has changed the lives of these children.

This time I am going to report about the training program conducted by Patan CBR.The "7 days basic physiotherapy training for parents and caregivers of Children with multiple Disabilities" was organized by Patan CBR with financial assistance of Lalitpur Metropolitan City and Interpedia from April 5 to April 11, 2018.The total number of participants were 25 who were parents and caregivers of Children with Disabilities (CWD), both physical and intellectual.
The content for the first day of training was basic human anatomy and physiology.On the second day, discussion was on common musculoskeletal problems, importance of good posture and home remedies for managing musculoskeletal problems. Same day, next session was on introduction of cerebral palsy, types of cerebral palsy and its management.
The content delivered on third day was introduction to different types of disability as categorized by Government of Nepal. Also their management was discussed in short. Next sessions was on different types of assistive aids like orthosis, prosthesis, mobility aids. They were also introduced to bones, muscles and joints of human body.
The session for the fourth day was on different activities done in occupational therapy and physiotherapy; different types of therapeutic exercises used in physiotherapy.
The fifth day of the training was on the ways to help parents and caregivers of children with cerebral palsy in daily taking care of their children.The practice session was on how to give physiotherapy to children with disabilities at home.
The sixth day session was on caring of children with intellectual disabilities. Next session was on speech impairment and its management; psycho-social counselling.
The last day of the training was on community based rehabilitation of children with multiple disabilities.
The trainers were mostly physiotherapists and others were working as special education teachers for children with disabilities as well as social mobilisers for many years. One of the participant said "The classes were conducted in simple local language and we got opportunity to have hands on experience through practical classes. So it was effective learning".
Another participant said "Although the training was of short duration we got to learn very important things. This knowledge will help parents and caregivers like me in daily caregiving of children as well as giving basic physiotherapy". One other participant said "After taking this training I am confident that now I can identify the type of disability and refer to appropriate health centre. Now I can also counsel other parents and guide them in giving basic physiotherapy".
Sharmila Shrestha, the course coordinator for the training said "We have lots of children with Down's syndrome, Cerebral palsy and Autism, Intellectual disability at the centre for whom we provide different services along with physiotherapy. But, providing professional care i.e. through expert to each child in the community is nearly impossible. By organizing trainings like these, we can impart the professional knowledge to the parents and caregivers of children. This will ultimately lead to better care for CWD and parents/ caregivers become more responsible. We have plans to organize similar trainings to more people in community in coming days".
Speaking on the closing program, the director of Patan CBR said "We have been able to continue this type of program at Patan CBR due to support from Global giving. As the part of this program, we are doing many activities. One activity is this training which was done in coordination with local government of Nepal and Finland".