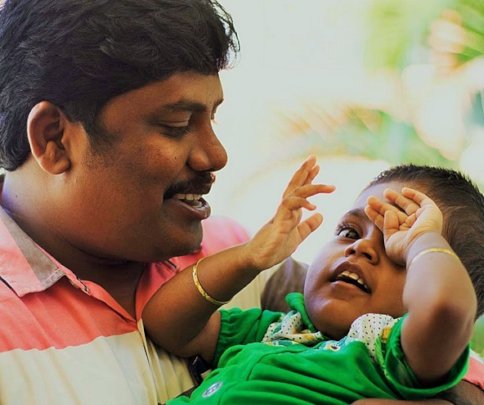 Dear Benefactor,
The little girl in the picture is Angel, an orphaned child with intellectual disability and hydrocephalus – a dangerous condition in which fluid accumulates in the brain, enlarging the head and sometimes causing brain damage. A mere three months old when abandoned at a hospital in Chennai by her teenage mother, Angel is one of the lucky few rescued by a network of child welfare organizations. But not all are as fortunate as she was. Angel made it to our home three years ago and is growing up a happy child. It's for children like her that we are building this new home, expanding our infrastructure and facilities to accommodate more. By end 2021 Angel will have at least 100 more little brothers and sisters to grow up with.
As of today, we have completed construction up to the roof of the first floor. The roof of the second and final floor is underway. We are extremely excited about these developments. Knocking on doors every day, we are grateful to have crossed the 1 crore mark (INR 1,00,00,000/- approx. USD 135,760). Still 2 crores and more to go, but we continue to trust providence to help us get this new facility up, so that more abandoned children can call it "home". In the meanwhile, rescue and rehabilitation work continues at Sri Arunodayam, and though it's a bit of a squeeze, we could not turn a few desperate cases away in these past months.
So, please consider donating via the donation options on our page, and please continue to spread the word with your family and friends. Any help will be much appreciated!
Here are the latest pictures from our construction site.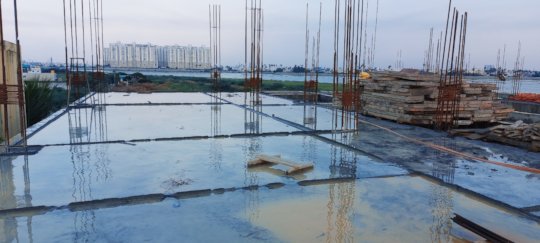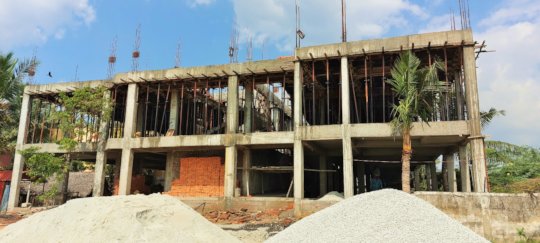 Links: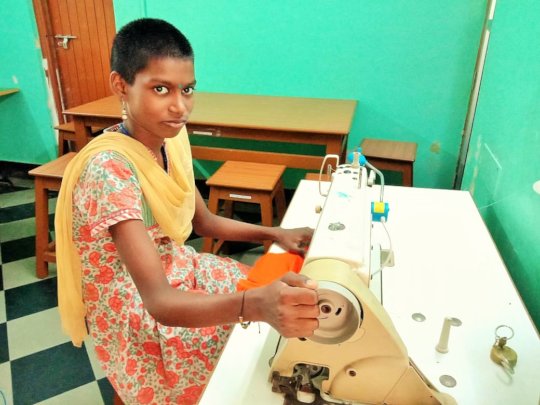 Nithya was 14 years old when she came to us in February 2017 through the Child Welfare Committee of Coimbatore. She had been surrendered to an orphanage after her birth, post her mother's untimely death. Her father was unable to care for her as she was diagnosed with a mild form of intellectual disability.
Nithya had a bit of trouble adjusting to her new environment at Sri Arunodayam. She was already of age to understand what was happening to her. She craved attention and sought it in strange ways. Too old to study and too young to work, Nithya was ideally suited for Prayatna, our in-house vocational training center.
Prayatna offered Nithya many channels to develop her creativity. As she focussed her energies on tasks that she liked and began to excel at, her penchant for troublemaking reduced. Nithya has blossomed into a fine young lady; responsible, reliable and capable of taking care of herself and the other young ones in her care. She has applied herself and become proficient in knitting, stitching, and weaving lovely wire baskets.
In the three years that Sri Arunodayam became her home, Nithya developed a new attitude. She knows she is loved and that this is her family. She has responded by evolving into a housemother of sorts, helping our caregivers feed and care for younger children at the home. She has other talents too, fancying sports, games and dancing. It's true that the more we love our children, the more they learn to love others. This, pretty much sums up Nithya's story as she grows up learning to love herself and others, making her own mark in the world today.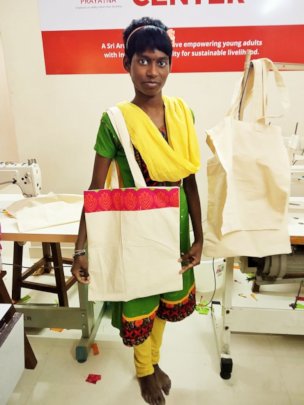 Links:
Sumangali was just a little over two years old when she came to our home in March 2010 through an order of the Child Welfare Committee. She was abandoned on a deserted road near a hospital. Sumangali was diagnosed with spastic cerebral palsy and her severely impaired condition made survival a grim possibility.
Some of the first and most important issues we addressed on her long journey towards rehabilitation were medical care and a healthy diet. She began showing remarkable improvement within a couple of months and we then started her off on physiotherapy, individualized special education (IEP) and speech therapy. Through the consistent efforts of our Sri Arunodayam team, Sumangali has become fairly independent today and is even able to assist our smaller children. She is learning simple mathematics and can identify colours, shapes and the names of fruits and vegetables. She can even read time, which is quite a feat given her poor early prognosis. A combination of a nutritious diet, timely medical care, physiotherapy and special education (introduced early on) has given her a fighting chance to lead a near normal life.
When two people come together and make the conscious decision to create a life, they have an obligation to protect and love that child to the end. And yet, the sad reality is that parents continue to abandon their vulnerable children, especially those with special needs, in our country today. It's for children like Sumangali that we are building this new home because we cannot stand by while this insidious epidemic continues. While we cannot rescue every abandoned child across our country, we can make a huge difference in the lives of those we can. Despite the prevailing economic condition and the many hardships we are facing in these times of the COVID-19 pandemic, we will stay true to our vision and persevere because we know that somewhere out there, there are a hundred or more precious children destined to become a part of our Sri Arunodayam family. And we want to welcome them home.
Links:
WARNING: Javascript is currently disabled or is not available in your browser. GlobalGiving makes extensive use of Javascript and will not function properly with Javascript disabled.
Please enable Javascript
and refresh this page.