Sumangali was just a little over two years old when she came to our home in March 2010 through an order of the Child Welfare Committee. She was abandoned on a deserted road near a hospital. Sumangali was diagnosed with spastic cerebral palsy and her severely impaired condition made survival a grim possibility.
Some of the first and most important issues we addressed on her long journey towards rehabilitation were medical care and a healthy diet. She began showing remarkable improvement within a couple of months and we then started her off on physiotherapy, individualized special education (IEP) and speech therapy. Through the consistent efforts of our Sri Arunodayam team, Sumangali has become fairly independent today and is even able to assist our smaller children. She is learning simple mathematics and can identify colours, shapes and the names of fruits and vegetables. She can even read time, which is quite a feat given her poor early prognosis. A combination of a nutritious diet, timely medical care, physiotherapy and special education (introduced early on) has given her a fighting chance to lead a near normal life.
When two people come together and make the conscious decision to create a life, they have an obligation to protect and love that child to the end. And yet, the sad reality is that parents continue to abandon their vulnerable children, especially those with special needs, in our country today. It's for children like Sumangali that we are building this new home because we cannot stand by while this insidious epidemic continues. While we cannot rescue every abandoned child across our country, we can make a huge difference in the lives of those we can. Despite the prevailing economic condition and the many hardships we are facing in these times of the COVID-19 pandemic, we will stay true to our vision and persevere because we know that somewhere out there, there are a hundred or more precious children destined to become a part of our Sri Arunodayam family. And we want to welcome them home.
Links: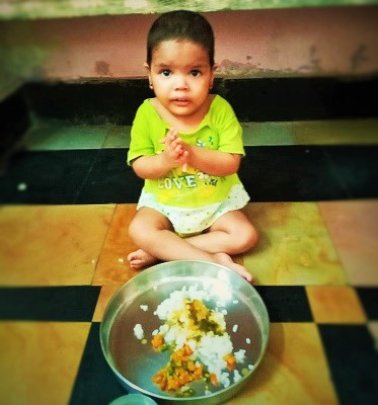 This is Vaishnavi. She is a new entrant and just a little over 3 years old. Born to a 54 year old woman found to be suffering with mental health issues, Vaishnavi was rescued in early January this year through India's ChildLine services. She had been kept under lock and key since birth. Vaishnavi was transferred to the Egmore Baby Hospital in Chennai, India for medical treatment where she was diagnosed with severe malnutrition, weighing a mere 4 kilos. After treatment, she was sent to our home via a Child Welfare Committee order on January 15, 2020.
When admitted, Vaishnavi was still a little weak and cried a lot. She couldn't sit up. We put her on a nutritious diet which has significantly improved her health. It is said that "a healthy child is a happy child" and we found that to be absolutely true! Vaishnavi's temperament changed for the better, she became mobile and she settled in quite happily in her new environment. As you can see, she insists on eating her food by herself and actually smiles a lot now. Vaishnavi has been placed under our Individualized Education Program (IEP) where she receives the undivided attention of a special educator.
This been an exceptionally difficult time for children with disabilities but by the grace of God and your continued support we are able to keep the children in good health and spirits. Thank you for supporting our cause.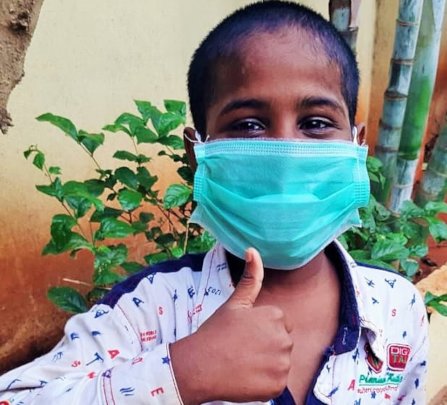 "I cannot do all the good that the world needs. But the world needs all the good that I can do." (Jana Stanfield)
So true, especially in these times! When we commenced this New Year, we never anticipated a crisis like the COVID-19. Yet, it is precisely in such trials that we can best demonstrate faith and goodwill.
COVID-19 has revealed a lot about us as people, the good and the shadow side. We now know that we are vulnerable and dependent and need each other's support. We've learnt that isolation is difficult for most people, that we must constantly work at connecting better with others and developing a better sense of neighbourliness by pushing the boundaries on who we include as our neighbours. We also know that sharing can be hard but is right. Eventually, much will return to normal but it will be a "new normal" and it is up to us to ensure that it is a better normal – more just and compassionate, more ethical and responsible, more hopeful and caring!
We hope and pray, dear friend, that you and your loved ones are well. Please stay home and stay safe!
It has been an exceptionally difficult time for persons with disabilities but by the grace of God and your continued support we have been able to keep the children in good health. We had to temporarily close special education and vocational center activities but the other therapies continue. We continue to take every precaution to keep them safe – regular hand and facility sanitization, wearing our masks and practicing social distancing as best we can. We are amazed at the new understanding our children demonstrate. They sense the change and are cooperative and understanding, caring for one another. We are also very grateful for the courage and self-giving of our healthcare workers and staff who try to make life better for the children.
In the end, we each must do our part, however small. Our world needs all the good that we can do!
Links:
WARNING: Javascript is currently disabled or is not available in your browser. GlobalGiving makes extensive use of Javascript and will not function properly with Javascript disabled.
Please enable Javascript
and refresh this page.